News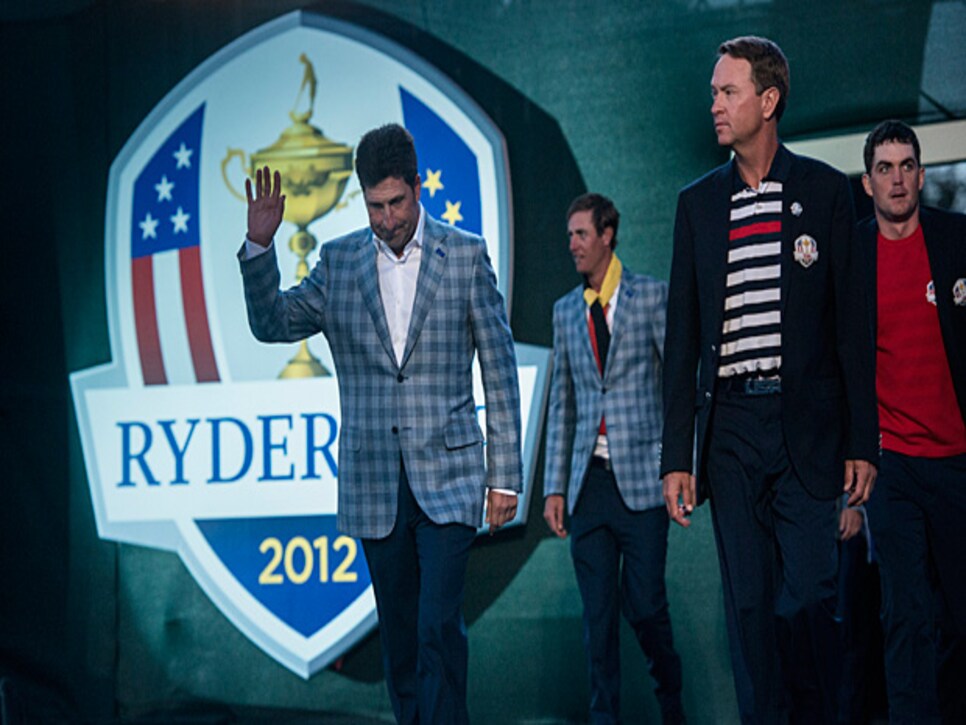 The trend continued of European captains besting their counterparts this year at Medinah.
Fairly soon after Martin Kaymer marginalized the memory of Bernhard Langer with his Ryder Cup-clinching putt Sunday at Medinah, I tried to think of ways the United States could fix its problem with this biennial competition against Europe. Sadly, I could come up with none -- except maybe blowing up the concept of who or what the captain should be.
Losing five of the last six Ryder Cups and winning only four times in the last 14 tries pretty much makes meaningless any argument that the United States is the premier power in men's golf. And, if you use this year's competition as a window into the overall event, there are a lot of places to put the blame.
Yes, maybe Hunter Mahan and Rickie Fowler should have been captain's picks instead of Steve Stricker and Jim Furyk. Yes, maybe Keegan Bradley needed to play Saturday afternoon. And yes, the American veterans -- Stricker, Furyk and Tiger Woods -- let the team down.
But once again, there was something magical in the team room of Europe that the Yanks lack. Captain Joe Maria Olazabal had two powerful emotional weapons to wield. One is to convince his players that no matter how many times they have won the Ryder Cup, they are still under appreciated. The other was the memory of Seve Ballesteros
The Americans can't replicate those two emotional devices, but there are other ways in which the U.S. captain can be used more effectively by following the game plan Europe employs. And there is one way the Yanks could shake things up: by stepping way outside the box.
First off, the U.S. captains have been completely paralyzed by a sense of democracy during this recent losing streak. They are committed to the principle that every one of the 12 players needs to play an equal amount, no matter how poorly -- or well -- they are playing.
This year, eight Americans participated in four sessions and four in three. No one played all five matches. Europe, however, played Rory McIlroy and Justin Rose five times each -- netting seven points from them -- played six players four times, two in three sessions and used Peter Hanson and Kaymer only twice each, losing three of those four sessions. Looks like good personnel management.
The American captains have to become less shy about sitting down players who are not on form. Europe is brilliant at hiding its weak links. Another thing the U.S. side should do is abandon the "one-and-done" concept for the captain. If a guy is good at the job, bring him back.
Walter Hagen was the U.S. captain for the first six Ryder Cups. Dai Rees led Great Britain & Ireland five times and Tony Jacklin headed Europe in four consecutive competitions beginning in 1983 as his side began its run of domination with two victories, a loss and a halve. Bernard Gallacher, who had a victory and two losses, followed Jacklin. Ben Hogan and Sam Snead each captained the Americans three times.
The last American to be captain more than once was Jack Nicklaus, who won in 1983 and lost in 1987. The only American captains to win the Ryder Cup since Europe went on its roll beginning in 1985 are Paul Azinger, Ben Crenshaw, Tom Watson and Dave Stockton. What's wrong with bringing back one of them?
The PGA of America, which runs the Ryder Cup from this side of the Atlantic, likes to make the captain a past winner of the PGA Championship. So that means that David Toms, Rich Beem, Shaun Micheel and Mark Brooks are in the running to lead the team at Gleneagles in Scotland in 2014. Do any of them ring your bell?
Phil Mickelson will be a captain someday -- parlay this bet in Vegas: Bethpage gets the 2024 Ryder Cup and Lefty is the U.S. captain -- and maybe Tiger will mellow into the role down the road. Meantime, who are the outside-the-box choices?
Fred Couples, who will captain this third consecutive Presidents Cup next year, is getting a lot of support despite the fact his attention will certainly be divided. Larry Nelson is 65 and has been wrongly passed over, having a U.S. Open and two PGA Championship among his 10 PGA Tour wins, which were followed by 19 triumphs on the Champions Tour.
And what about guys who are well liked, well respected and smart but haven't won a major? Someone like swing coach Butch Harmon might be a good captain. Brad Faxon is a smart guy. Paul Goydos would be entertaining. Joe Ogilvie has a degree in economics from Duke and the Ryder Cup certainly is a cash cow.
And does it have to even be someone from the world of professional golf? How about Phil Jackson and his 11 NBA championships? He certainly has proven he can handle big egos. Or Mike Krzyzewski and his four NCAA basketball titles and two Olympic gold medals as coach? Maybe New England Patriots coach Bill Belichick could give the team a good kick in the butt.
Former President Bill Clinton is involved the with Humana Challenge -- the PGA tour stop in Palm Springs -- through his foundation, is a passionate golfer and, as he showed at the Democratic National Convention last month, is still the motivator in chief.
Maybe he and George W. Bush could do it together since almost all the players in the U.S. team room will be Republicans. How about former Secretary of State Condoleezza Rice and investment banker Darla Moore, the first two female members of Augusta National Golf Club? How about those two annoying Winklevoss twins from the film "The Social Network?"
Gene Hackman is 82 years old but he was awesome as Norman Dale, the basketball coach who took tiny Hickory High school to the state basketball title in the 1986 movie "Hoosiers." Maybe he's available. Bruce Springsteen? Chris Berman?
The point is this: The way the U.S. is handling its captain situation is just not working and none of the obvious candidates-in-waiting seem to be a solution. It is unfathomable that the players are that much better for Europe that they have kicked American butt in five of the last six Ryder Cups.
As the ship workers say on the Mediterranean Coast: "The fish rots from the head." There is a crisis of leadership for the U.S. Ryder Cup team and the only solution seems to be to look in non-traditional places for the next captain. It's time to look for a leader, not a golfer. That's the only way to turn this sinking ship around.