News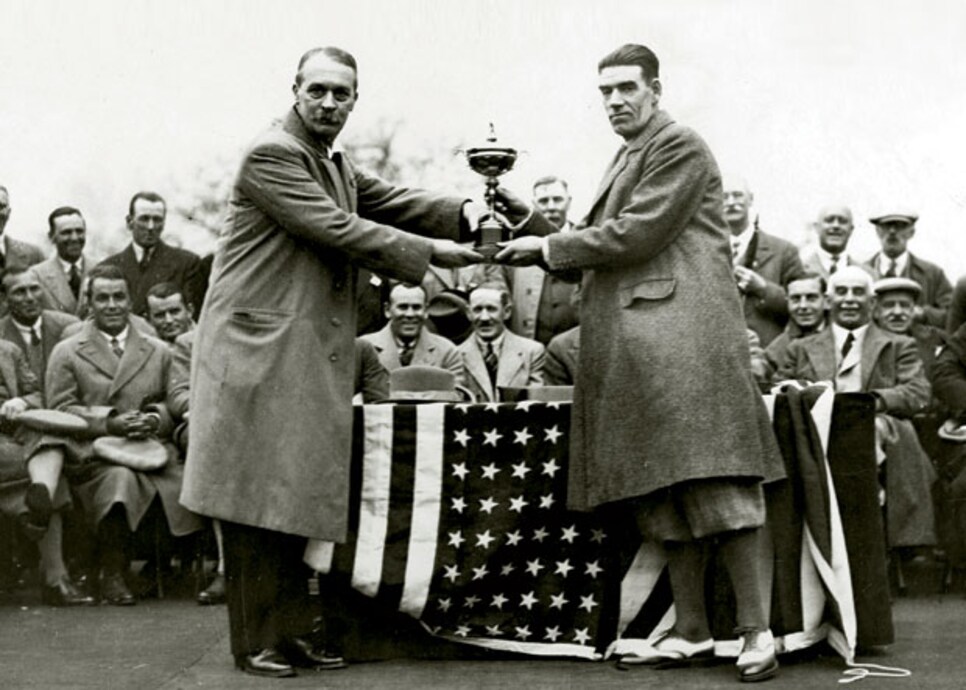 Sam's Spoils: Cup founder Ryder (left) celebrates Great Britain's 1929 win in Leeds, England with a post-match handoff to victorious captain George Duncan.
Abe Mitchell, a British golf professional and friend and mentor to Samuel Ryder, was so meaningful to the man who started the Ryder Cup
that it is his likeness atop the trophy that gets so much attention every two years. Mitchell was supposed to be the playing captain for Great Britain in the first Ryder Cup, at Worcester (Mass.) CC, in 1927, but was stricken by appendicitis before the match and never got there. Mitchell's fate was an omen for every captain who would follow, regardless of era, team or format. The position is unique, a blend of responsibility and helplessness, joy and disappointment.
Dave Marr cried happy tears when he was asked to captain the United States team in 1981. But after a first day at Walton Heath GC in England in which his golf dream team -- 11 major champions, nine hall of famers -- surprisingly trailed Europe, he sat down with a glass of red wine, a lit cigarette in each hand, and agonizingly wondered what to do next.
Tom Watson, the winning U.S. captain in 1993, admits, "I was more nervous playing and being a captain at the Ryder Cup than I ever have been on a golf course playing for myself. I always felt if the captain could lend an air of confidence and humor to the whole situation, basically his task is to do that." From the time his team left for Europe, Watson kept track of how many hours needed to pass before the Ryder Cup trophy was back in America, counting down the number and posting it on his door at The Belfry.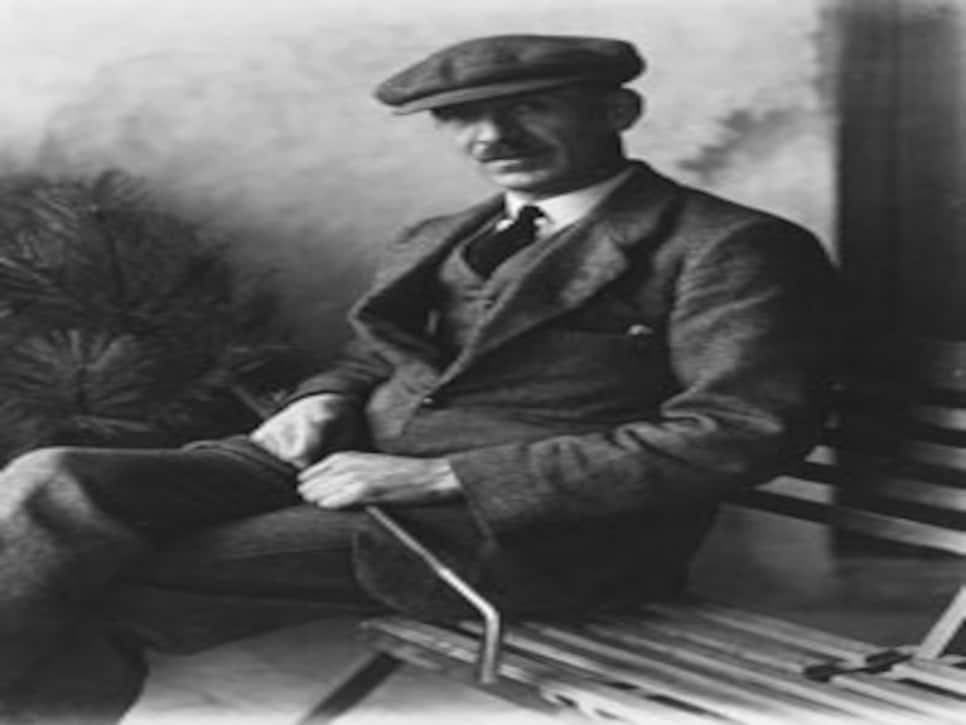 A captain has everything to do with the outcome, and nothing to do with it. Credit flows a captain's way if he wins, and blame sticks if he loses. Sometimes there can be too much of each, but, says Bernhard Langer, who led Europe to an 18½-9½ victory over a Hal Sutton-captained U.S. team in 2004, "at times there are things to blame on a captain and things that are very positive. I had a wonderful time and made a lot of good decisions, and the team responded phenomenally."
In contrast to Langer's seamless week at Oakland Hills, Sutton went against conventional wisdom and paired Phil Mickelson
for what turned out to be two disastrous matches on the first day. The far-from-dynamic duo lost both of them, and the U.S. fell five points behind en route to a lopsided defeat. Along with European captain Mark James' curious singles order in 1999 at Brookline -- when he topped his final-day lineup with less heralded players and Europe lost the cup -- Sutton's decision was a field day for critics.
It is up to the captain to set the table, but the players have to be able to pick the right fork. "If the team plays well, he looks like a hero. If it plays poorly, then he gets badgered," says Mark O'Meara, who played on five American teams, including 1997. "I thought Tom Kite actually did a very good job at Valderrama, but he got blistered in the press." Michael Jordan had been photographed sitting next to Kite in a golf cart, and it became an (erroneous) symbol that Kite was being out-captained by Seve Ballesteros, who, darting everywhere in his cart, seemed to be three places at once, directing -- if not assuring -- victory. The day after Europe's one-point win, however, the Spaniard, whose outward confidence belied the fact that he hardly slept on his team's five-point lead going into singles play, spoke of the fragile journey any captain takes.
"Many people will say I am a great captain," Ballesteros said, "but if we lost, the whole responsibility and criticism would go on my shoulders."
Much has changed about being a captain over the competition's history. The tradition of playing captain, which began with Walter Hagen and Ted Ray (Mitchell's stand-in) in 1927, breathed its last in 1963 when Arnold Palmer
led the U.S. to a whopping win at East Lake GC. "I was paired with Arnold the very first match," remembers Johnny Pott, a Ryder Cup rookie that year, "and he made me run out and hit the first ball because he was doing some other stuff. I wasn't quite ready for that."
It is mythology, though, to believe that only in the modern era of multiple vice-captains, two-way radios and dedicated team rooms (introduced in 1983 by influential European captain Tony Jacklin, who believed such a space would contribute to camaraderie better than huddling in a corner of a locker room), have captains not busied themselves trying to get an edge.
Great Britain and the United States might have been allies in World War II, but in the first two post-war matches there were protests about illegal grooves in the irons of opposing players. Henry Cotton questioned the equipment of Americans in 1947, and Ben Hogan did the same about the Brits in 1949.
If one wants to pinpoint a Ryder Cup that presaged the biennial intensity and captain-centric cups that would follow decades later, it clearly was the 1957 match at England's Lindrick GC. Great Britain hadn't won since 1933, and captain Dai Rees wanted to change that. The event was then just two days -- a session of foursomes followed by singles. Aware that the Americans weren't used to bump-and-run golf, Rees orchestrated fluffed-up tall rough beyond Lindrick's firm putting surfaces.
"Between the foursomes and singles they brush-harrowed the rough at the backs of the greens so that, if a ball slipped through, it was going to be difficult to play," Rees told Golf Monthly in 1967. "And indeed the Americans did have difficulty. It wasn't jiggery-pokery. It was there for all to see."
As a strategy, it was the same as when fairways were pinched to practically nothing at Valderrama in 1997 and The Belfry in 2002 to neutralize American length, and the way Paul Azinger, unique among American captains, took control of Valhalla GC
in 2008, working with superintendent Mark Wilson to ensure a bomber-friendly set-up. "I was busy working with Mark Wilson trimming a branch here or there for J.B. Holmes, or clipping a little bit of rough," Azinger says.
The course tweaks weren't the only things Rees was up to. He sat one of his players, Harry Weetman, for the singles, prompting Weetman to protest and earn a suspension from the British PGA. When American playing captain Jack Burke Jr. told Rees that Ted Kroll was incapacitated by a "chafed rear end" and would have to be pulled from the singles lineup, the GB&I skipper was skeptical.
"Ted's buttocks were so sore he couldn't play," Burke writes in his memoir It's Only a Game. "[Rees] made me go find a doctor to confirm that Ted...couldn't play. I thought it was small of him not taking me at my word on Ted's condition." Burke stepped in and played, was routed by Peter Mills, the Americans lost six of the eight singles and Great Britain snapped its lengthy drought.
concession to Jacklin that ensured the competition ended in a tie, a decision that didn't sit well with American captain Sam Snead, who had spent his life trying to win. Snead's GB&I counterpart, Eric Brown, was equally hard-headed. "I remember him starting that year telling us, 'If their ball goes in the rough, don't help them look for it,' " Jacklin recalls. "We respected that he was the captain, but we didn't take any notice of that comment. It was embarrassing."
Jacklin, who played on seven consecutive teams from 1967-1979, often felt uneasy at the Ryder Cup. He believed the difficult task of trying to upset the Americans was exacerbated by dogmatic captains (in 1977, he clashed with Brian Huggett, who put him in pairings he didn't like) and poor quality clothing and shoes. "I felt we were 2 down before the first shot was hit," Jacklin says. "We got clothes and shoes supplied by whoever would give us the stuff. Often they were of inferior quality. Once, we had plastic shoes and my sole came off during a match. It's not conducive to making you feel very good when you're wearing bloody rubbish."
When Jacklin was approached in 1983 about becoming the captain for that year's matches in Palm Beach Gardens, Fla., he wasn't sure he wanted the job. But his demands -- for first-class gear and Concorde travel -- were met. "I only wanted to do it if I had carte blanche," he says. "I kept making demands, and they kept saying, 'That's OK.' "
In 1983, captaining the third team to include players from all of Europe, Jacklin went to work with a mindset that was more pal than taskmaster, intent on enhancing the esprit de corps that already existed in European golf, relying on his judgment of personalities to blend effective pairings. "All I tried to do was be a friend to every man on the team, and, really, if there was anything they needed and didn't have or were uncomfortable with, I would take care of it," Jacklin says. "And that's really all I could do. It's a helluva theater to play in. You're totally exposed. I just tried to prepare them and be their friend."
A narrow defeat in 1983 was followed in 1985 by Europe's first triumph since 1957. Two years later, Jacklin's side beat Nicklaus' Americans at Muirfield Village, becoming the first visitors to win in the U.S. Captaining for a fourth and final time at The Belfry in 1989, Jacklin talked Christy O'Connor Jr. into the 2-iron of his life on the 18th hole against a nervous Fred Couples. "We've all done it, and I could see Fred was choking to death when he missed a short putt on the 17th," Jacklin remembers. "I told Christy, 'One more good swing for Ireland. You've got him, he's gone.' I told Christy if he got the ball on the green, something would happen."
It did. O'Connor struck the shot of his life, Couples missed the green with a 9-iron, and Europe kept the cup. An inspired Dave Stockton led the U.S. to regain it in 1991 in the overheated "War by the Shore," followed by Watson's victorious turn in 1993. European victories in five of the next six Ryder Cups -- broken only by the U.S. miracle comeback at The Country Club in 1999 -- provided pressure and opportunity for Azinger in 2008.
Azinger had competed in four Ryder Cups and was old-school in that he believed a captain's ability to motivate players or control them once play began was limited. "It's not up to me how they play," he says. "It's up to me to recognize the winning edge at that level is razor-thin. If I can do anything, it's create the environment to get the proper side of that edge. Vegas has a 1- or 1½-percent edge in blackjack, and they kick [butt] in blackjack. I just wanted to get that 1-percent edge. I didn't feel the burden to motivate anybody. I knew it was up to the players. All I could do was control the controllables."
His first steps were to get four captain's picks (instead of the traditional two) and shorten the period in which players could earn points to qualify for the team. Two years out from the Ryder Cup only the four majors would count, in hopes hotter golfers would make the side. He got as many former American captains together as possible for a brainstorming dinner. He also took Jacklin's effort of making players comfortable to a more sophisticated level (surprisingly, Jacklin says Azinger is the only captain who ever picked his brain prior to a match). Motivated by successful concepts used by the Navy Seals, Azinger wanted his 12-man team broken down into three four-man groups, or "pods." He enlisted clinical therapist and relationship specialist Dr. Ron Braund to help him figure out how to mesh personality types who would practice and be paired together.
"He said I should consider 'like personalities,' people who process information the same way in pressure situations," says Azinger. "He went into a lot of psychological detail. I wasn't smart enough to figure it out on my own, but it started to make sense." Azinger even allowed his small groups to make a "captain's pick" from a selection of players Braund and he had green-lighted on personality grounds. With support from a vocal gallery fostered by Azinger, the Americans rolled to a five-point victory.
"Every captain's personality is different," Azinger says, "but for me it was to get them in small groups so they could bond and sell out for each other, then get the hell out of the way. It was up to them."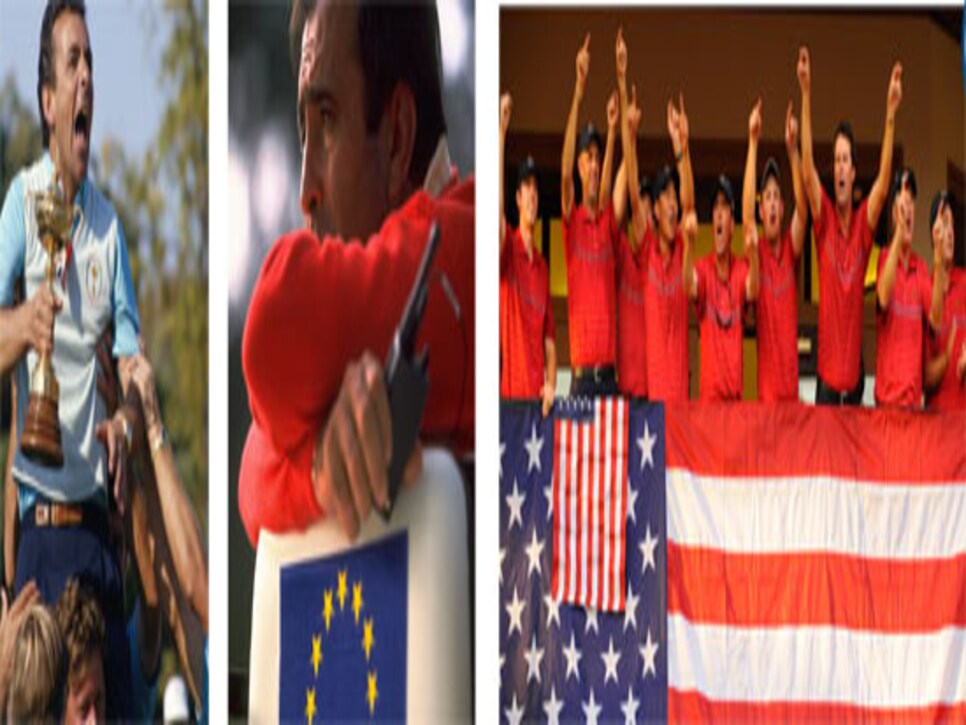 Winners all: Jacklin (far left, Simon Bruty/Getty Images) had reason to shout after '87 win at Muirfield Village. Ballesteros (center, Jamie Squire/Getty Images) worried greatly during European W at Valderrama in '97. Azinger (hatless right, J.D. Cuban) rode compatibility to Valhalla victory in '08.