Rules of Golf
Rules Review: What do I do if I accidentally hit my ball with the flagstick?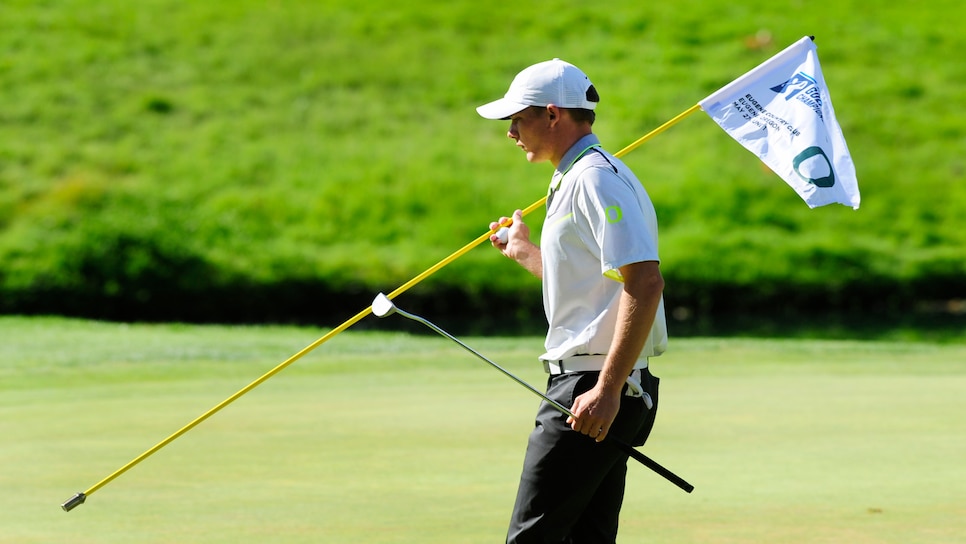 As recreational golfers, we don't always put ourselves in position to actually follow the Rules of Golf. That's why, in the handful of instances where you do—i.e., the club championship, a qualifier of some sort, a money game with your super-annoying stickler friend—you'll often hear the phrase "What's the ruling here?" when an odd rules situation arises.
By the way, that's not a knock. Considering none of us are qualifying for the U.S. Open any time soon, playing everything as a lateral hazard during your Saturday morning game often makes sense. It's more fun, too, for everyone when every two-footer is "good." And the vibes remain immaculate when you can ask "Is dropping here OK?" and everyone in the group nods in agreement.
But in situations when a true competition is at hand, it's good to have some rules knowledge that the rest of the foursome might not possess. Once such instance: When your ball accidentally hits the flagstick.
Picture this: You're in a qualifier, let's say with two other players and no caddies. Perhaps Player A likes the flagstick out when they're putting, and Player B likes it in. This creates a situation where Player C might have to tend the flagstick for Player A, and put it back for in Player B. It's possible that amidst all this chaos, Player A hits a putt that Player C tends the flagstick on, and somehow Player A's ball in motion accidentally hits the flagstick. Oh no, now what?
In this instance, you'd refer to Rule 13.2b, which states that if a player's ball in motion accidentally hits the flagstick that the player who removed it is attending to, there is no penalty and the ball must be played as it lies. Hopefully, your group can reach a consensus on the matter; if needed, a Rules official is the ultimate arbiter to determine if it was accidental or not.
The same goes for if a ball in motion accidentally hits a flagstick that's lying on the green, so long as it was not deliberately placed in a spot that would stop a ball in motion. If it was deemed to be deliberately placed, OR if someone holding the flagstick deliberately stopped the ball in motion, you'd then refer to Rule 11.2c, which says that the stroke does not count. You must return to the original spot and replay the stroke. A general penalty also applies to the player who did the deliberate deflection: loss of hole in match play and two strokes in stroke play.