News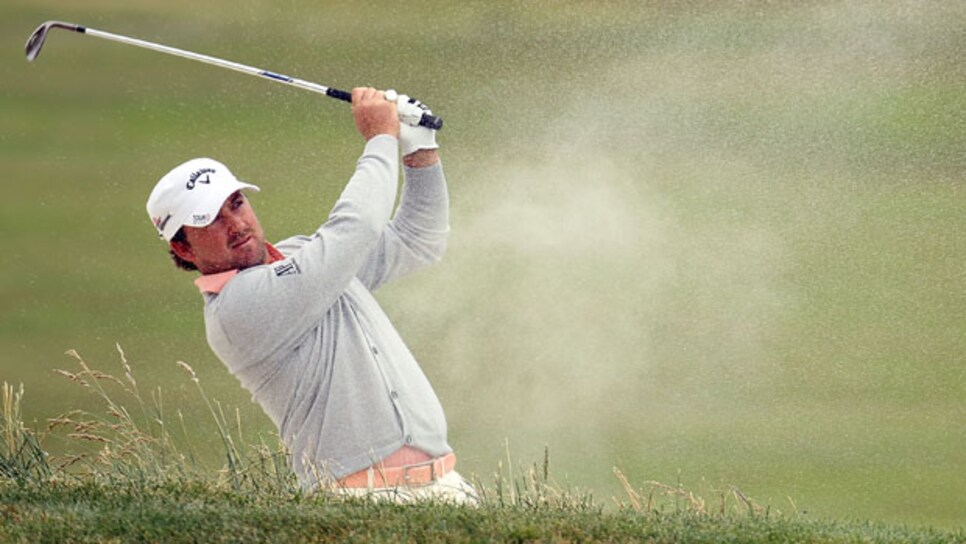 McDowell became the first European to win the Open since 1970.
With a late starting time for the third round of the U.S. Open, Graeme McDowell ventured into a coffee shop in Monterey, Calif., to eat croissants, read the paper and kill a Saturday morning. He wore a U.S. Open T-shirt his father bought in the merchandise tent at Pebble Beach, but as McDowell walked Cannery Row and around the Del Monte mall, nobody recognized him -- even with all the TV time he was getting and with his picture on the front page of the local paper. The next evening, standing on Pebble's 18th green, the Open trophy in his son's hands, Kenny McDowell, of Portrush, Northern Ireland, was the world's proudest Father's Day dad. "He was at college at UAB for three years and had a lower scoring average than Tiger," said the senior McDowell. "I don't know how they don't know who he is."
They do now. A decade ago, when many of McDowell's European contemporaries were attending American universities, McDowell was at home in Northern Ireland until the University of Alabama-Birmingham took a chance on him. The fact nobody identified him in Monterey was not lost on McDowell, and although the events of Sunday's final round along the cliffs of the Pacific Ocean might have changed his profile, they haven't altered his perspective. As McDowell said to his father over coffee in his deep voice that mixes strains of Ulster with inflections from the Deep South, "America has been the making of me."
What McDowell, 30, lacked in recognizability he more than made up for in calm collectiveness to become the 110th U.S. Open champion. With the world's best players self-destructing under classic Open pressure, McDowell played by far Sunday's smartest and most tactically sound round, to engineer what casual viewers would consider to be a massive upset -- but what the field would consider proof of golf's global reach. As Tiger Woods, Phil Mickelson and Ernie Els were missing must-make putts, finding fescue and outwardly showing their frustration, McDowell worked his golf ball into the proper locations, took advantage of a final-round 82 from third-round leader Dustin Johnson and came from three strokes back to win the Open with a final-round 74.
"I thought Graeme was playing very well headed in," Mickelson said. "He had won his previous tournament. He's played very solid on a large stage a number of times. From a players' point of view, this wasn't a surprise, no."
While not a true links, in many ways Pebble Beach reminded McDowell of home, so it almost felt like the days when he played the ball off his back foot and with a strong grip to keep it down under the gales. This was how G-Mac attacked the golf course, with his head and his Irish grit as much as any other trait. But it took some help from Johnson, his playing companion over the final 36 holes.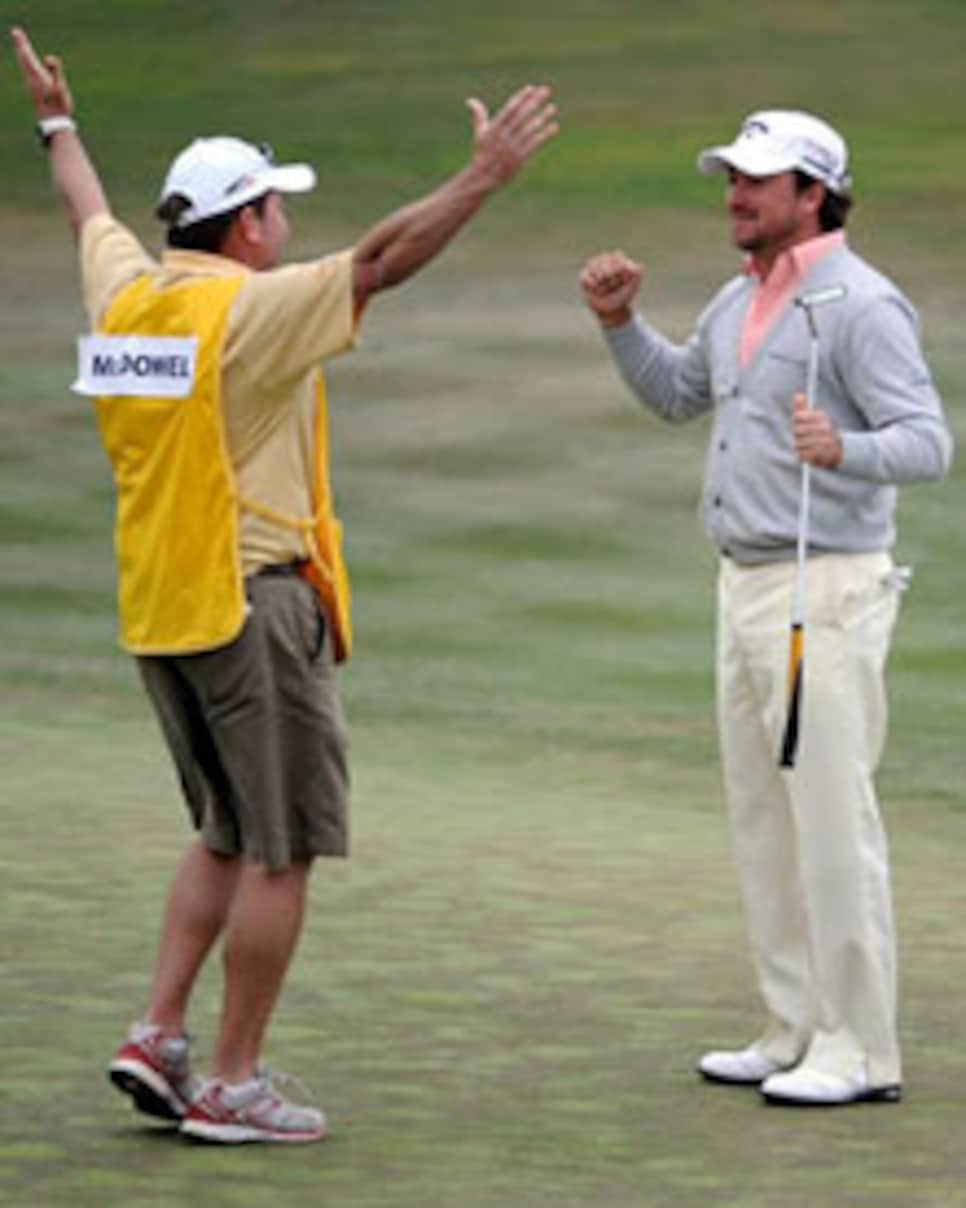 "[We were] three shots back, and by the third green [we were] ahead of him," said McDowell's caddie, Ken Comboy. "It's terrible for Dustin, but you see it year-in and year-out in these tournaments. A big lead is so slender because the course is brutal. You see the best players in the world today dropping shots like confetti. We were fortunate in that we had some shots in hand, and we were able to keep playing for the right parts of the greens. Even then we dropped shots, but at least we kept it to a minimum. That's U.S. Open golf."
McDowell grew up in a world far removed from the $495 rounds at Pebble Beach resort, playing most of his golf on the Valley links of Rathmore GC, the working-class club in Port-rush. Kenny was an I.T. technician at Coleraine Academical Institution. His greatest memory was commuting 90 minutes each way to Graeme's first victory in the Ulster Boys. His mother, Marian, was a housewife.
Now suffering from multiple sclerosis, she watched her son's triumph from a vacation home in Malaga, Spain, where the warm weather, as Graeme explained, was good for her condition.
In high school McDowell had the type of mind that could design an electronic putting track, but the type of game that wasn't sophisticated enough to compete at a major-college level. So while England's Paul Casey went to Arizona State and fellow countryman Luke Donald went to Northwestern, McDowell enrolled in an honor's course in engineering at Queen's University in Belfast, where he joined the golf team. Soon thereafter, Alan Kaufman, the UAB golf coach, asked one of his players, Chris Devlin, if he knew any good Irish players. Devlin suggested McDowell, but he was No. 2 on the coach's list. "If the first kid hadn't gone to Toledo, chances are we wouldn't have signed Graeme," Kaufman said Saturday.
McDowell's grades were not to be questioned, with 31 out of 36 on his ACTs; it was only a matter of learning the American game. Eric Eshleman, the head pro at Birmingham CC, gave McDowell his first lesson. "I told him he had to change his grip and ball position," Eshleman said. "He told me, 'You've never been to Northern Ireland.' " Within three years, McDowell won the Fred Haskins Award, college golf's version of the Heisman Trophy.
His early years in America were both fun-loving and life-forming. At dinner Friday night during the Open with Kaufman, McDowell related the story about the time his mother visited and almost got sick to her stomach seeing her son's room. But although he was a typical college student, his scores showed professional polish, and his 69.87 stroke average bettered the marks of Woods and Donald.
McDowell won his fourth European Tour event as a pro -- the 2002 Volvo Scandinavian Masters -- and bought his parents a house in Portrush, as promised. But it took time after that for his game to gain traction. After three wins and a tidy performance in the 2008 Ryder Cup at Valhalla (including a singles victory over Stewart Cink), he finished in the top 20 in three majors in 2009. This year hadn't produced much; in fact, McDowell just snuck into the Open with a World Ranking of 49 at the May 23 cutoff for the top 50.
Wanting to make the 2010 Ryder Cup team was part of the incentive for turning his season around. Two weeks before the Open, attending a gala dinner at Celtic Manor, McDowell watched a video clip of highlights from Valhalla. At the time he was well outside qualifying for the matches, but turned to friends and said, "I really want to be on that team." On the weekend, he shot 64-63 to pass Rhys Davies and Donald for his fifth European Tour title.
McDowell is certainly not as immortal as the four other Open winners at Pebble Beach (Jack Nicklaus, Tom Watson, Tom Kite and Tiger Woods), but as Mickelson said, this was not an upset to compare with Ben Curtis at Royal St. George's or Y.E. Yang at Hazeltine. Comboy thought the turning point of McDowell's career was his win in the 2008 Barclays Scottish Open at Loch Lomond. After that victory McDowell asked his father to retire and travel the world with him.
The pubs and the clubhouse at Rathmore stayed open until the wee hours of the morning Monday in Portrush. The eight-hour time difference made it 2:15 a.m. in his home country when McDowell knocked in the winning putt. "They've been texting me," Kenny said. "My leg's vibrating like mad. I just haven't had a chance to get back to them."
Rathmore, as McDowell's father explained, is famous for being one of the friendliest clubs in Northern Ireland. "Everybody is made to feel comfortable," he said. His son's approachability is evidence. At Lake Nona G&CC in Orlando, where he has a home, McDowell is considered more a member than a tour player in residence, and is the first to join the men's game. "It wouldn't surprise me if one of his first calls is to Lake Nona to say drinks are on him," said his Florida neighbor, Angie Izzi.
The Irish know how to party, and after his win McDowell ended up in Brophy's Tavern, an Irish pub in Carmel. Padraig Harrington was there, along with rugby player George Gregan, and caddies Ronan Flood and Billy Foster. The Guinness flowed until daybreak. "It was a case of all Irish hands on deck," said longtime family friend Patrick O'Riordan. "It was a Paddy win, and all the boys were there. It was an Irish party of parties."
In the middle of the packed bar was Kenny McDowell. If his son's first win brought him a house, what would this Father's Day gift mean? "Happiness," he said.