News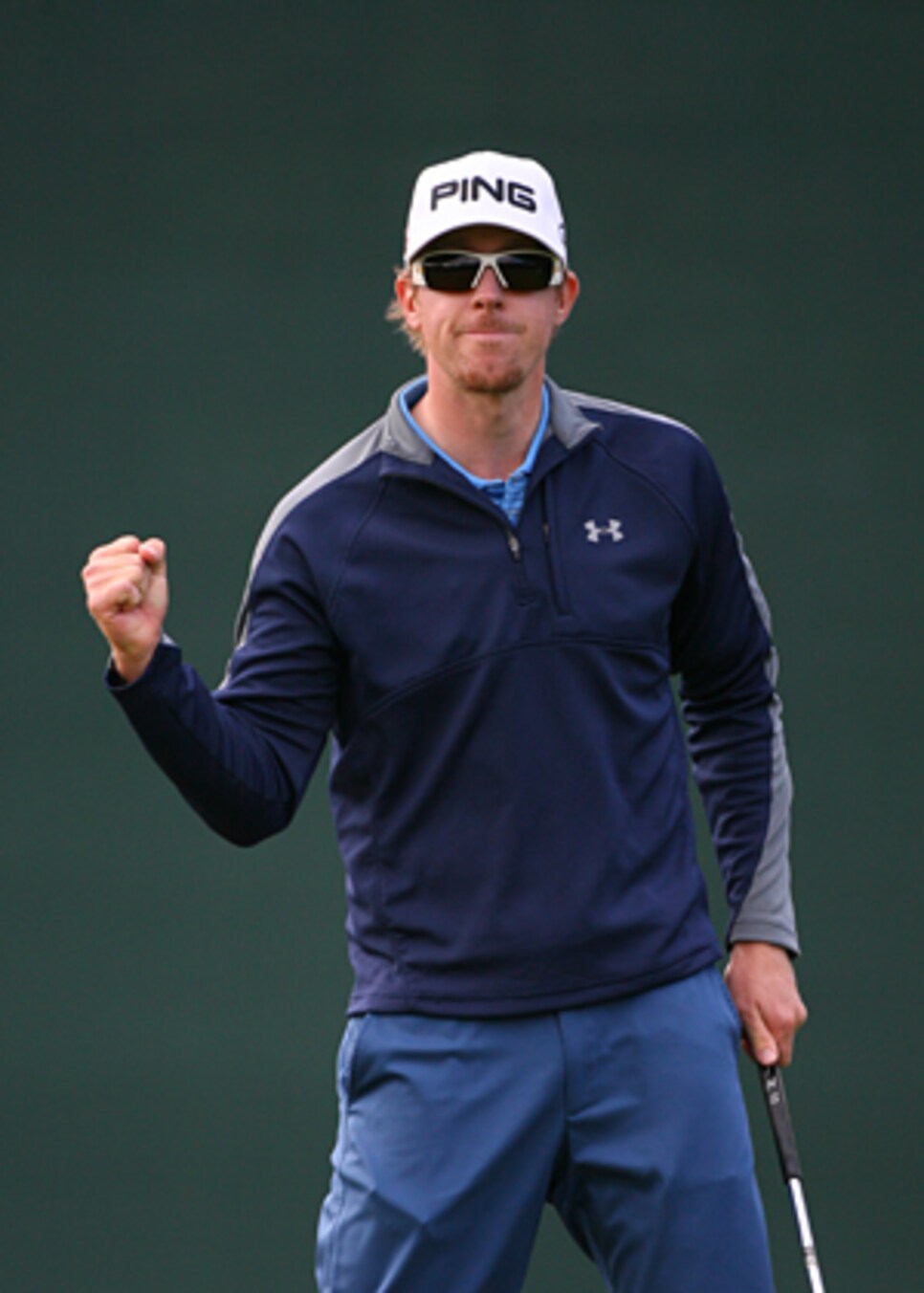 Mahan closed with a pair of 65s at the Waste Management Phoenix Open to pick up his second career win on the PGA Tour.
MIAMI -- When he sat down to a late lunch in player dining earlier this week at the CA Championship, Hunter Mahan put the white sunglasses on top of his baseball hat and offered a clearer view into his world. Mahan likes to look at life through a "nice mellow lens," but sees himself owning a brand of style and swagger that's more muted than Anthony Kim, not as sexy as Camilo Villegas or edgy as Rickie Fowler. "I'm trying to project an athlete, but still be a gentleman," Mahan said on Tuesday afternoon at Doral.
Lost in the Villegas win at the Honda Classic and speculation over Tiger Woods' return was Mahan's close of the Waste Management-Phoenix Open. With a pair of weekend 65s, Mahan threw down the type of performance long awaited for a man of his ability. Along with his second PGA Tour victory came the words of a maturing 27-year-old trying to create his own identity among the most diverse and talented group of twentysomething golfers the game has ever seen.
What's love got to do with it? A lot, says swing instructor Sean Foley, who met Kandi Harris walking the fairways of Pebble Beach and noticed an immediate difference in Mahan's state of mind. The fact she was a Dallas Cowboy cheerleader and Mavericks dancer was only part of the smile on Hunter's face; Harris knew sports better than Foley did, which made her perfectly compatible with Mahan.
"When H came out (this year), I could tell there hadn't been a lot of picking up a golf club," Foley said Thursday after Mahan shot 72 in the opening round of the CA Championship. "But I remember when I met my wife and how she changed the perception of things. I think that something's happened in him from her and from their relationship. That's what we're seeing."
To say Mahan is this decade's version of David Duval wouldn't be accurate, although he used to think it was cool to see "Dave Duval in his Oakleys." What's behind Mahan's Sundogs besides an eyewear contract? "Hopefully a confident young man still trying to find his way, trying to get better every day as a person and a golfer. Somebody who is excited and feeling lucky every time he get to tee it up," Mahan said, working his way through a plate of chopped-up turkey that was chased with a Diet Pepsi.
It's hard to get that kind of read on Mahan's action through a TV screen, but a personality is starting to match up with those ridiculously low scores he is apt to produce. That comes from two Presidents Cup and one Ryder Cup team, the confidence coming in the endorsement he received when Jack Nicklaus, Paul Azinger and Fred Couples were polling players for their captain's picks.
Mahan wants to make Corey Pavin's Ryder Cup team off points, and in so doing establish himself as more than just a player with potential, or a player not getting the most out of his talent. The perception of him as a punk who popped off about the Ryder Cup couldn't be further from the truth. While he idolizes the athletic ability of Kobe Bryant, he tries to emulate the demeanor of Justin Leonard. While his hobby is tricking up old cars, he is also immersed in the details of home a new home in Dallas. After the CA Championship, he is going to the Bahamas with Harris, along with the Cranes and the Rollins.
Mahan's look and demeanor look a little counter culture to golf -- or maybe the scruffy blond beard is actually the new look that represents a newer, hipper audience. A post on his Facebook from Janky Tilter reflects the in-your-face voice of his generation: "Hunter... You are pretty much the (exlpletive). So happy to see you win. Can('t) wait to see you sink another 30 fter (sic) to bury the Euros on their own turf!"
But when asked what image or persona he's trying to project, Mahan actually sounds more like Byron Nelson than some counterculture hero. He cited Justin Leonard as somebody he emulates. "I definitely want to show people who I am," he said. "I don't want to be a brick wall. I want to smile and let people know how I feel and how much I enjoy their company out there."
That doesn't mean Mahan doesn't play with fire. "He's intense out there, very intense," said Villegas. "He gets a little upset out there at times, but when he does he gets fired up and can get it going. I saw the shots he hit on Sunday in Phoenix. It was a joke."
Mahan wasn't too happy missing a short birdie putt after going for the green at the par-5 15th in Scottsdale, but he found the gear not seen on a Sunday since the 2007 Travelers Championship, when he staked a 9-iron and beat Jay Williamson for his first win.
Kobe himself would have been proud of Mahan, and the way he poured in the birdie putt at 16, and the six-footer at 18 to secure the win. "We think so much about our game, in other sports its just reaction," said Mahan, who was already holding seats at the Miami Heat-Chicago Bulls game Friday night. "You catch and shoot it. That's what we need to do more. You need to feel things and just kind of go blank, see it go in and then release it. The results are better when you do that."
The key now is to back it up. That's what Bryant would do. That's what Woods would do. "I have a great understanding in my game now, to know what I need to do to be a golfer and contend and win," he said. "Tiger has proven that you don't have to go up and down. You can contend every week if you do the right things and know what you need to do. I'd like to contend every week, especially in the majors."
Mahan contended last year in the U.S. Open at Bethpage. He flushed a 5-iron into the 17th hole of the final round that was literally struck too well. Instead of tap in for birdie, the shot clanged off the flagstick and nearly off the green. He three-putted to finish four shots back.
"I've never thought twice about it," he said. "It was a good shot. It felt good. It was a great swing. It hit that pin hard. But it's just the way it happened. I don't think it cost me the tournament or anything. I still feel stronger for it."
Now ranked No. 22 in the world, Mahan has enough starpower to warrant questions about his girlfriend, the first he's had out on tour. He's always traveled solo to his three Cups, with the other wives and significant others always looking to fix him up. He met a match in Harris, who was there waiting for him in the scoring area after winning Phoenix. Foley noted that hug was something Mahan never had before -- somebody to play for besides himself.
"Her sister married Jason Enloe, who plays on Nationwide Tour, and Jason works with Neal Smith." Mahan explained. "They had their wedding in December, so Jason brought it to Neal, and kind of talked about it."
Why this is important to the storyline is that Harris played an important role in Mahan's victory, riding to the parking lot at Scottsdale with a tour official to retrieve a back up driver in the trunk. Hunter's cracked on the first hole. Mahan was worried, but she made it back before he teed off on No. 3.
Mahan smiled when asked how much she knows about golf.
"I don't want her to know too much," he said.