News
Rory And Tiger Regroup In Florida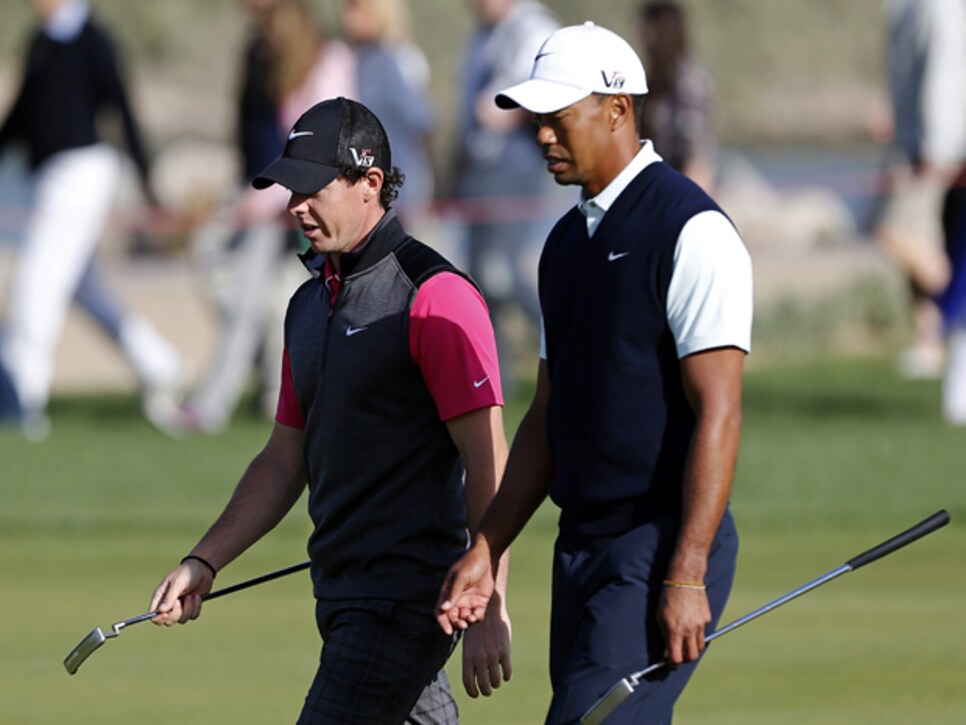 Rory McIlroy and Tiger Woods at the Abu Dhabi Golf Championship.
The Nos. 1 and 2 players in the world met on the first tee Sunday morning for a game. The problem for the WGC-Accenture Match Play Championship was that Rory McIlroy and Tiger Woods -- and their caddies J.P. Fitzgerald and Joe LaCava -- were at Medalist GC in Hobe Sound, Fla., not the GC at Dove Mountain in Marana, Ariz.
Woods said last month in Abu Dhabi that he and McIlroy would probably be playing home and away games now that they're both situated in the Jupiter-Palm Beach Gardens corridor (see the March 4 issue of Golf World). Tiger didn't probably think it would be after both he and Rory were eliminated from the Accenture in the opening round.
With the tour officially heading east today, the run-up to the Masters officially begins -- specifically on Thursday in the Honda Classic, where McIlroy is defending champion and Woods the runner-up from a year ago. Based on the cold and wind they saw on TV while making the turn at the Medalist halfway house, Rory and Tiger were probably happy to be where they were -- playing 36 holes on a day where the temperature reached 87 degrees.
Asked his exit strategy, Woods responded, "Go get warm."
Both lost to close friends after the snow melted on Thursday at Dove Mountain -- Tiger to Charles Howell III in a well-played match; Rory to Shane Lowry in a stunner that was characterized as sloppy by the experts. So when they jetted home, Tiger had more peace of mind than Rory.
Woods has a "W" in 2013 (the Farmers Insurance Open), missed only one fairway and had no bogeys in his match with Howell, a former Isleworth neighbor. "I played well, I really did," Woods said, employing positive spin. "I hit a lot of good shots out there. Unfortunately, it's the nature of the format, and I'm not advancing."
If the Accenture were medal play, McIlroy would have shot 75 against Lowry, who chipped in twice and won with a par at 18. Whether it is his equipment change or the effects of taking time off, Rory has played three competitive rounds this year, going 75-75 in Abu Dhabi and nowhere in Arizona.
So the young man that broke the scoring record at the PGA Championship and closed out 2012 with a win in Dubai at the DP World Championship to lock up the money titles on two tours, seemingly has more work to do before Augusta than Woods.
That would be the assumption based on the most recent scores and shots, but with McIlroy, bouncing back quickly is a trademark. The week before winning in Dubai, a globetrotting Rory complained of burnout after missing the cut in the UBS Hong Kong Open.
At this stage Rory needs some reps. His plan is to make the Masters his sixth tournament of the year -- and he's on schedule to do that. His driver, after a reshafting, behaved better at Dove Mountain than it did in Abu Dhabi. He's still not there yet with the irons, but maybe Tiger helped him sort it out. Not sounding too stressed, McIlroy said before leaving the arctic desert, "It shouldn't be a lot of work."