News
Let's See What You've Got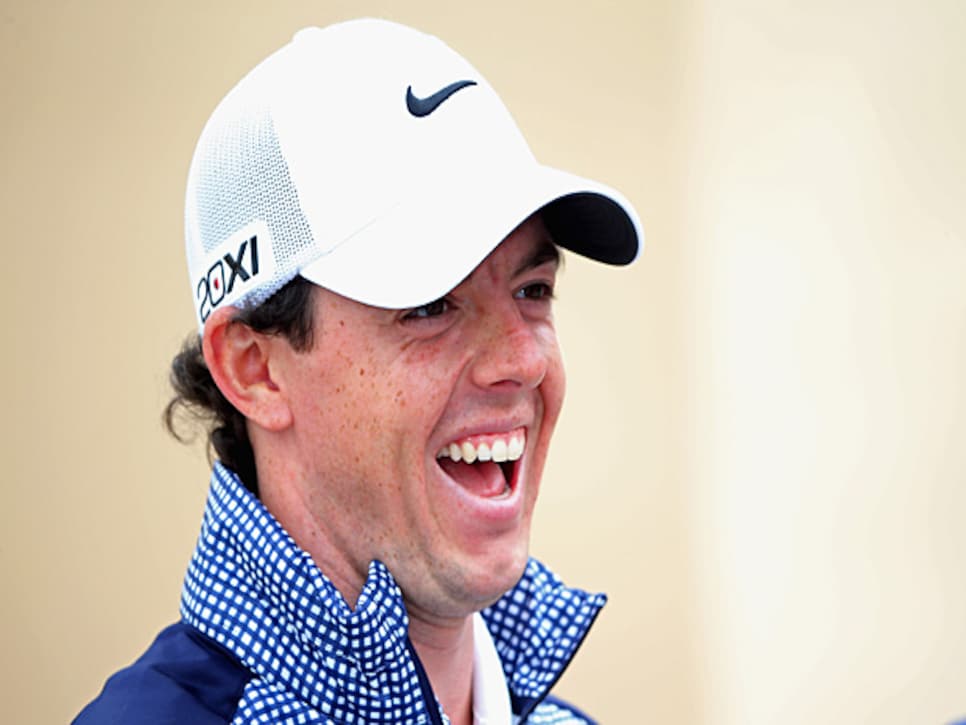 McIlroy will make his second worldwide start of 2013 this week at the WGC-Accenture Match Play Championship.
A month removed from a missed cut in Abu Dhabi, his only competitive appearance of the new year, Rory McIlroy makes his PGA Tour debut this week at the WGC-Accenture Match Play Championship. He brings with him to Tucson a series of questions, the chief one being how vigorously he will defend his No. 1 spot against the rapidly improving No. 2, Rory's new BFF, Tiger Woods.
Probably the most overblown concern when it comes to McIlroy is his equipment change. While it's true that he has 14 new variables in his bag and that there will certainly be a learning curve, the techno-geeks at Nike, like at all equipment companies, are so good at what they do they will find what works for him. And that will happen sooner rather than later.
From where I sit, what's in the bag for Rory is less important at this point than what is in his head. Is he ready this time to assume the challenges of being No. 1?
He wasn't after he won the 2011 U.S. Open in a romp at Congressional, mailing in his next five major championship appearances. But he sounded after his PGA Championship win last August like a wiser young man.
But getting to No. 1 and staying at No. 1 are two very different things. That ability to remain king of the hill was part of what made Woods so special. For Tiger, a victory was forgotten as soon as the last putt dropped. The immediate new goal was winning the next event. Winning never got old for Woods. Still hasn't.
And that is part of what we will find out about McIlroy this year. Does he have what it takes to build upon success? When it comes to that bet, I have the over. As much as I like Rory's swing -- he's the best driver of the golf ball I have seen since Greg Norman -- I love his head even more. It seems to be screwed on straight.
So let's talk about that building on success thing. When Woods won the 1997 Masters by 12 strokes at the age of 21, the hyperbole was off the charts. Jack Nicklaus famously said Tiger would wins more green jackets than he and Arnold Palmer combined. For those scoring at home, that would be 10.
Now, one of the many truly remarkable things about Woods is that he not only lived up to the hype, he exceeded it. And how often does that happen anymore in our bait-and-switch world where the steak rarely lives up to the sizzle?
Woods had a swing change-induced hiccup between major No. 1 and No. 2. But in the year he was 24, Woods had one of the greatest years in the history of golf, writing his name in indelible ink next to those of Bob Jones, Byron Nelson, Ben Hogan, Sam Snead and Nicklaus.
McIlroy, who will blow out 24 candles in May, dips his toe this year into the waters of greatness and we all find out if he is willing to take the plunge. After winning one of his first 11 majors as a professional, Woods won seven of his next 11, including three in 2000, when he painted his masterpiece, and completing the Tiger Slam at the 2001 Masters.
That McIlroy is ahead of the pace set by Woods at the same age is almost unthinkable. Rory was 23 and a few months when he picked up his second major while Tiger was about five months older.
But then Woods found that extra hidden away gear of greatness few ever locate in any sport. He was Bob Beamon breaking the long jump record by nearly two feet in the 1968 Olympics; or Babe Ruth hitting 59 homers in 1921 when the next best guy had 24.
Woods was special. Woods is special. No amount of money will ever suffocate his competitive fire. When he was at his best, Woods was the most talented and smartest guy in the game, but he also wanted it more than anyone else. That's a gift. You don't find that on the range.
Is that in Rory? The answer will begin to unfold in this run-up to the Masters, the first major of the year. Like his Nike stable mate, Woods, McIlroy plays this week in Tucson then heads to Florida for the Honda Classic and the WGC-Cadillac Championship.
For Woods, as he enters what should be a compelling next act to his remarkable career at the age of 37, there is a fascinating irony that the biggest obstacle to his goal of picking up the five majors he needs to break Jack's record of 18 could very well be McIlroy.
They have become friends, it appears, and Tiger has never liked to pal around with the guys he viewed as his biggest threats -- read that Phil Mickelson and Vijay Singh. Maybe he's just trying to get into Rory's head and lull him into complacency.
In any case, here we go. The season gets serious now as pitchers and catchers reporting to spring training can only mean one thing: the Masters looms.
Wouldn't it be delicious if the Woods-Mickelson rivalry that was always a bit disappointing -- never producing a Nicklaus-Tom Watson Duel in the Sun moment -- morphs now into a Woods-McIlroy rivalry? And wouldn't it be even sweeter if Rory doesn't blink ?
Once again, I got the over. The Rory McIlroy who won the PGA talked about there being a time to celebrate and a time to stay focused, something he said he learned after that U.S. Open win, and that now was the time to stay focused.
And he did just that, winning the Deutsche Bank Championship and the BMW Championship after the PGA before excelling in the Ryder Cup. Fasten your seatbelts, folks, we should be in for some exciting golf. We will see if Rory, who some say is a little soft around the edges, has a little Tiger in him. I got the over.