News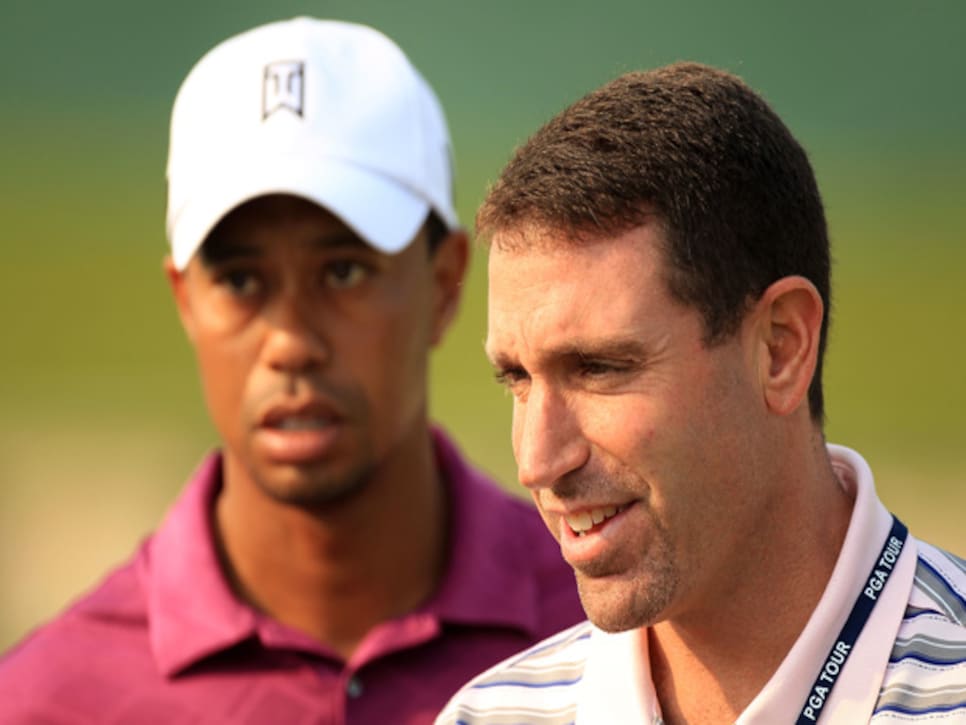 Steinberg (pictured with Woods) parted ways with IMG after the two sides were unable to agree on a new contract.
When Annika Sorenstam made her first LPGA Tour victory a major championship at the 1995 U.S. Women's Open at the age of 24, she turned to her agent, Mark Steinberg of IMG, and said: "What do we do now?" Steinberg, himself only 27 at the time, replied: "I don't know. I've never won a major either." Three years later Steinberg was agent for the most famous athlete in the world, Tiger Woods, as well as the most prominent female golfer, and by 2004 he was running global golf operations for IMG. On May 24, in a bizarre piece of timing -- just hours after Woods pledged his allegiance to Steinberg and IMG during a media event for the AT&T National tournament near Philadelphia -- Steinberg was out at IMG because he and the global management giant could not agree on a new contract. "He got the Joe Torre treatment," said one insider familiar with the situation, referring to the former New York Yankees manager who left the team in 2007 when offered a contract he felt was insulting. "They made him an offer they knew he would refuse."
The end, though abrupt, was not surprising to those close to the situation. Ted Forstmann, who installed Steinberg at the top of the golf pyramid after Forstmann Little & Company purchased IMG following the death of founder Mark McCormack in 2003, had grown distant from Steinberg, especially since the Nov. 27, 2009, car crash that threw Woods' life into turmoil, according to sources familiar with the situation. Those sources said the two had barely communicated over the last year and that Forstmann was also not close to Woods.
Forstmann, who goes to the company's office in New York virtually every day, according to company spokesman Jim Gallagher, despite serious health issues reported to involve malignant brain tumors, named Guy Kinnings, senior VP of European golf operations, and Robbie Henchman, senior VP of Asia Pacific golf operations, as co-heads of IMG Golf. Alastair Johnston, the vice chairman of IMG, who ran golf operations under McCormack, was tabbed to oversee the business of the golf division.
The two immediate questions concern where Steinberg will end up and whether he will take Woods with him. One possibility is that Steinberg could land at Los Angeles-based Creative Artists Agency. CAA was formed in 1975 and built its reputation on a Hollywood "who's who" client list that includes Brad Pitt, George Clooney, Julia Roberts and Steven Spielberg. In 2006 CAA began expanding into sports and pilfered many IMG agents and clients, including baseball star Derek Jeter and football great Peyton Manning. Now, there is speculation that CAA wants to expand its effort in golf. According to the CAA website, the only golfers it currently represents are Jack Nicklaus and Greg Norman, but those two would form a solid basis to a stand-alone golf division.
Sources told Golf World Steinberg does not have a non-compete clause in his IMG contract that expires in June, which means he is free to go anywhere. Given his experience and contacts, he would be an attractive acquisition for CAA, especially if he brings Woods (and Sorenstam) with him. CAA also has the money to pay Steinberg what he feels he is worth, which he would not be guaranteed if he went off on his own and formed a company based around Woods. However, what isn't clear is whether CAA would hire Steinberg to run its golf division -- or if Steinberg would join CAA if not given overall authority.
And what about Woods? "I'm committed to both, with IMG, and Mark's my agent," Woods said on the morning of May 24 at Aronimink GC, where he was promoting the PGA Tour event he runs. Just hours after Woods uttered those words, Steinberg and IMG parted ways. It's not clear if Woods knew of the situation when he made those comments.
When Forstmann purchased IMG for $750 million in 2004, it was assumed the intention was to make the company more efficient and then sell it at a profit. That's what Forstmann Little does. The potential loss of Woods raises questions as to the impact that would have on the value of the company, which would certainly be much less damaging now, when he is No. 13 in the World Ranking with a tarnished public image, than it would have been when he was the undisputed No. 1 with a squeaky-clean reputation.
"No one client has ever determined the value of IMG," said Gallagher, who is senior VP corporate communications at IMG's New York office. In fact, IMG has lost many big names over the years (including Nicklaus and Norman) and always found new stars (such as Woods and Sorenstam) to replace them. Moreover, IMG has evolved over the years into a company that includes the largest independent distributor and producer of sports TV programming as well as a lucrative involvement in the fashion industry and a variety of other revenue streams.
"Client representation accounts for only 7 percent of the profits at IMG," according to Gallagher. "For 44 years this company was a client-rep business. That is not the case now." As for whether Forstmann is shopping IMG, Gallagher said: "IMG is not for sale because it is not ready to be sold."
It could very well be that for all the key players in this drama -- IMG, Steinberg and Woods -- the one most impacted is Woods. For 18 months now his life has been one distraction after another, and this is yet more turmoil at a time when he is trying to get his game back on track. The plan a year ago was to turn the conversation from his personal life back to his professional life by winning golf tournaments, but that has not happened.
The conversation, instead, is now about swing changes, leg problems, putting woes and what appears at times to be a dwindling passion for the game. The uncertainties about Woods were not helped when he appeared at the Aronimink news conference on crutches, in a walking boot and saying he would likely not play again until the U.S. Open at Congressional, June 16-19.
Woods has yet to replace the multiple endorsement partners he lost because of the scandal. But to restore his former value, what will matter most is not who represents Woods, but how he plays. To once again get Tiger money he has to once again play Tiger golf. And that's something no agency can create -- only Woods can do it.