News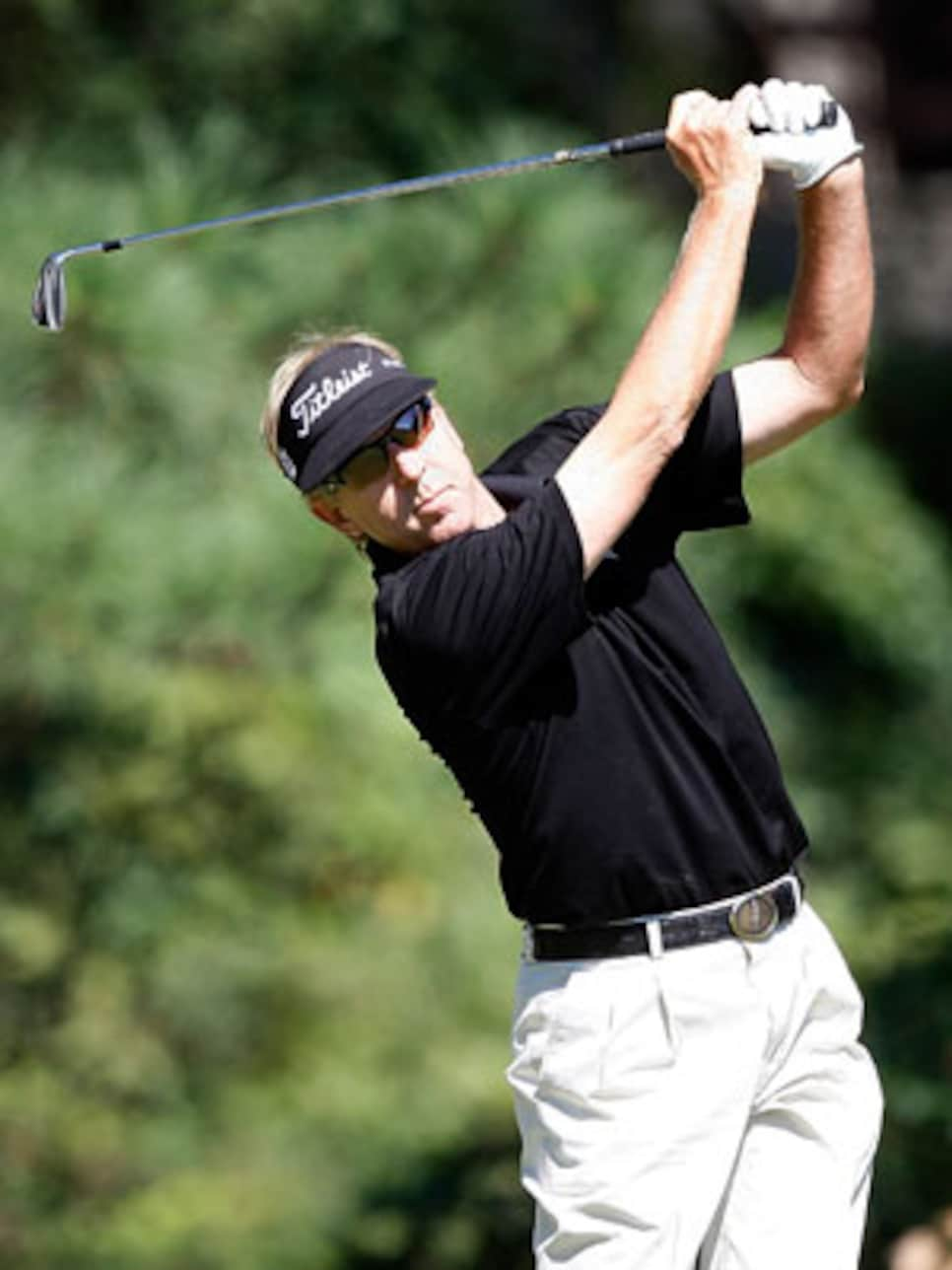 Dan Forsman an eagle and four straight birdies on his front nine Sunday.
HOOVER, Ala. (AP) -- Dan Forsman made an eagle and four consecutive birdies on the front nine Sunday on his way to a three-stroke victory in the Regions Charity Classic on Sunday.
Forsman, who shot a tournament-record 62 in the second round at Ross Bridge, won for the second time on the Champions Tour.
He made a couple of late bogeys to finish at 66 for the third round and minus-20 196 for the tournament, easily beating Joe Ozaki (66) and Peter Senior (68) at 17-under 199.
Second-round leader Bobby Clampett shot a 73 to fall to fifth.
David Peoples (68) came in fourth at 15-under, while Jeff Sluman (68) tied with Clampett another stroke back.
Clampett birdied three of the first six holes, but made a double-bogey on No. 7 and then bogeyed both 10 and 11 to fall eight shots behind Forsman.
Forsman built a five-shot lead after making a 50-foot birdie putt on No. 11.
"I caught fire down the front nine," said Forsman, who earned $255,000. "When I made that birdie on 11, even I had to step back and go, 'Wow, maybe I could shoot 60.'
"At that point, the only thing that could cool me down out there was Mother Nature."
A rain shower briefly soaked the course while Forsman was playing No. 12, and he said he allowed that to rattle him into making bogeys on both 13 and 14.
"The weather came, and that changed a lot of things," Forsman said. "My momentum had been cooled off big time. There was a little more stress and strain with each shot."
But the rest of the field was unable to put any serious pressure on Forsman.
"The (double-bogey) at 7 really shocked me," Clampett said. "Then Dan starts making birdies, and he's just off and running. I probably lost my patience a little bit after that."
Senior, the other player in the final group, birdied four of the first six holes but finished with 12 consecutive pars.
"I got off to a good start, and then I went to sleep," said Senior, who did not have a bogey in the tournament. "I missed a short birdie putt on No. 7 and I never got going after that. Then Dan just blew the competition away and coasted home.
"It's amazing what pressure can do, and I just didn't exert any whatsoever. I thought I had a chance, but I just couldn't get it going."
Forsman's final obstacle came at No. 17, where he hit his tee shot into a fairway bunker 83 yards from the hole. But he found the green with his second shot and salvaged par.
"The shot out of the bunker on 17 was the most important shot of the day," Forsman said. "I'm more proud of that shot than any other I hit this week."
With the victory, Forsman earned 255 points in the season-long Charles Schwab Cup race and moved into third place in the standings.
Fred Couples, who did not compete in this tournament because of a back injury, still leads the point standings. Bernard Langer is in second place in the standings following a 16th-place finish in the Regions Classic.
Ken Green, who was playing in his first stroke-play event since having the lower part of his right leg amputated following a car accident last June, shot a final-round 75 to finish at 9-over 73, tied for 73rd in the 77-player field.
"I'm pretty happy with the week," Green said. "It's definitely a home run for me. I hit a lot of good shots and some bad ones. It's encouraging that there is some hope that I can go out there and play some good golf."