News
Time To Split The Fairway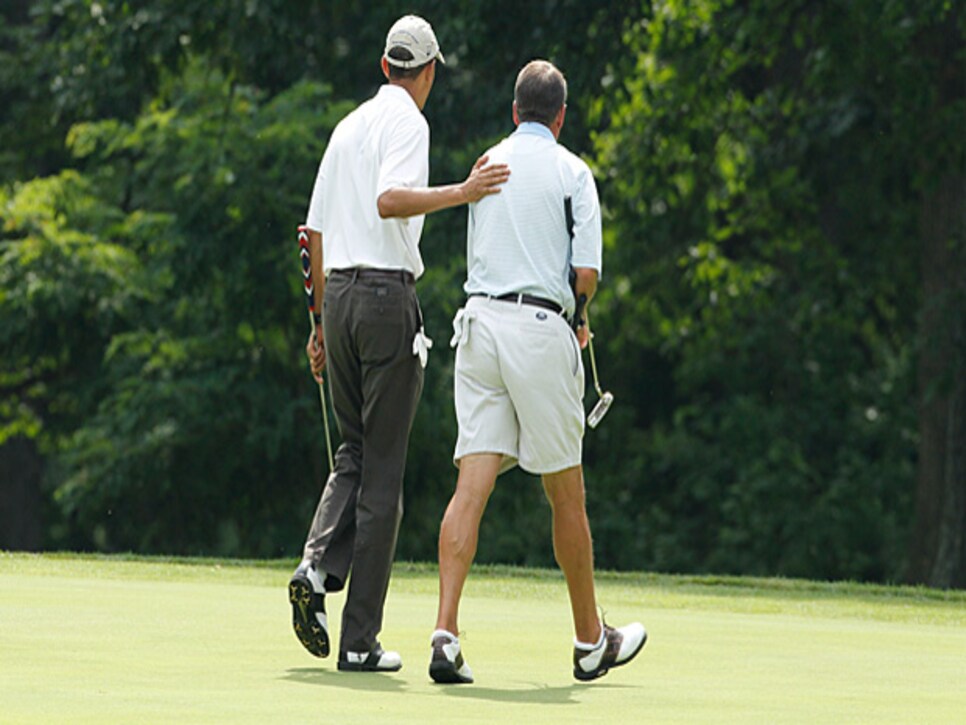 President Barack Obama and John Boehner bonded on the golf course last year.
Republicans will say that the Golfer-in-Chief has gotten an undeserved mulligan. Democrats will merely view it as President Barack Obama moving on to play the back nine after two clear-cut victories. What both sides should see in Tuesday's election results is a second chance for America to get this cooperation thing right. This is not a time for those who disagree to step away from each other, but rather a time to reach out to bridge their differences.
Earlier this year, at the Masters, I was chatting with former Sen. Sam Nunn, who is an Augusta National GC member. Now, I am a political junkie and when I have the opportunity to pick the brain of someone as smart as Nunn, I'm not going to let that ship sail without jumping on board.
Our conversation, which took place in the last row of the amphitheater media center at Augusta National, focused on the gridlock in Washington. I said that I was old enough to remember when the GOP had a broad-enough tent to have elected officials like Senators Lowell Weicker and Jacob Javitz, two moderate liberals.
"And a time when Democrats could elect a conservative," Nunn added with a wry smile that indicated that he was referring to himself. Exactly. The tents have gotten smaller and as a result the ideas within those tents have grown narrower.
The next day, Augusta National chairman Billy Payne held his annual session with the press and Sen. Nunn sat next to me in the interview room. Payne was asked a question he was asked every year but will never be asked again: "Why are there no female members at Augusta National?"
Payne restated the long-standing club policy not to publicly discuss membership matters. The reporter, not happy with the answer, rephrased the question. When Payne began to reply with the same answer, another reporter cut him off in mid-sentence.
Sen. Nunn looked at me and shook his head sadly. "This is what we have become," he said. "We have forgotten how to disagree with each other civilly, politely and with respect."
When Sen. Ted Kennedy, one of the fiercest liberals in Washington, died, one of those who spoke at the funeral was Sen. Orrin Hatch, a conservative Republican from Utah.
Among the stories told by Hatch was the time Kennedy rose to the Senate floor and made a speech blistering Hatch's support of some particular bill. Kennedy made his case in no uncertain terms, implying Hatch was less-than-functional in supporting the measure.
But later, Hatch said, Kennedy came up to him in the Senate cloakroom, slapped him on the back and said, "How was that?" letting loose that hearty Teddy laugh. Hatch and Kennedy disagreed on much, but they were friends, with the Democrat inviting the Republican to his Cape Cod house to take him sailing.
No matter where you stand on the political scale -- the left side, the right, or somewhere in between -- the nation now, with so many challenges ahead, needs to find a balance. I'm not smart enough to know where the balance resides, but I am willing to trust that both the Democrats and Republican have people smart enough and noble enough to find it.
Golf gives us a perfect road map to follow. Presidents Eisenhower and Ford were both passionate golfers and they were both Republicans. Presidents Clinton and Obama, both Democrats, share that passion.
The point is this: Clinton, Freeman, Fox, and Phelps do not ask the political affiliation of the people they help, nor of the people who donate money to their causes. They just try to make the world a better, safer, fairer place.
in the Golf World Charities Issue.
The point is this: Those women work together for a common good, a noble aspiration that transcends ideology.
The golf community is a relatively small one and, in the world of sports, one in which all of the stakeholders in the game need to cooperate in order to compete on the entertainment stage for fan support and sponsorship money with the team sports.
And golf is a very divided community, from caddies to CEOs. Still, it is a world in which most have learned to get along and work for the greater good. Many of my best friends in golf have ideas that are in sharp contrast to mine. But we never let that get in the way. Never.
I once said to a writer I have known for nearly 20 years and with whom I speak every week, "You know, it's amazing we get along so well. Politically, there is little we agree on." He replied, "No, Ron, politically there is NOTHING we agree on." He's probably correct. And he is one of my dearest friends.
On election night I got an e-mail from Dan Jenkins, the best golf writer ever to pick at a typewriter, laptop or Tweet, and a man with whom I dine just about every night at every major championship.
Dan wrote: "I have today exercised my freedom to vote for the candidate of my choice in America. Probably canceled yours. No offense." He is probably correct, and no offense would ever be taken. I treasure my time with Dan, and we never talk politics, even though he will bait me on occasion.
If we can interact with such civility on an individual level, why can't it be done on an institutional level? Golf shows the way. We have a passionate golfer in the White House and John Boehner, also an avid golfer, will likely again be the Republican Speaker of the House. Let's start there.
Obama and Boehner need to set an example of cooperation right out of the box. They tried that before on the golf course, and it went nowhere. But here's an idea: How about they both play one day at the Humana Challenge, the PGA Tour event in Palm Springs supported by the William J. Clinton Foundation?
Let the world see they can get along. Let they country see that reasonable men and women can find a common ground. We, as individuals, do it on the golf course all the time. Now, more than ever, we need to do it in politics. Please, guys, give me something positive to talk about with Sen. Nunn in April.