News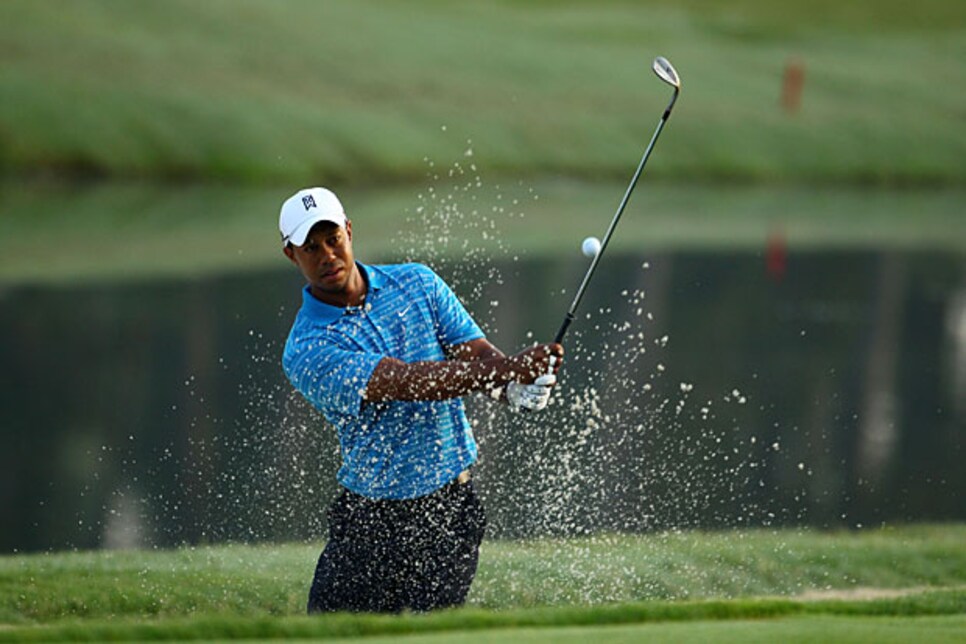 Tiger Woods risks being surpassed by Phil Mickelson in the world ranking after this week.
PONTE VEDRA BEACH, Fla. -- They came through the press room on Tuesday at the Players, first Tiger Woods, then Phil Mickelson, both coming from different places right now, but both needing each other. That's needing each other, not needling each other.
There is no doubt they bring out the best in one other. It is no coincidence that Mickelson started playing his best golf since Woods returned after his "indefinite" leave of absence ended at 144 days. As Mickelson said, "I feel like [Tiger] actually helps me play my best."
Woods wouldn't go that far, but the fact that Mickelson could become No. 1 with a victory this week is sort of adding insult to the personal injury Tiger has inflicted upon himself. He dismissed it by saying, "Well, if you look at our careers, it's gone in streaks like that where I'll get him, he'll get me, and it kind of goes in little spurts. And granted, we've been going at it for, what, 13 years. So yeah, right now he's won a few and hopefully I can win a few, too."
That's Woods' problem. He hasn't won a golf tournament since the Australian Masters last November. Twice previously, while going through swing changes, David Duval and Vijay Singh have passed him. Now that he's going through life changes, and emotional issues that he says are taking a toll on his golf swing, Woods seems vulnerable. "To be No. 1 and continue being No. 1, you have to win golf tournaments," he said. "And I haven't done that in a while. I haven't played in a while."
And when he played last weekend, he missed the cut, shooting 79 on Friday at the Quail Hollow Championship in a round that was historic in the sense that for the first time it looked like Woods gave up on a round. With Woods' driver still giving him fits, speculation has heated up that Hank Haney's tenure as swing coach could be coming to an end. While Haney is in Ponte Vedra, he hasn't been working with Tiger on property. When Tiger was asked about their relationship, he responded flatly. "I'm still working with him, yeah," he said.
In his defense, it's like Tiger said: He hasn't played in a while. But this is not a place for the game to get better. The TPC Sawgrass has been the site of two of Woods' greatest moments: his U.S. Amateur comeback in 1994 and his "Better Than Most" putt that was part of his victory in 2001. In practice rounds thus far, he has not "found it" since Charlotte. In fact, one of his playing partners in those rounds asked if he had enough balls.
"Well, it's getting better, no doubt," Woods said when asked how his practice rounds were going. "It couldn't get any worse."
For Mickelson, it couldn't get any better -- unless he ends up winning the U.S. Open after finishing second in the national championship five times. He arrived at Sawgrass Monday night after a heavy workout, feeling better approaching his 40th birthday than he did five years ago. He praised the work of swing instructor Butch Harmon for narrowing the dispersion of his misses -- which is why he could finish second at Quail Hollow with some below average driving accuracy percentages.
But Phil does his own stats. Of the 56 drives he hit, 42 were either first cut or fairway. And when he was in the woods, there was always an escape route. "Even earlier this year when I wasn't playing the best, I was still not having terrible tournaments just because I was able to keep it in play more."
The way Mickelson is doing it resonates in all corners of the golf world. While Tiger was cordial and funny a couple times, Mickelson had the press room laughing throughout his Q&A. Even when he was dodging the question of being No. 1, Mickelson did it lightheartedly. Asked about his weight, Mickelson concluded the news conference with a one-liner, "Yes, and if I could have one more week of food poisoning, I'll get to my target weight."
Tiger and Phil have always been yin and yang, the nature of their relationship growing from uncomfortable around each other to a mutual respect that was built around being on Cup teams. No, not the 2004 Ryder Cup where Hal Sutton tried to force feed them together, but starting at the 2007 Presidents Cup team that Jack Nicklaus captained and building with the words of praise that Mickelson continually heaps upon Woods.
"Well, as I've gotten older, I've come to appreciate all that he has done for the game of golf and me in particular," Mickelson said, "I've also found that I've needed him to help me get my golf out, and he has pushed me to work harder ... to become a better player. And I get motivated when he's back in the field."
However motivated Mickelson is this week, he has never lost sight of the larger world around him. Following his news conference, he was taken in a golf cart to a corporate tent overlooking the 18th green that was called the "Patriot Outpost." Inside, Mickelson was lauded for his work in launching the "Birdies For the Brave" program that provided financial backing for "Wounded Warriors." Brian Neuman, who lost his right arm in Iraq, was being honored. "This is a guy who gets it," said Navy Seal Commander Jack Riggins of Mickelson.