News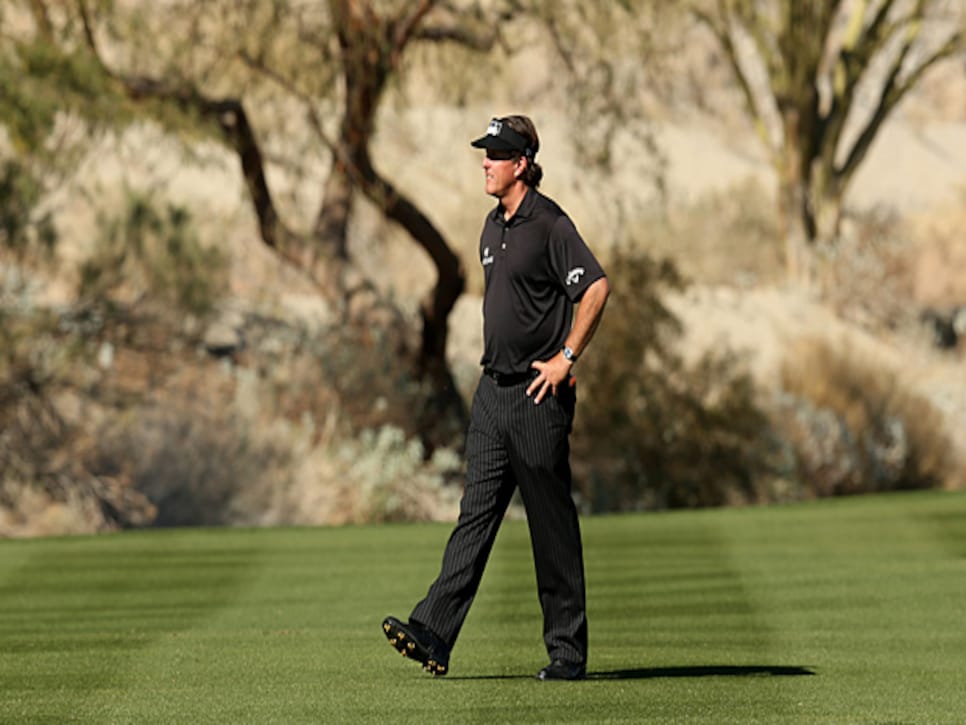 Phil Mickelson recently hinted at upcoming "drastic changes" over his tax situation.
On the Monday set aside to remember Dr. Martin Luther King Jr., the civil rights leader who paid the ultimate price for a political cause, Phil Mickelson was reminded on a much smaller and much less painful level of the perils of publicly advocating a policy position.
In the modern world where everyone with a laptop or a smart phone has a platform for their opinions, Mickelson was mostly pilloried in the social media for the comments he made about taxes on Sunday that burned up TV and the Internet on Monday and were scaled back by Mickelson on Tuesday in an apology.
On Wednesday at the Farmers Insurance Open, Mickelson compared his tax statements to his second shot at Winged Foot in the 2006 U.S. Open, saying he should have pitched safely back to the fairway instead of going for the green. He said that is what he is doing now in terms of the tax controversy.
"I've made some dumb, dumb mistakes and talking about this was one of them," Mickelson said. "I made a big mistake talking about this publicly. I shouldn't have because I don't have a plan for what I am going to do yet. I shouldn't have tried to take advantage of my public platform to affect policy." Mickelson said his remarks were "insensitive to those without jobs and those who live from paycheck to paycheck."
And while PGA Tour commissioner Tim Finchem didn't endorse Mickelson's comments, he said they reflected a thinking that extends far beyond tour players.
"I don't know if I should comment on this, because I didn't see everything he said," Finchem said Wednesday at Torrey Pines. "But, generally, people making decisions based on the tax rates in California on top of the federal tax rates is not a unique thing," said Finchem, who was an economist in the Carter Administration.
"There are businesses relocating out of California because they can operate better in states that have lower tax rates," Finchem said, noting that other states are enticing California-based companies with lower tax rates.
PGA Tour career. Talk about putting yourself in a lose-lose situation. This may turn out to be an issue that dogs the rest of his career and determines the course of his post-competitive life. Sen. Mickelson?
AFTER meeting his obligations to local, state and federal governments. With millions still jobless in the painfully slow recovery from The Great Recession, many found Mickelson's comments self-serving, selfish and frightfully not self-aware. Clearly, by Wednesday he was aware of that.
When public people who have achieved their notoriety in areas other than politics decide to enter the political arena, it is with significant risk. Certainly, we all have the right to our opinions and entertainers -- including athletes -- are entitled to express their views.
Bruce Springsteen campaigned vigorously for Barack Obama and Jack Nicklaus returned to his home state to stand next to Mitt Romney in an effort to push Ohio into the Republican camp.
But in both cases, the Boss and the Bear were supporting a person and not taking to a platform to espouse a position. Whether or not you agree with what Mickelson said, it is difficult to see the wisdom in saying it.
I was at the Humana Challenge and I was aware even before his public comments that Mickelson was concerned about the changes in tax law. On Saturday, he discussed the matter with former Deutsche Bank CEO Seth Waugh during a lengthy wait on No. 2 tee.
Now the professional ethic ingrained in me over 40 years of journalism is that you never publish a conversation you have privately overheard without asking the person's permission. I merely made a mental note to myself to discuss taxes with Mickelson later.
But because of comments Mickelson made on Jan. 16 at the AT&T Pebble Beach National Pro-Am media day in which he suggested Steve Stricker was scaling back his playing schedule because of "what's gone on the last couple of months politically" -- an apparent reference to the November election and the tax changes that followed -- Mickelson was asked about taxes after his round Sunday at the Humana.
For the record, Phil said that because of the increased Federal tax rate for high-income people coupled with the passage of Proposition 30 in California, which calls for tax increases for the wealthy to help fund public education, "I will be making some drastic changes."
That set off wild speculation about Phil's future. Even The Associated Press, which always opts for the under when betting on journalistic hyperbole, wrote Sunday night:
"Phil Mickelson has hinted at a move away from California, perhaps the United States and maybe even away from golf as he seeks to escape punitive tax rates."
Yikes! Could that really be true? Is Mickelson is going to quit making tens of millions of dollars playing golf so he doesn't have to pay tens of millions of dollars in taxes? To try to get to the bottom of things, on Sunday night I sent a text deep within the inner reaches of the Mickelson camp asking:
"Did your guy say he might shut it down next year because of tax law changes?"
The answer was a simple and clear: "No."
I pointed out that people were tweeting that Phil might quit and asked for clarification. The answer was that he is "considering options in light of recent proposition in Calif and possible changes in federal tax laws."
that should not be discussed publicly, apologizing to those offended by the Sunday comments.
The restrained display by Mickelson on Tuesday and Wednesday is what was needed on Sunday. There's no doubt in my mind that Phil hasn't suddenly become a Lefty on taxes, but he now realizes there is little to be gained by being openly Right.
It took Mickelson years -- and 46 failed tries in the majors -- before he learned that self control and caution is what wins the big tournaments. Perhaps now he has learned that's a good path to follow in non-golf matters as well.
Going public with your opinions is a right, but it can come at a price when you live your life on a public stage. Mickelson seems to have learned that lesson. But still, you never know when he is going to go for the green instead of wisely laying up.