News
Ruling Costs Johnson Playoff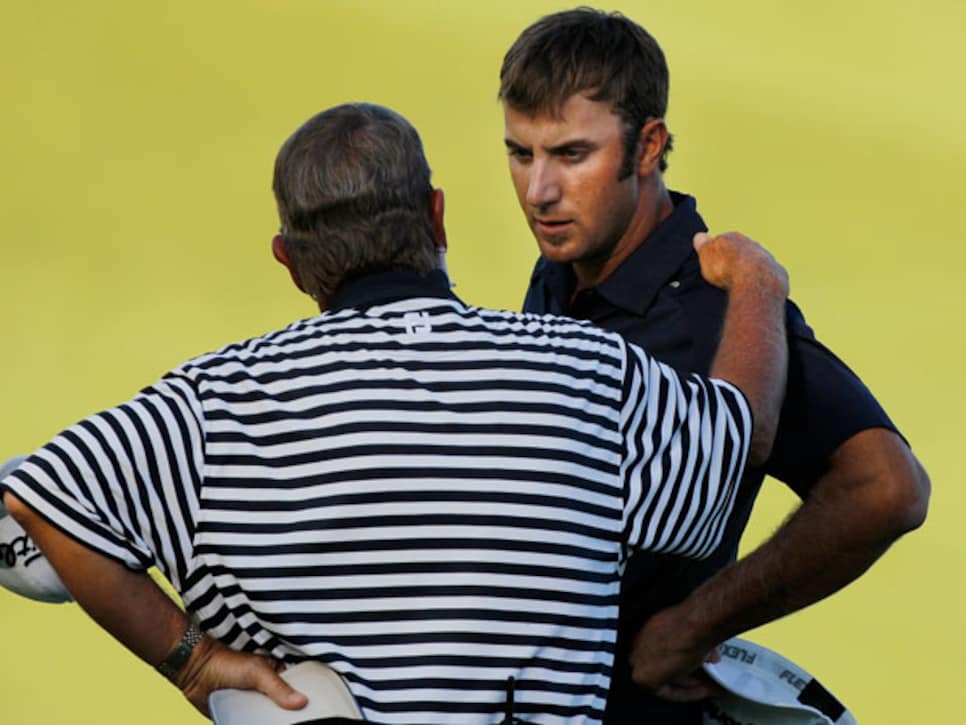 A PGA of America rules official talks with Dustin Johnson on the 18th green.
SHEBOYGAN, Wis. (AP) -- Dustin Johnson turned his pencil upside down and began erasing his scorecard.
He'd already given one major championship away. He never got a chance to finish this one.
Johnson was knocked out of the playoff at the PGA Championship on Sunday after he was penalized two strokes for grounding his club in a bunker he didn't even realize existed. Instead of 71 to join Martin Kaymer and Bubba Watson in the three-hole playoff, he changed his score from a 5 to a 7 and signed for a 73 to tie for fifth.
"I don't know if I can describe it," said Johnson, who showered quickly and was on his way to the parking lot before Kaymer and Watson finished their first hole. "If it was up to me, I wouldn't have thought I was in a bunker. But it's not up to me."
It was the cruelest ruling at a major since Roberto de Vicenzo accidentally signed for a higher score at the 1968 Masters, and the victory went to Bob Goalby.
And it was yet another major heartbreak for Johnson.
The 26-year-old was the third-round leader at the U.S. Open, only to have a complete meltdown Sunday and shoot 82. It was the highest score in the U.S. Open by a 54-hole leader since Fred McLeod shot 83 at Chicago Golf Club in 1911. It was also Johnson's worst score as a professional.
He insisted he wouldn't let the collapse linger, and Pebble Beach seemed the furthest thing from his mind at Whistling Straits. When he curled in a 12-footer for birdie on the par-3 17th, he was the outright leader, less than a half-hour from redemption.
But his tee shot on 18 sailed into the gallery lining the right side of the fairway, landing in a small patch of sand that had been walked on, kicked and trampled by thousands of fans over the last week.
"Walking up and seeing the shot, never once did it cross my mind it was in a sand trap," Johnson said. "I just thought it was on a piece of dirt the crowd had trampled down. Never thought it was a sand trap. I looked at it a lot, never once thought it was a bunker."
Whistling Straits is designed to mimic an old-style links course, with more bunkers than you can count -- literally. Anytime the grounds crew trims the fescue, another emerges. The PGA of America decided back in 2004 that every bunker is a hazard, no matter how many fans tromp through it, and players were reminded of it this week with a notice in the locker room.
Neither, though, did many other players.
"Honestly, I don't think anyone reads the sheets," playing partner Nick Watney said. "I mean, we've played in hundreds of tournaments, we get a sheet every week."
Unaware he was in a bunker, Johnson grounded his club before hitting toward the green. He missed a par putt that would have given him the victory, and immediately turned his attention to the playoff with Watson and Kaymer.
But as he and Watney walked off the green, he was approached by rules official David Price. There was a problem, Price told them, Johnson might have grounded his club in a bunker.
"What bunker?" was Johnson's reaction.
Given the details, Johnson immediately said he had grounded his club.
"But I never thought it was in a bunker," Johnson said.
Though he never disputed he'd grounded the club, Johnson and Watney spent several minutes in the scoring trailer with rules officials and watched replays of the shot.
Finally, he grabbed his pencil and changed the scorecard.
"I think I'm going to a playoff," he said, "and I've got a two-stroke penalty."
Johnson was composed when he spoke to the media in the clubhouse, never once blaming officials. Or even questioning them. He'd violated a rule, no matter if he didn't realize it.
His lone consolation is that his finish earned him a spot on his first Ryder Cup team. But whenever he sees the Wanamaker Trophy from now, Johnson will know it could have -- maybe should have -- been his.
"Maybe a little bit," Johnson said when someone suggested the title was "stolen" from him. "But that's how it goes."