News
Fog Finally Lifts, Kuchar Jumps To Lead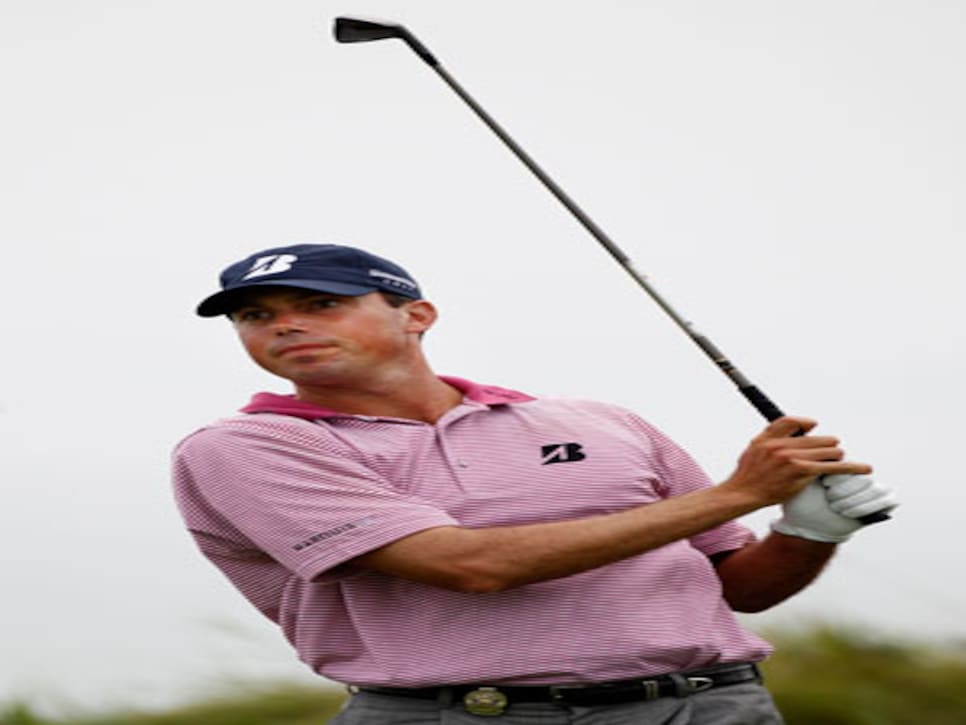 Kuchar finished his first round after another fog delay Friday morning.
SHEBOYGAN, Wis. (AP) -- Matt Kuchar wasted no time taking the lead at the PGA Championship.
Kuchar birdied his first hole after the first round resumed Friday morning, and his 5-under 67 gave him a one-stroke lead over a group that includes three-time major winner Ernie Els and Bubba Watson.
Tiger Woods was four strokes off the lead at 1 under. But his 71 on Thursday was still cause for small celebration: It was the first time in eight rounds that Woods had broken par, and he made a brief appearance on the leaderboard after three birdies in his first four holes.
Half the 156-player field had to come back Friday morning to finish the first round after darkness halted play Thursday night. But just as it did Thursday morning, fog delayed play for about three hours Friday.
"It's tough finishing anywhere when you've been on the range for two-and-a-half hours," said Adam Scott, who had five holes left when he came back Friday. "It's been a long day already."
Kuchar didn't mind the delay. He got only 5½ hours of sleep Thursday night, less than his preferred eight, and the extra time on the driving range gave him a chance to find his swing again.
"I never wake up in the best of spirits," he said. "So (the delay) was just some extra time to kind of get my body back in sync again."
It worked. Picking up on the par-4 No. 6, Kuchar birdied it and played his last three holes at par to preserve the lead. He finished the first round with an eagle -- he holed out from 124 yards out on the fairway early in his round -- four birdies and just one bogey.
"I was very impressed. Very impressed," playing partner and European Ryder Cup captain Colin Montgomerie said. "He handled himself very well."
Others weren't quite as fortunate.
Phil Mickelson has another opportunity to take the No. 1 ranking from Woods this week. But he went backward when he got back on the course Friday with two bogeys in his last five holes, and was at 1 over.
Darren Clarke was 3 under when he left the course Thursday night with only five holes left. He played them in 5 over, including a double bogey on the 17th hole when his tee shot tumbled down the hill and into a heel print left in one of the 1,200 or so bunkers on the course.
"Just one of those things," Clarke said. "It was supposed to be raked, and it wasn't. There's so many bunkers out there, they're going to miss one now and then. But a good shot is not down there. It's on the green."
Angel Cabrera had gotten to 4 under with only two holes left Friday. But the two-time major winner gave all of those strokes back, thanks largely to a triple-bogey on 17.
"It's testing us for sure," Els said. "You're playing a very big golf course and you know you're going to have delays. You've just got to try to stay in the present and play every shot as it comes. Not try to get to ahead of yourself, I guess.
Els is desperate to make sure another year doesn't end without a major, and has to be happy being only one stroke off the lead. He'll be even happier if he can get in his second round Friday.
Second-round tee times were pushed back four hours, making it unlikely everyone will finish 18 holes Friday. Woods, for example, isn't scheduled to tee off until almost 7 p.m. EDT.
"Hopefully we can get 18 holes done," Els said. "Then it's a real winner, then you can put your feet up. We've got a ways to go."