The Loop
One can get discouraged these days looking at the time it takes to play a public-course round or the cost of greens fees or even the haughty difficulty of courses facing the beginning golfer, which we claim we want to welcome to our game. (Why is it that everyone wants to brag about how difficult their layout is, how high the slope rating?)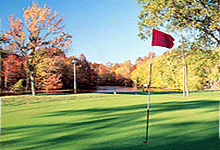 But then are days when you know you're in the right sport and the sport is in the right place. I had a couple of those moments during our family vacation last week on the Jersey Shore. Because no family can spend every waking minute at a beach, no matter how pristine, and Stone Harbor's is that, we headed for the golf course one day--my wife Julie, a 15-handicap, my 14-year-old son Matthew, a beginner, and his buddy Brian, also 14, who'd barely even picked up a club. The day before we'd checked out nearby Avalon Golf Club (Golf Digest Places to Play: 3 stars) and saw that it was not only very playable (69.6, 116 from the back tees) but very pretty and in reasonably good shape. It offered a special price after 3:00 pm ($54 including cart) and charged half that for kids. Sold.
My son and I had clubs and we rented ladies set for his buddy and my wife. I half apologized to the man behind the counter about our group's playing ability, but he said, "No problem. Just keep up with the group in front."
We did. And had a ball. The two boys played alternate shot, so the game became not about what they scored but about how many good shots you hit. When the first-timer hit a 150-yard drive on the seventh hole we all cheered and high-fived him. My son almost outdrove my wife once--lots of measuring there--and I never had that much fun playing bogey golf.
We not only kept up with the group in front of us--four men who obviously took their games pretty seriously--we waited on them on four holes. The course itself was just what it seemed from our reconnaissance: playable, puttable (green speeds between 8 and 9) and pretty.
We quit after a two-hour nine and felt as though we'd got more than our money's worth. Especially because the course had, as my son said when he read it quickly, a "free daft beer" promotion that day. We had a daft beer and counted it one of my favorite golf experiences ever.
In a very different way, my trip to nearby San Barrens Golf Club (Places to Play: 4 stars), a 27-hold Von Hagge/Devlin design up the road was just as much fun. First, I was able to walk ("sure, same price though" said the lady behind the counter), every person we talked to was friendly, helpful and made you feel welcome. I asked the starter which nines were best. "You know what, I'm going to send you out on the West and then you can go South. They're all good nines, but the south has a bit more topography. You'll like it." He also steered me away from foursomes.
More bogey golf, but a very peaceful walk on the front nine and an enjoyable companionship on the back when I hooked up with Tom, his son Pat and Brian, all from the Philly suburbs. The course, in very fine condition even after a rain, offered room off the tee but challenging bunker placement, especially those deep fairway bunkers that dare you to take the short cut by driving over them. Bunkers are ubiquitous on the Barrens; they even line the road in, where there are no golf holes.
The greens were quicker here, but not silly fast. And like my son's last drive the day before, a birdie on the second nine made me want to go back. Brian, who played the best of our group, also recommended Shore Gate Golf Club (Places to Play: 4.5 stars), a few miles a way in Ocean View, which he said offered an even tougher test. He also reminded me of Twisted Dunes Golf Club (Places to Play: 4 stars) But the "Champion" tees we played with a rating of 70.5 and a slope of 127 was just fine for vacation golf, thank you.
So who knew the Jersey Shore was a golf haven. And maybe that's overstating it. But I know one thing, at two of the courses there, for sure, they get what the game's all about. The Carney's will be back.