News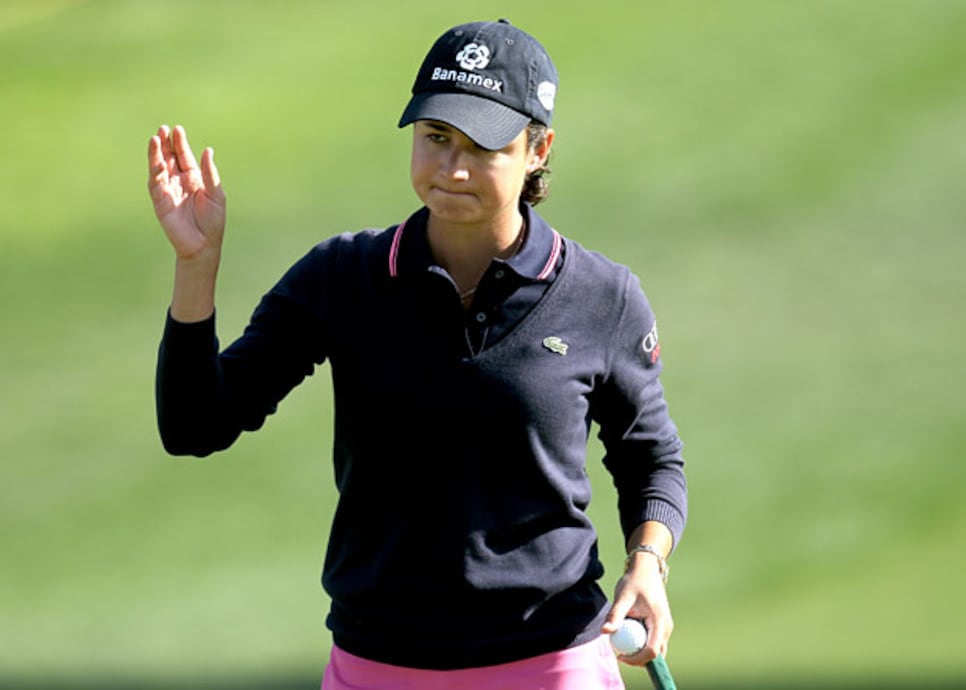 The news of Lorena Ochoa's retirement has elicited a strong response throughout the golf world, and especially within the offices of Golf Digest, where the LPGA star has been a Playing Editor since June 2008. Below are some recollections from writers and editors who have worked on instruction articles with Ochoa, covered her remarkable career, or even admired the player's grace from a distance.
CONNECTING WITH COUNTRYMEN
The first time it happened I learned about it after the fact, four or five years ago. The superintendent at Superstition Mountain near Phoenix told me that on the Tuesday before the Safeway International, Lorena Ochoa had gone to the maintenance shed, where most of the employees are of Mexican heritage, to talk to the workers. She thanked them for the condition of the golf course and praised them for being good representatives of their homeland. On Sunday -- their day off -- about a dozen and half of the maintenance workers showed up to follow Ochoa, waving Mexican flags and singing and chanting in Spanish.
Visiting the maintenance workers before the tournaments was an act Ochoa would repeat at any course where the employees were mostly Mexican. Only it became more difficult for her to do it in private. Tournament directors would leak the visit to local media and eventually she would be followed by TV cameras. This year, at the Kraft Nabisco Championship, Ochoa showed up at the shed early Tuesday morning and cooked scrambled eggs for the workers, hanging around to sign autographs and pose for photographs.
Yes, the media had found out about the visits and they were making Lorena the story. But in her mind, and in her heart, the real story was not her but the workers she visited. Ochoa is extremely proud of her heritage and extremely aware that she is a have in a country with mostly have-nots. Truly, she made those visits not to promote herself, but to promote self respect among the workers.
MAKING ADMIRERS OUT OF HER PREDECESSORS
Not only has Lorena Ochoa had the respect of her contemporaries but that of the LPGA's all-time best. Two years ago, with Ochoa having won four straight tournaments, I had the pleasure of talking with Mickey Wright (82 LPGA wins) and Kathy Whitworth (the all-time leader, with 88) for their perspective. It was abundantly clear how happy both of them were to see Ochoa at the pinnacle they long ago had reached. They liked her individualistic swing with its distinctive head dip ("I just hope she doesn't mess with it," said Wright) and her generous personality ("She just does everything right," said Whitworth).
Great champions know what their successors are going through better than anyone else. Although in 2008 Ochoa almost always had a sunny disposition, Wright knew the burden of being the best. "The pressure of being in contention every week is emotionally draining," she said. "She doesn't show it a whole bunch, but I know it absolutely drains you dry. It's not so much a physical thing. It's emotional."
"She's a great golfer and a great girl," Whitworth said then. "It's a whole different deal now than when we played. There's so much involved, but it'll be fun to watch her career."
Whether Ochoa's career is over, or just on hiatus, she should be pleased she impressed the very best.
THE MAESTRO BEHIND HER SUCCESS
Lorena came up as one of many kids in the club's junior program. She was shy but an exceptional athlete, playing other sports, climbing and falling out of trees (she once broke both wrists after an especially bad accident) and riding horses--the club has an equestrian center as well. But Rafael Alarcon could tell there was something different about her. She had an inquisitive mind. He started asking her to play a couple of holes with him, and let her imitate his swing. He would take her to the white tees so she was forced to try for more distance. "The first time we did this," Rafael remembers, "she hit driver, 3-wood, 7-iron and made the putt on a par-4 whose second shot was over water. The next time we played, she hit the green with her 3-wood second shot." Then he took her to the back tees. Alarcon, without telling her, was forcing Lorena to generate more clubhead speed.
Lorena was good at imitating his swing, and she wore him out asking questions. Rafael's rhythmic action includes the same delayed-hands down-cock that is Lorena's trademark move. He would take her to different parts of the course, say 75 yards from the green with an overhanging tree branch, throw down three balls, and tell her to hit the green with a 9-iron, then a pitching wedge, then a sand wedge. Honing her natural skills, he was teaching her how to play shots and learn to control her ball flight.
They often played games on the course or on the range. "You always have to keep it fun," Alarcon says. Calling out distances then hitting shots with your eyes closed is not only fun (and difficult), but is a great way to develop feel. Rafael has been playing such games with Lorena her entire life. And now we are witnessing one of the all-time great feel players.
(from GolfDigest.com, November 15, 2008)*
I first met Lorena Ochoa in the spring of 2004, at a golf resort just outside Puerto Vallarta called the Four Seasons Punta Mita. I was an editor at Golf For Women at the time, and one of my side duties involved hosting a monthly travel segment on a golf show on USA Network. Ochoa was the only active tour pro from Mexico at the time, so my producer had contacted Alejandro Ochoa, the sophomore LPGA player's brother and agent, to see if his sister would be willing to participate in our segment and talk about the emergence of golf in Mexico. At the time, I was only vaguely familiar with the then-22-year-old. I certainly had no idea what she would become.
Ochoa and her brother's flight from their Guadalajara to Puerto Vallarta was canceled that morning, leaving the two with only one option: sitting at the Guadalajara airport for an extra five hours before being able to catch another flight. Yet they called and told us they'd wait and would be there as soon as they could. When they finally showed up, they were both very apologetic, and Lorena super sweet and almost painfully shy. Over the following hours, my producer -- rushed and flustered by the delay in our schedule -- had the poor girl jump through all kinds of hoops (hair and make-up, wardrobe, interviews, stand-ups, on-course scenes) at warp speed to be able to finish before sunset, and Ochoa never once complained. I think we could have asked her to do handstands on the clubhouse roof and she would have complied. But as the afternoon wore on, strange interruptions kept happening. Resort guests, mainly wealthy Americans, completely ignored Ochoa, but whenever a resort staffer caught sight of her, they broke out in hysterics. At first, they didn't approach her, only whispered to each other with great excitement, but as word spread that Ochoa was there, more and more Mexican natives showed up to gawk at and talk to the young player. And when they did, she stopped whatever she was doing and walked over to greet them. Their reactions were Elvis-fan-like. One course-maintenance worker even dropped down on one knee in front of her as she shook his hand. To say I felt like a fool for not realizing this relative unknown's superstar status in Mexico is an understatement. And I was befuddled by her humility and grace toward us.
At the end of the day, as we said our goodbyes, I thanked Ochoa profusely for coming all the way to the shoot of a 10-minute travel segment on basic cable, even though her flight had been canceled, and she said "Of course -- this is about Mexico. It's important."
EVEN IN DISAPPOINTMENT, PERSPECTIVE
I was covering the 2008 U.S. Open at Interlachen, and Ochoa had won two of the previous three women's majors. So the pressure was on for her to win again that week. By Sunday, however, Ochoa fell way out of contention, and her disappointment was obvious.
But even then she never treated anyone any differently -- which is to say, she still treated everyone like gold. I remember she was the last one to tee off on the first hole on Sunday, and with a slight smile on her face she kept staring at the volunteer who was introducing the players on the first hole. She couldn't stop staring at that volunteer, and when her name was called she said, "Thank you." Unlike any other player who's no longer in the hunt, her appreciation was 100 percent sincere.
Those three minutes of interaction embodies Ochoa as a whole. She might have been one of her sport's most dominant figures, but she was also one of its most humble. An anomaly, for sure.
Lorena Ochoa has been one of the most unassuming stars in the game's history, as nice as she is talented. She is so unfailingly polite that at every news conference her response to the first question invariably begins, "Hello, everybody." At one tournament, USA Today golf writer Steve DiMeglio was determined to convince her to alter her greeting. So he offered to make a donation to her foundation if, instead of opening with, "Hello, everybody," she'd greet the media with, "What's up?" Ochoa, who has a playful side, agreed, and sure enough, she opened with, "What's up?" A retirement announcement is probably too somber a moment for jocularity, but wouldn't it be perfect were she to open her news conference on Friday by saying, "Goodbye, everybody"?
One of the remarkable things about Ochoa's early career was how many times she let tournaments slip away without letting the failure get her down. She possessed a remarkable ability to use disappointment as a steppingstone and not a stumbling block. At the 2005 tournament in Phoenix, Ochoa had a four-stroke lead over Annika Sorenstam with three holes to play but made a double bogey on No. 16, a bogey on No. 17 and when Sorenstam birdied the last hole they went to a playoff. Ochoa stepped onto the 18th tee at Superstition Mountain, and with the first swing of the playoff pulled her drive into the water. Game over.
Four months later, in the U.S Women's Open at Cherry Hills, Ochoa was making a furious final-round charge and had a chance to get into the clubhouse an hour before the leaders and post a number that would give them something to thing about on an extremely difficult course. Standing on the 18th tee she made easily the worst swing I have ever seen her make and pulled her drive so far left it missed land by 30 yards. She finished with a quadruple bogey 8 -- and finished four strokes behind the winner Birdie Kim.
Those are two devastating disappointments to have so close together and for a lot of players -- perhaps most -- it would take a long time to get over the pain. Yet, Lorena always learned form her mistakes and always remained upbeat. She had one LPGA victory in that 2005 season, then won six times in '06, eight times in '07 and seven times in '08. That's when golf was fun for Lorena. Perhaps it will be again someday.
THE CONSUMMATE PROFESSIONAL
In January 2008, I went to Lorena's home in Mexico to do an instruction piece with her at the Guadalajara Country Club. At that time, she was LPGA Player of the Year and perhaps at the height of her career. However, there was no ego about her... Just a delightful, compassionate person.
I was struck by the equanimity with which she handled the many demands on her. She was gracious to me, the photographer, Darren Carroll and Mr. Style, Marty Hackel who was there to give her fashion pointers. Which she didn't need.
The evening before the shoot, she sat with me to go over the pointers in the piece. She had definite ideas and made several changes that clearly improved the instruction. After our meeting, she was off to the gym for a serious workout. She had started the day with a session with her coach, Rafael Alarcon and in the afternoon, spent time with a local magazine for an upcoming story.
The next morning she was ready to go to work, having sat patiently while our make-up artist did her thing. We completed the assigned story and she willingly allowed a second piece on putting that included a change in clothing. She had committed for an hour, but two pieces for Golf Digest took longer than that.
Before we had packed up our paraphernalia, the make-up was off and Lorena was on her way to her next activity -- playing in an exhibition tennis match.