My Town: Edwin Watts' Fort Walton Beach/Destin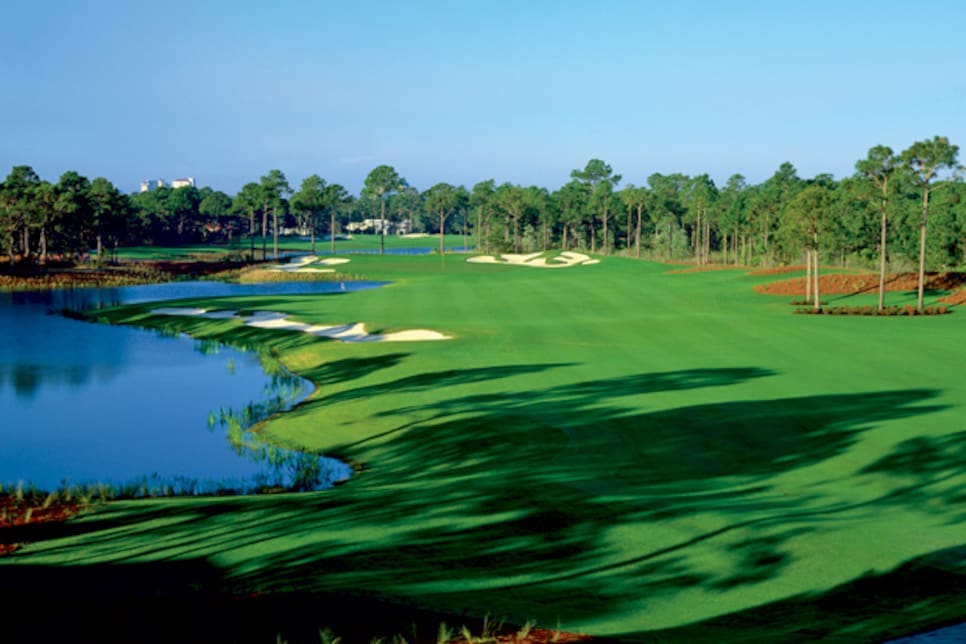 The 546-yard, par-5 17th hole at the Raven course at Sandestin Golf & Beach Resort.
Edwin Watts has called the Florida Panhandle home his entire life. Specifically, the Fort Walton Beach/Destin area is where the 65-year-old was raised and where he fell in love with golf. He caddied as a teenager at Eglin Air Force Base GC
, eventually working his way up to the head professional job before opening the first Edwin Watts Golf Shop at the club with his brother, Ronnie, in 1968.
After selling his interest in the golf retail chain four years ago, Watts could have retired anywhere in the country but chose to stay along the Gulf Coast. "This place is really a little hidden jewel," says the grand-father of five. "The area is beautiful, and the golf is first-rate."
It's also available almost year-round. While the area attracts the most tourists during the summer -- thanks to the popular beaches -- the weather stays warm well into November, making it a great place for a fall buddies trip.
The good news for visitors coming here is that nearly every course in the area is open to the public, with pretty reasonable prices. Sentimentally, my favorite is Fort Walton Beach GC
. There are two high-quality courses there. Both are a lot of fun to play. You don't lose balls on every hole, and there is no out-of-bounds. But they're also quite challenging to play.
in Destin. It's a beautiful 27-hole facility. The courses always seem to be in very good condition.
was built in the 1990s on what was an old turpentine farm. Fred Couples and Gene Bates designed the course, which sits right by the Choctawhatchee Bay. Several of the holes offer fantastic views of the water.
. It's probably the hardest course around here; if you can play that one, well, you'll play them all just fine.
Sandestin Resort is a spectacular facility. The four courses there are lots of fun, and the hotel is very impressive. It's right by the beach, so if you come with your family, they can spend time there while you're playing...There's also a very cute little hotel in Fort Walton Beach, Aunt Martha's Bed and Breakfast. It's along the sound and has a manor-house feel that's pretty neat.
If you come here, the best option, however, is to rent a condo. They're available along the water and are reasonably priced. Management companies, such as Resort Quest, book them along the coast. For a buddies trip, a condo is definitely the way to go.
Around Destin, you'll find every chain you could want, but for local fare there are a couple of places I'm partial to. Pandora's Steakhouse in Fort Walton Beach is really nice. It's been in business for more than 30 years, the oldest family-owned restaurant in the area...If you're looking for seafood, try Capt. Dave's On The Gulf. The food is outstanding, and there is the most beautiful view of the gulf you'll see from any restaurant. Two new places that opened up recently are also quite good: À La Carte, which has a café feel to it, and Fat Clemenza's, a nice Italian restaurant.
The beaches are truly the area's best selling point. They're beautiful, with white sugar sand. And we never had problems with oil from the Gulf spill last year. And that includes our fishing industry. We've got all kinds of fishing, from deep sea out in the Gulf to cruising the inland waterways. You can catch all varieties, grouper, snapper, sailfish, flounder. You can charter a boat and take it out on your own or go on a trip with a captain who knows the best spots.