The Loop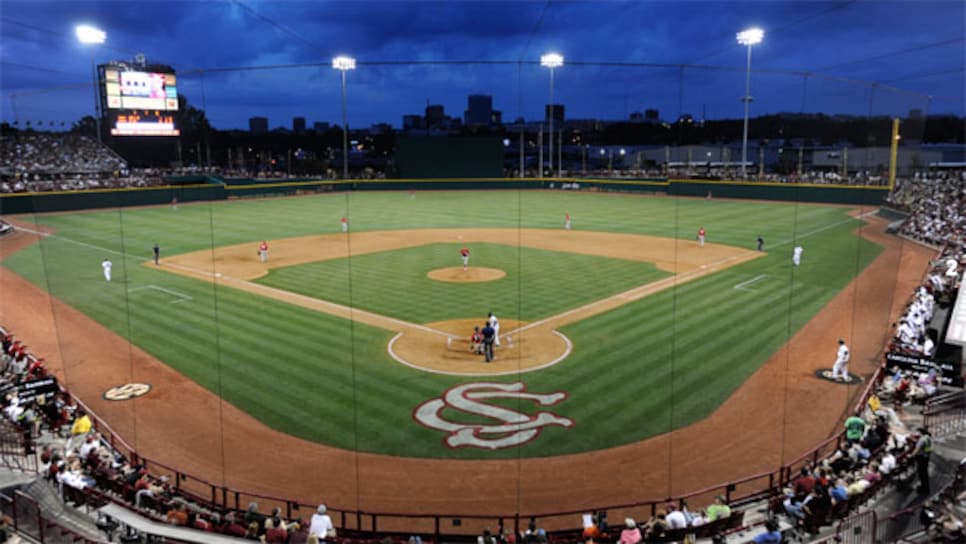 The University of South Carolina's baseball park, Carolina Stadium.
Puggy Blackmon knows from big cities, having lived for more than a decade in the Atlanta area while coaching the Georgia Tech men's golf team. So it is that the 59-year-old has come to appreciate the subtleties offered in Columbia, S.C., where he moved with his wife Gail in 1995 when he took over the program at South Carolina. Even though it's the state capital, Columbia has a small-town feel.
"The thing we love about Columbia is it's a good old, slow-paced, southern city," says Blackmon, who was born in Beaufort, S.C. "It's fun because it's a college town. It's not a big pro sports town. Everybody is friendly. Traffic is great because there's really no traffic. It's laid back. It's just a neat place."
As you might imagine, my favorites are the ones I try to have our men's and women's teams play. Cobblestone Park is where we have our teaching facility. It's 27 holes and a really good layout. Most people think of Columbia as being pretty flat, but this course has got a lot of movement. You can have fun whether you're a 45-handicapper or a 3, depending on the tees you pick.
*Columbia CC *is a great old 27-hole club. They've held the state amateur there twice. It's got some length to it and is always in great shape. Spring Valley CC is another older course that's not tricked up. The Windermere Club is a Pete/P.B. Dye design that has got some very good, scenic holes and some of the classic Dye traits. The Members Club at Woodcreek is a private facility worth looking into. It's a Tom Fazio design and among the higher-end places in the area.
One other to consider is Northwoods GC. It's a great public course, a P.B. Dye layout that's designed for the entire spectrum of golfers. For the money it's tough to beat.
Unlike Charleston or Hilton Head, Columbia doesn't have lots of traditional golf resorts, but the area to consider staying in is The Vista. It's the old railroad section of town where they've taken a lot of old depots and turned them into nice shops. There are plenty of good hotels and very good restaurants to choose from.
In The Vista is The Trustus Theatre, which offers plays and concerts. And if you're here in the spring, USC opened a $40 million baseball park last year, Carolina Stadium, which provides a great atmosphere for watching a game. Bringing the family? The South Carolina State Museum has several neat exhibits and is a lot of fun. So is the Riverbanks Zoo & Gardens. I speak from experience here; we took our 14-month-old granddaughter there recently and had a blast.

Left: Courtesy of Cobblestone Park. Right: Courtesy of The Blue Marlin.