News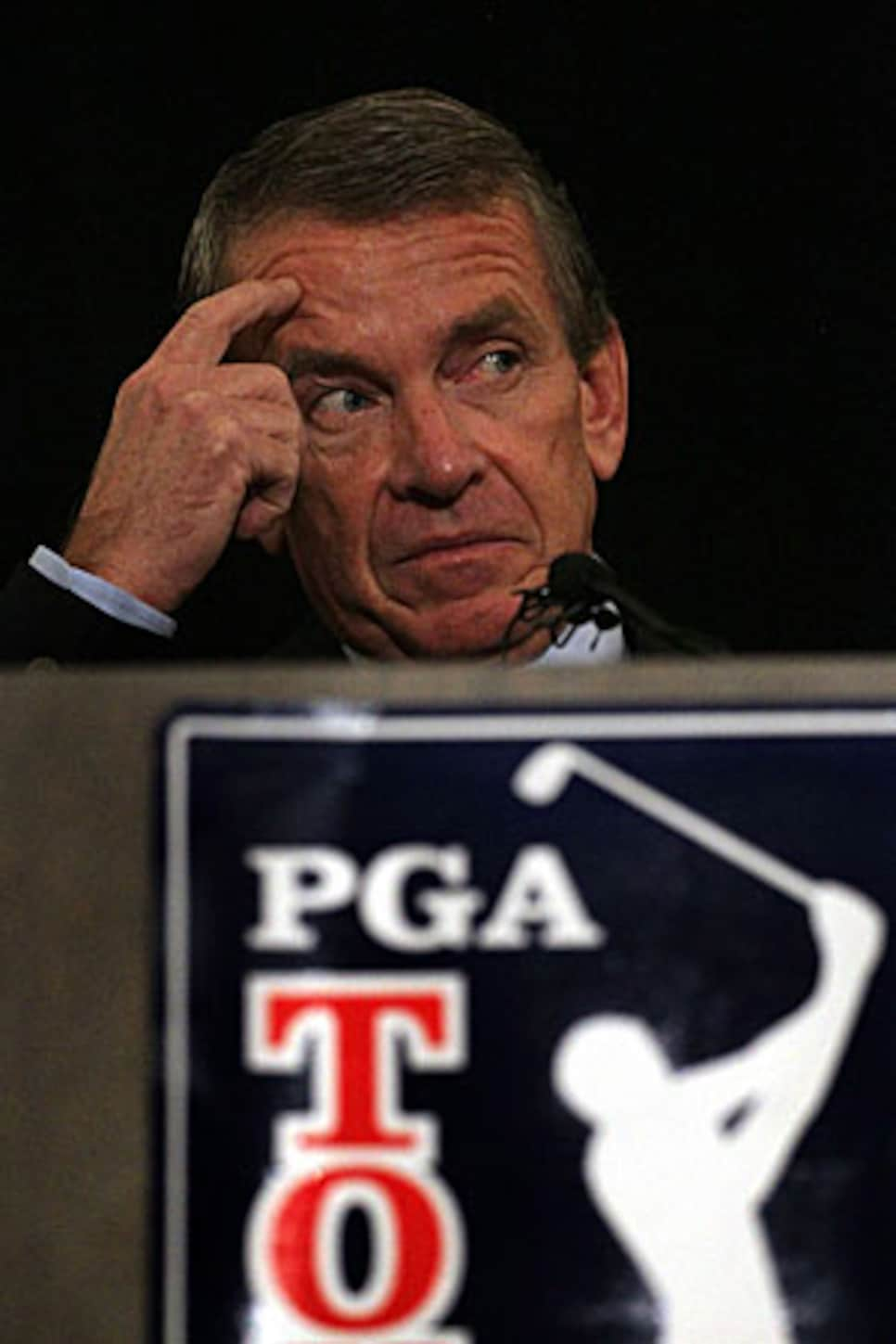 While players have largely endorsed Tim Finchem's leadership, they have expressed frustration with a few decisions.
ORLANDO -- No scandals? No controversies?
PGA Tour veteran Harrison Frazar said in last Sunday's New York Times Magazine, in a story about Tiger Woods and the tour, that tour officials in recent years had been advising its players to steer clear of trouble with a new round of TV contracts approaching. "The one thing they've said," Frazar is quoted as saying, "is that we need the superstars to play more and no scandals, no controversies."
Then, of course, Woods drove into a fire hydrant and a tree, sparking a firestorm of embarrassing publicity about his personal life.
Unfortunately, the tour and its commissioner, Tim Finchem, haven't exactly steered its vessel clear of its own sea of public relations icebergs.
Already this year Finchem has apologized twice for poor communications and lack of foresight, first for not apprising his members of the Ping lawsuit loophole in the new grooves regulations (since settled); and then for the tour's abetting role in Woods' apology speech held near tour headquarters, which overshadowed the season's first World Golf Championship event, the Accenture Match Play.
The latest puncture in the hull of Good Ship Ponte Vedra came Tuesday when the Associated Press reported that Finchem had written a memo to tournament directors explaining why former PGA champion Steve Elkington had lost his exempt status in 2010 and might require sponsors exemptions to enter some tournaments.
David Duval and Tim Herron, two players without exempt status this year, criticized Finchem, citing favoritism.
"The decisions they (the tour) have made going back to this Tiger debacle have been terrible and pretty embarrassing," said one veteran player, who asked not to be identified. "Maybe they ought to be hiring Ari Fleischer."
Ouch. Fleischer is the former White House Press Secretary for President George W. Bush who now works as a media consultant for athletes, including Mark McGwire, and, for a brief time, Woods.
PGA Tour chief of operations Rick George seemed to be taking the haranguing in stride. "We seem to get a lot of criticism," he told Golf World at Bay Hill Club prior to the Arnold Palmer Invitational. "But I can tell you that we have the game's best interests at heart in everything that we're doing. We have our players' and our sponsors' best interest at heart in our decisions. We're trying to do the best in all areas that we can.
"I would like to add that I think it's very unfair [criticism of Finchem]. We're facing a lot of issues, but Tim has us going in the right direction."
Golf World requested comment from Finchem, but a tour media official said he was unavailable.
"There may be a few things to pick at here and there, but overall, when you compare us to other sports, we're doing pretty well," said David Toms, one of four players on the tour's Policy Board. "I think as players it's up to us to show up and play golf and do the things we need to do and let Tim and the folks there [at the tour] take care of things the way they have been. They're doing a great job."
"The tour is usually good about dotting its 'i's and crossing its 't's, so I'd say it's news when something isn't quite right," said tour member Joe Ogilvie. "I would say the things that have happened this year I would attribute in large part to their focus on tournament sponsorships and the business aspects. But as far as the Elkington memo, Tim should not have done that. There is no upside to the tour getting involved in that."
George conceded that he understood why players might have a beef. "Sure, I can see everybody's point in this," he said, "but if a player comes to us and has a unique situation that he asks help on, we're generally going to help him. And we typically do. We don't want anyone to make an inference [that the tour is giving preferential treatment] and we don't take these letters lightly. It has to be a unique situation."
Finchem has written similarly on behalf of Mark Brooks and Billy Mayfair, the AP reported, but this practice is a relatively new one. What prompted Finchem to undertake this initiative has players curious.
"I think that's a question that they need to answer to me as a player," said Paul Goydos. "Tim's going to have to answer the question, whether it comes from me or the media or somewhere."
Goydos, a member of the tour's Player Advisory Council, might well have the personal motivation to ask. In 2003, as he was going through a divorce and custody battle, he sought an exemption for the '04 season that didn't exist at the time, but now does -- essentially, family hardship. Goydos also was battling sinus problems at the time and ended up taking a major medical extension after surgery in April of '04. He doesn't equate his situation to Elkington's, but there's clearly been a shift in Finchem's philosophy -- and not for the better.
"What's occurring now is the tour trying to influence fields. That's wrong. That's bad policy," said Goydos, who has radically suggested that the tour simply eliminate all special and sponsor exemptions so that every field is comprised of players based solely on merit. Equally provocative is the two-time tour winner's contention that Finchem's gesture on Elkington's behalf belied his inherent sense of fairness -- fairness with one caveat.
"I don't think Tim Finchem or Rick George or whoever else you want to talk about really cares who Tiger or Phil [Mickelson] beat every week," Goydos said. "So why go through the hassle that Paul Goydos could provide, or David Duval by doing something like this? Why go through this much bad publicity? [AP writer] Doug Ferguson opened up a hornet's nest here. I'm on the PAC, and I want to see where it goes. Maybe it goes nowhere. Maybe nobody cares. But I want to see how far this really goes."