News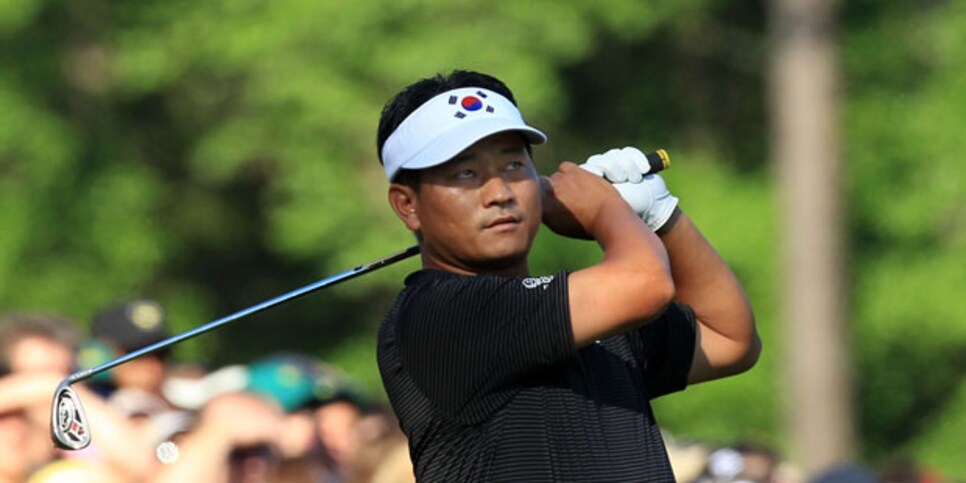 K.J. Choi finished tied for fourth at the Masters.
HILTON HEAD, S.C. -- At least K.J. Choi isn't going to have to play with Tiger Woods again this week. For four days at the Masters, Choi was Woods' shadow. It was an arc that ranged from not really knowing what to expect when Woods returned to competition, to being tied for the lead on the back nine on Sunday at Augusta National with him. While both Woods and Choi finished T4, it was the steady Choi who out-played the inconsistent, rusty Woods and very nearly got the green jacket to prove it. While Choi actually posted a higher finish in the '04 Masters when Phil Mickelson won his first, this was the year he thought he had a legitimate chance.
"This was actually my first real run at winning," Choi said through his interpreter, Michael Yim. "My second shot on 13, I'd already taken the club all the way to the top when I heard the crowd roar for Mickelson's birdie (on the 12th). I had to step back and regroup and that sort of threw me off balance. Instead of taking my time, I kind of rushed." Choi didn't need an interpreter to talk about the bunker shot. "Tough," he said.
"It's all about timing," he continued through Yim. "For me, it just wasn't on my side, but that's life. I accept it. Maybe if that didn't happen I could have had a good run on 13 and 14 and then maybe end up winning but Phil played well."
Coming to Hilton Head Island the week after the Masters for the Verizon Heritage Classic is like throttling down on a speedboat. The bow sinks down into the water and the players seem to cruise along, not making waves. It's not quite that simple for Choi, however, who'd like to maintain his momentum after struggling with an equipment change early in the year. Choi began playing Ping blades when Nike didn't re-sign him, but it wasn't until he settled on the G15 game-improvement model that he began striking the ball better. "Because it's a tournament, there's going to be competitive pressure. Obviously, this week is a little different. This course is not an easy course," he said. "Last week there were huge crowds every hole. It's going to be a little bit different but it's not to say I feel totally comfortable because this is not like the Masters. I'm always going to have that competitive tension on any week."
British Open champion Stewart Cink relishes the island pace. "When you gear up and play a major like Augusta, or any of the big tournaments, it makes it a bit more relaxing and easier the next week because your game is already prepared," he said. "The one thing that's hard to prepare for at the majors is the intensity of the golf course and the competition and what it means. When you come here, the intensity just seems to melt away and enables you to really relax and be at your best. That's the way I see it. A lot of players might see it more mentally, they let down a little bit and they get a little scatterbrained on the golf course but, in my career, I've had a lot of success the week after majors. In fact, I think all my wins, except my major win, have come after majors."
Cink has had a few struggles of his own early this season, including missing the cut in Augusta. He thinks the new groove rule has been part of the problem -- not the rule itself, but the way he chose to adapt to it, or rather, not adapt. "A lot of it is the new grooves and a lot of it is also me. I decided I wasn't going to change my golf ball," he said. "But I should have."
Cink is going to play the same Nike Tour D he has been playing but with a softer cover. "I wasn't spinning the ball enough. When you have more control of your ball around the greens, you can be more aggressive and cocky with your shots. I just haven't had that lately."