News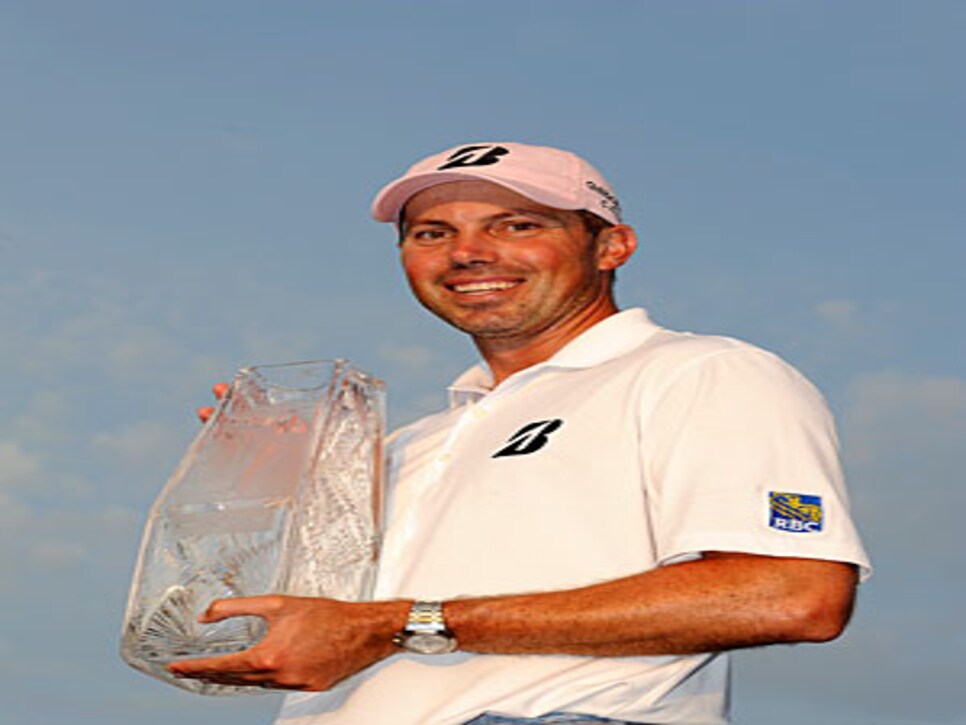 Kuchar didn't flinch at TPC Sawgrass on Sunday, holding off a crowd of players by two strokes.
Fred Couples, who has a masters degree from the Yogi Berra School of Communications, was once lamenting about the overuse of the word "great" in contemporary culture. "I'm not great," Freddy said in an honest evaluation of a game that produced 15 PGA Tour wins and one major championship. "I'm good," Couples said, shifting into full Yogi mode, "but good's not bad." Which brings us to Matt Kuchar.
The walking smile disguised as a professional golfer picked up his biggest trophy Sunday on the Stadium Course at TPC Sawgrass when he survived a final-round pairing with the human rain delay, Kevin Na, to win the Players by two strokes. That gives the 33 year-old Kuchar four tour wins and one in three of the last four seasons.
So what are we to make of this? At a time when it seems as if a name is drawn out of a hat to be that week's winner -- 20 different champions in 21 PGA Tour events this year -- is Kuchar merely last week's winner or is he now a guy to take seriously when we get to the next major, the U.S. Open at The Olympic Club in June?
In fact, Kuchar was someone to be taken seriously in the majors even before he won the Players. Over the last three seasons, he has been one of the most consistent on tour, making the cut in 55 of his last 60 events and finishing in the top 30 in eight of his last nine majors, including T-3 at this year's Masters. He has a simple swing that simply repeats. That wins majors.
Things changed for Kuchar after a detour to the Nationwide Tour in 2006 and a move to a flatter swing under the direction of instructor Chris O'Connell. What didn't change, except for the better, was his seemingly unshakable calm on the golf course and the right attitude to handle the pressure of big moments.
"I feel like my mental game is one of my stronger suits," Kuchar said after winning the Players. "I feel like not a whole lot gets under my skin. I'm good about letting things just roll off and not affect me." That sounds a lot like Freddy Couples, who ambled the golf course as if he had just rolled out of bed and was walking onto the front lawn to pick up the morning paper.
"So for me, playing with a guy that may be a distraction, that's not going to bother me," Kuchar said after going 18 holes with Na, who takes distraction to a whole new level. He's sort of like playing in a foursome with all three of the Stooges -- one endless sight gag.
"I think my caddie told you right, that my demeanor probably is one of my strong suits for the game of golf," Kuchar said. "It's not meant to fool you. It is completely a natural reaction. I love playing the game of golf. I have fun doing it. I am a golf junkie. I have to force myself to take vacations where I cannot play golf, where the clubs don't make it, because the game is just always so challenging, and I think it's that challenge that's addictive to me."
That goes a long way toward success in this game. If you don't love golf, you can't be good at it on the professional level because it is a game that, more often than even the best would like, can eat you up. And don't let the smile fool you: Kuchar has a lot of fight in him. He's a grinder. Sort of like a Corey Pavin with height. Remember Matt's birdie on No. 16 after Rickie Fowler birdied No. 17 Sunday at the Players?
Kuchar could very well have won the Masters this year. He grabbed the lead with a birdie, birdie, par, eagle run that began on No. 12, but was sidetracked by a bogey on No. 16 and finished two strokes out of the playoff. But there is an interesting symmetry to his Masters effort that bodes well for the U.S. Open. In 1998, as a member of the Georgia Tech golf team, Kuchar was low amateur at Augusta National with a T-21 finish. Two months later, he was also low amateur at The Olympic Club with an even better T-14.
"I could remember walking off the 18th green at Augusta National thinking I can't believe the round is already over," Kuchar said. "I had so much fun, I couldn't believe that. I was in the clubhouse having a cheeseburger, I didn't want the day to end."
But while the Masters and Augusta National whets your appetite for golf, the U.S. Open, on pretty much any venue, can make you lose your lunch. "I can remember walking off the 18th green at Olympic, I just [wanted] to go home and take a nap," he said.
"I remember being just exhausted out there," he said. "Olympic Club seemed so much more difficult in every aspect. It seemed like the tee ball was such a big -- and the rough was so penalizing there. The greens so undulating and so quick. So I could remember just walking off greens being exhausted, and I'm anticipating a similar experience. I really enjoy playing the golf course, I love the area. So I've got some great memories."
That sounds like a pretty fair assessment of what awaits Kuchar and the others at Olympic. And it sounds like a guy who has his feet squarely on the ground.
"To get out to play, to have something to try to get better at, there's no end to all the different avenues in the game of golf where you can try to get better," he said, again expressing his joy for the game. "I feel like I'm so lucky to be doing what I do. I'm out there, I'm enjoying myself, having a good time. The smile is there because I'm having a good time, because I'm loving playing golf."
You have to like the perspective Kuchar brings to the challenges ahead, and you have to think his genuine affection for the game of golf -- and that repeating swing -- could well mean that he has a chance to take a good career and make it trend toward great. And, as Freddy would say, that's not bad.