The Loop
Golf logo explained: County Louth Golf Club, Baltray, Ireland
County Louth Golf Club is an Irish links course near the intersection of the Boyne River and the Irish Sea, about 35 miles north of Dublin. It's often referred to by the name of the nearest village, Baltray, which is sort of a suburb of the ancient port of Drogheda -- a city whose name is easier to pronounce correctly if you have a mild case of bronchitis. Drogheda was founded by Vikings more than a thousand years ago. In medieval times, it was surrounded by a wall, a few substantial parts of which remain. And if you visit St. Peter's Church, on West Street, you can see the preserved head of St. Oliver Plunkett, an Irish clergyman, who was drawn, hanged, and quartered in England in the late seventeenth century:
In 1908, when Plunkett had been dead for 227 years and County Louth Golf Club was 16 years old, a local man named Col. McWeeney wrote the following tribute:
*Doctors may boast of their skill pharmaceutical,**Measure out drugs in a grave sort of way,**If you want health to pervade every cuticle,**Go and play golf on the Links at Baltray.**Tuberculosis is cured in two doses there,**All the wild ills of the flesh fade away;**Double pneumonia, asthma, insomnia,Weep for their sins on the Links at Baltray.
*There's a good deal more than that (including "Burn all your bandages, rise to health's pinnacle/Crutches are golf sticks in play at Baltray"). Based on my own experience, I would say that the medical advice in the poem is sound. Here are J.P. and David M. taking the cure at Baltray during our trip to Scotland and Ireland earlier this month: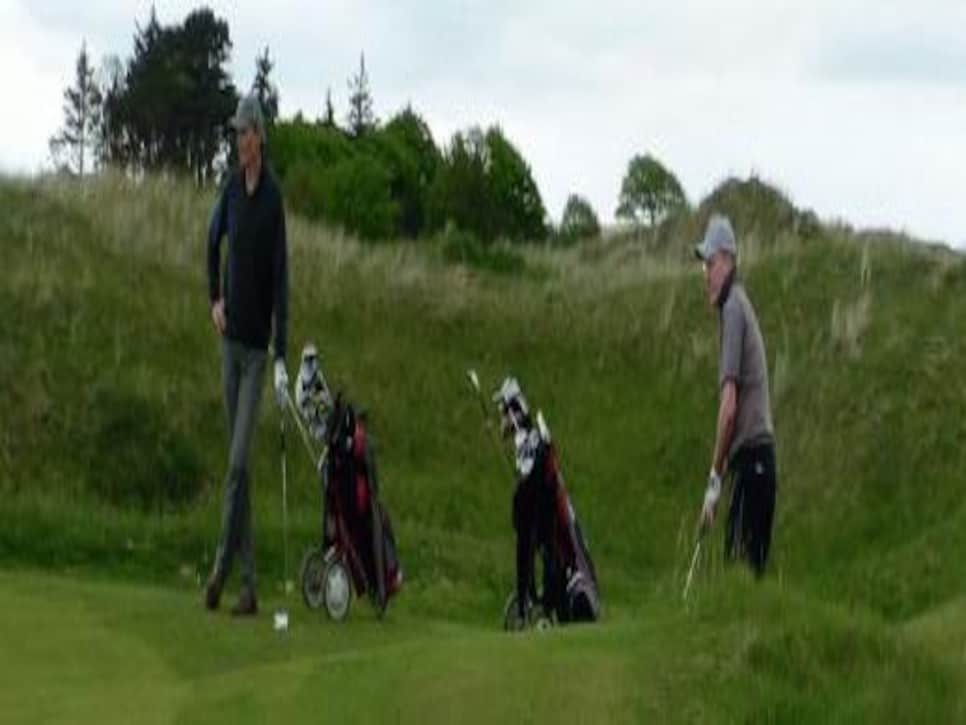 The head pro at Baltray is Paddy McGuirk, who was in the golf shop when we checked in. This is what he looks like:
He had some success in professional tournaments in the 1970s, when he looked like this:
I took my first golf trip to Ireland in 1992, on assignment for Golf Digest. One day, I gave a lift to an elderly man, who had approached me in the parking lot of the Royal Dublin Golf Club and asked me if I could drop him in the city. He said his name was Michael Dorgan. I asked him how long he'd been a member of Royal Dublin, and he said, "I am a caddie. I have worked on 157 golf courses -- 83 in Ireland, 71 in England, and 3 in Scotland. As I lie in bed at night, I recite their names. I used to carry between 12 and 14 bags a week, in season; I now carry two, because I won't work for less than I am worth. I preferred caddying in England, because the pay is better there, but my wife missed her family in Dublin and wanted to return. I couldn't cook, so I had to come along. I was born in Cork. I have caddied for ten Ryder Cup players, some before, some after, none during. I caddied for Paddy McGuirk when he won the Carroll's International, in 1973. He insisted on carrying a ridiculous selection of clubs. He carried a 1-wood, a 2-wood, and a 5-wood. He couldn't hit the 2-wood, and he didn't need the 5-wood because he also carried a 2-iron. He hit his driver from the fairway sixteen times in that tournament. He would grip it down, cut the hell out of it, and pray." McGuirk's professional competitive career was cut short by the yips. (That's the Carroll's International trophy he's holding in the photo above.)
During my visit in 1992, County Louth was celebrating its hundredth anniversary, and to mark that occasion the club had created a centenary logo, which looked like this:
I believe that that logo was a variation on one the club had been using for a long time, but there used to be another logo, which consisted of just a crescent moon, a star, a pair of crossed golf clubs, a (small) golf ball, and the name of the club. In 1992, I bought a shirt with that logo on it, and for years and years it was my favorite golf shirt. Eventually, I must have worn it to tatters and thrown it away, because it's no longer in my closet.
When I packed my suitcase for my this year's trip, I left plenty of room for new Baltray-themed merchandise, including several replacement shirts exactly like my old one. But when I got to the club, I couldn't find a shirt or a hat or anything else in the golf shop with the logo I remembered. All I saw was stuff with logos like the one on the divot-mix bag in the photo below. As you can see, there's a tiny crescent-moon-and-star incorporated into the ribbony part at the top (as there also is in the centenary logo) but it's so small that it's easy to overlook.
I asked an old guy in the golf shop what had happened to my beloved old moon-and-star logo, and he said there had never been any such thing. That made me worry that I was losing my mind, because I remembered my old shirt quite clearly. Luckily, in the locker room a little later, I asked an even older guy, and he said yes, now that I mentioned it, the club had once had another logo, like the one I described. And, sure enough, when our tee time finally came, I saw an image like the one I remembered engraved in a block of stone near the entrance to the course (which the old guy in the golf shop had apparently never noticed):
And after our round, in the bar, I saw another version:
That's almost exactly what the logo on my old shirt was like! I want another shirt just like it! Please bring it back!
While I wait for the club to comply with my wishes, I can tell you that the Drogheda United Football Club has a logo very similar to the one I remember:
And the city of Drogheda itself has a moon-and-star image at the top of its official crest:
By now, you may be wondering where the moon-and-star image originated, and how it came to be associated with a golf club, a football club, a city, and a shirt that used to be one of my favorite articles of clothing. Well, as you've probably noticed, it bears a strong resemblance to the flag of Turkey:
One explanation I've read is that during the Irish Potato Famine, in the eighteenth century, a sultan of the Ottoman Empire (Turkey's predecessor) sent an emergency shipment of food and money to Ireland, by way of the port of Drogheda, and the city, as an expression of thanks, incorporated the empire's symbol into its own. The only problem with that explanation is that Drogheda had been using the same image for five or six centuries prior to the famine. A more plausible explanation (probably) is that the image was brought to Drogheda during the Crusades by an Irishman who had spotted it in the land of the infidels and, like me, thought it looked cool. Anyway, wherever it came from, I want it back, in shirt form. The vest Tim is wearing in the photo below isn't enough: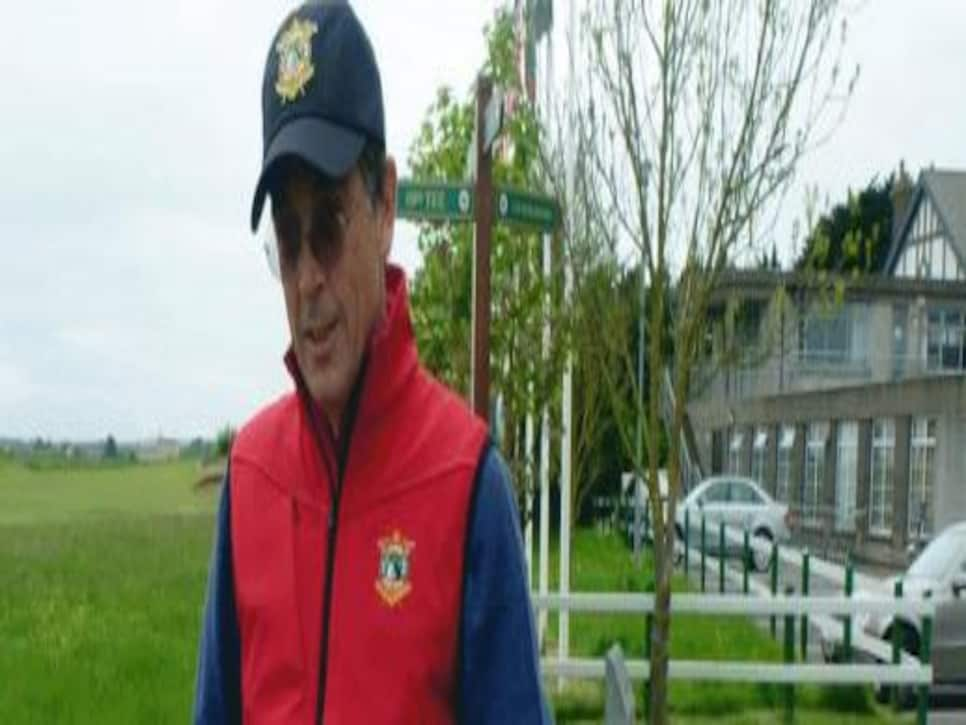 Incidentally, during our trip there was a certain amount of cigarette-smoking by guys who don't usually smoke. When Peter A.'s wife, Denise, saw the photo below, which was taken at Baltray, she thought it showed him "drinking from a juice box."[#image: /photos/55ad78b2add713143b4290ef]|||marlboro.JPG|||