News
Lexi's LPGA Arrival Is Cause For Celebration -- And Also Caution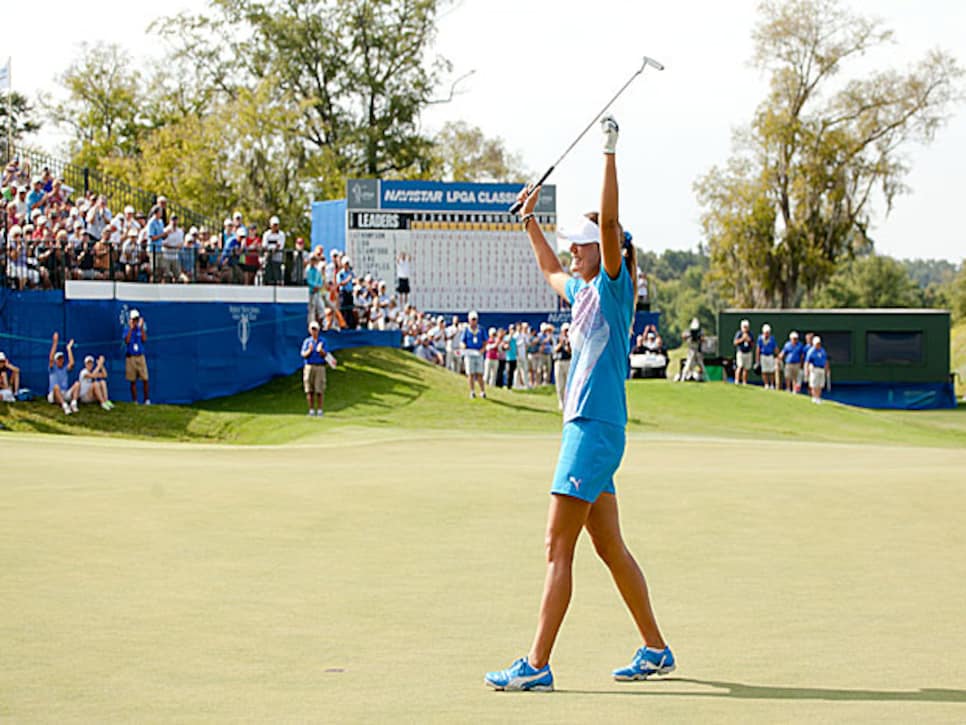 Thompson, 16, broke through with a five-shot win at the Navistar LPGA Classic.
For several years now, as a result of bad management, a bad economy and bad luck, the LPGA has been swimming upstream against a relentless current of negativity. An entertaining product that in 2005 appeared to be on the cusp of expanding its fan base and gaining greater monetary reward for its players is winding down its thinnest schedule since Richard Nixon was president. And although golf's global tour could get a much needed jumpstart from 16-year-old Lexi Thompson, her arrival needs to be couched in caution as much as it is celebrated. We've greeted the Next Great American before only to be disappointed, and no one knows that better than those in charge at the LPGA.
Although widely criticized, the LPGA should be praised for the measured approach it has taken toward Thompson's success. Those who say Lexi should have been offered immediate tour membership when she became the LPGA's youngest winner at the Navistar LPGA Classic overlook the fact a procedure needed to be followed. She needed to apply for an exception to the minimum-age rule. That will be done this week, and it will be granted.
And those who say the LPGA squandered a golden marketing opportunity by not giving Lexi on-the-spot membership ignore this: It's difficult to imagine the tour could have gotten more publicity from Thompson than it did. For days after her victory she was the media darling -- and it has been a long time since the LPGA has gotten that sort of attention. Lexi could be a key -- along with Rolex Ranking No. 1 Yani Tseng, American talents Cristie Kerr and Paula Creamer and a host of international stars -- in turning around the business of the LPGA.
How did the LPGA get here? The bad management involved a series of fee increases that priced some longtime sponsors out of the picture, as well as some tournament date changes to please financier Allen Stanford and real estate developer Bobby Ginn, who were given a combined three LPGA events, none of which now exists. The bad economy was, well the bad economy -- a global recession. And the bad luck involved the retirement of Annika Sorenstam and Lorena Ochoa, two stars of the highest order, slightly more than a year apart. Although Thompson offers reason for optimism, that enthusiasm needs to be measured.
"Fans and media alike are always looking for the next superstar in any sport," LPGA commissioner Mike Whan told Golf World. "And everyone wants to anoint that person to superstar status yesterday. Patience is a tough thing for people to have. It's not fair to the player. We recognize Lexi's great talent and feel confident that she's on a path to great things. But to say she's the next [star] is premature and unfair."
Thompson is talented, but we have seen skilled players fall short of their potential. The real reason to be optimistic about her future is her past. The path Lexi has followed to get here is similar to that taken previously by Tiger Woods, Tseng, Creamer and Kerr, which is to dominate each level of competition before moving to the next. Thompson won four times on the AJGA, played in three U.S. Girls' Juniors (winning in 2008), two U.S. Women's Amateurs and played and won on the Fuzion Minor League Golf Tour. She has played 19 LPGA events.
Her agent, Bobby Kreusler of Blue Giraffe Sports, says Lexi will continue to advance slowly and not greatly increase the number of tournaments she plays. And the LPGA will market her cautiously, for internal political reasons if nothing else. "We have great stars on the LPGA and while Lexi will certainly make an impact from a promotional standpoint in creating interest, we feel fortunate to have a great collection of American stars already," Whan said. "Paula Creamer, Cristie Kerr, Morgan Pressel, Michelle Wie and Brittany Lincicome are terrific ambassadors for our tour and our brand, so we don't feel the need to jump-start Lexi."
But the reality is that there were just seven full-field, non-major domestic LPGA events this year. A successful young American could help fix that. Thompson needs to win, and the LPGA needs to market her. If that happens, this could be Nancy Lopez all over again. But patience is needed for everyone. We've been here before and gone home empty-handed. A Nancy Lopez doesn't come along all that often.