These Guys Are Good
I got a golf lesson from Xander Schauffele—and it pretty much went as you'd expect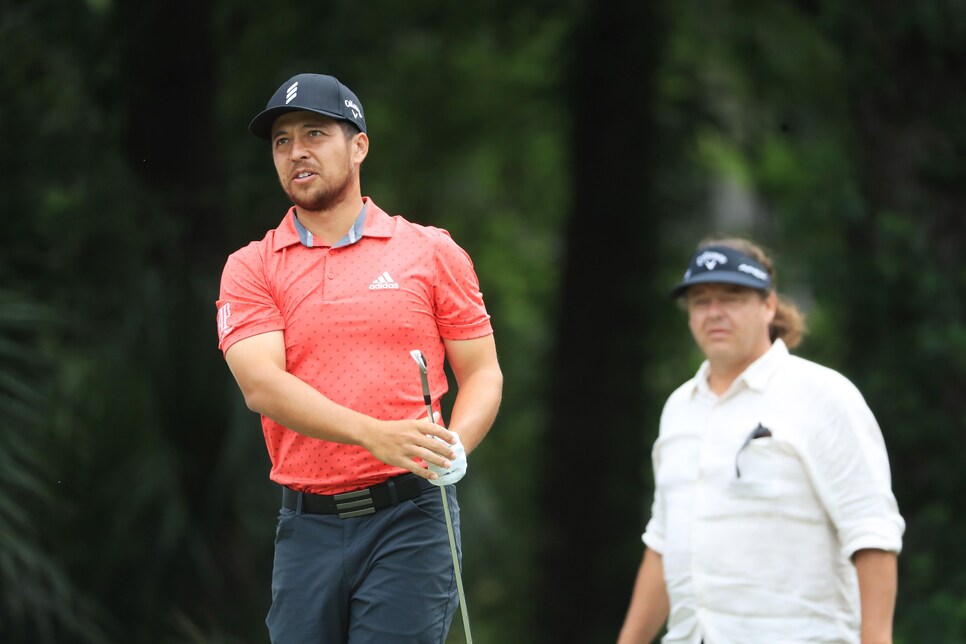 Xander Schauffele plays a shot as his father and coach Stefan looks on.
Streeter Lecka
Despite working at Golf Digest for more than a decade, I'm not very technical about the golf swing. But about a month ahead of my annual golf trip every year, I start devouring our magazine's instruction pieces and obsessively watching swing videos on my phone all hours of the day. It's a study cram session that rarely pays off because even if I play well in our yearly event, I still always wind up choking down the stretch.
In any event, I've taken a handful of golf lessons in my life from a couple club pros, but this year, my swing coach has slightly better credentials: Xander Schauffele. Ever heard of him?
Actually, thanks to one of Schauffele's sponsors, Hyland, I got a package deal. Xander and his dad/coach, Stefan, broke down my swing via a Zoom call earlier this week. And, well, it went about exactly as you'd expect.
"Let's do magic!" Stefan exclaimed as we started. But it quickly became apparent that I'm in need of actual magic to fix my swing.
"What's immediately noticeable is you're bent over too much so now you're wrapping it way inside," Stefan says, "because you're actually out of balance falling toward the ball or into the ball and it looks like your left arm is pointing toward your feet and not hanging straight down. So there's a little bit of a posture thing going on."
And that was just his reaction to the beginning of my takeaway.
By the way, I have decided not to show you the swing they were breaking down. Trust me, you don't want to see it. What's funny, though, is that it actually produced a decent drive and it came during my low round in five years. Hey, I'm rounding into form just in time!
"Your miss is WAY right, I'm assuming?" Xander interjects.
The four-time PGA Tour winner explained that to help avoid my dreaded over-the-top move on the downswing I need to keep my pelvis more level instead of dipping toward the ball in the backswing. And that I need to get my weight to my right heel. Among other things, that is. As I was made aware, there's plenty of ugly stuff going on.
"We could throw a lot more things in there," Stefan added at one point. "You're crowding the ball. I'm surprised you don't hit your body on the way through." Ouch.
I did, however, get one compliment from Stefan. Sort of. "That's actually not a bad turn." Hey, I'll take it!
Anyway, if you'd like a chance at having your swing broken down by these two, check out Hyland.com/SwingContest through June 20 for details on how to enter to win signed merchandise from Xander and a video lesson. Just be prepared for a flurry of constructive criticism if you're a weekend hacker like me.
OK, time for me to re-watch my video session with the Schauffeles a few more times. I've got a LOT to work on over the next few weeks.