News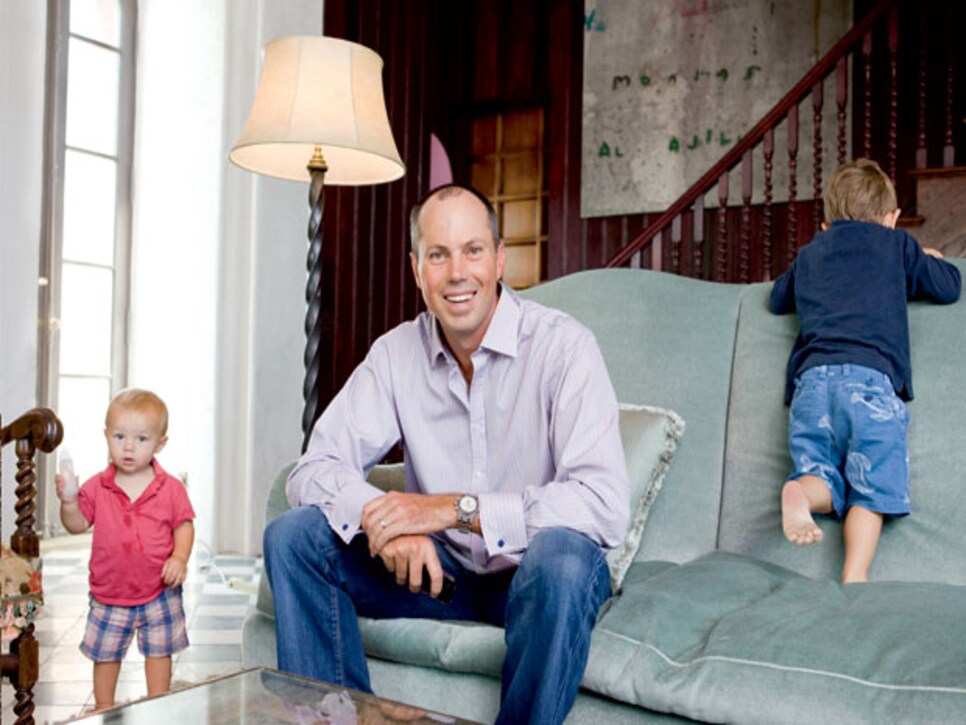 Family Guy: Kuchar, with 1-year-old son Carson, calls raising two kids "a blast."
Matt Kuchar was famous among friends for hanging out at cool places long before he was the top player on the PGA Tour.
On this day he is being photographed at one of them, the residential Palazzo Chupi in Manhattan's West Village. Kuchar and his family ended up at this architectural landmark through the brother-in-law of a friend he met through Deutsche Bank CEO Seth Waugh, who befriended Kuchar when he was bouncing around the Nationwide Tour. Waugh, who describes Kuchar in an e-mail as "an interesting mix of intelligence and humor and goodness and happy and talent and killer," invites Kuchar to his party every March at Lost Tree Village in Florida and to his place in the Hamptons for a summer getaway. Waugh is not the only high-powered golfcentric CEO or club chairman who had Kuchar on his A-list of good guys before he became an A-list player.
Dave Dorman, the former AT&T chairman and Georgia Tech grad, is also a member of the unofficial "Kooch" fan club. So is Atlanta attorney Lawrence Ashe, his host at the Seminole Pro-Member. At Augusta National the powers-that-be paired Kuchar with Tiger Woods at this year's Masters
, knowing he had the demeanor to handle the pressure of being part of the story in the first round of Woods' comeback. Just as he did at the 1998 Masters and U.S. Open, Kuchar rolled with it and won everybody over.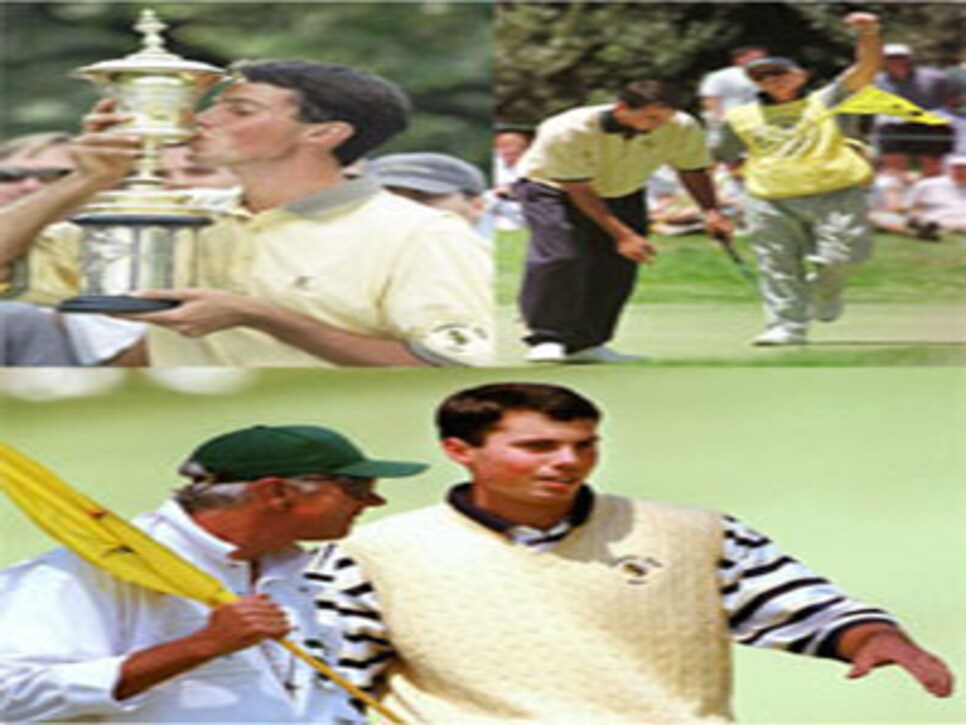 None of this success or popularity surprises Kuchar's teammates from Tech, who dubbed him "accidental genius" in college for his ability to win over people and golf tournaments with the qualities Waugh described. "We'd kind of laugh about how he cultivated friendships with the right people," says Bryce Molder. "He has always known how to work the angles, but a lot of people just love him. He's just fun to be around." The thing about Kuchar is that he was Mr. Nice Guy when things were tough, long before he was stockpiling top-10s, making the Ryder Cup team and taking the lead in the FedEx Cup standings -- back when the former U.S. Amateur champion was just a struggling tour pro.
Appreciation for Kuchar has grown now that he has finally figured out the angles of his golf swing, cultivated a sense of confidence and become a potential leader on Corey Pavin's United States team. All he has done since qualifying for the Tour Championship is plug presenting sponsor Coca-Cola and his hometown of Atlanta (the tournament will be played at East Lake GC), but the corporate and civic shilling is less annoying with Kuchar as the pitchman.
"Life is good," Kuchar says during a break from the photo shoot, the Empire State Building reflected in the window behind him, before repeating, "Life is good." It is two days after he won the Barclays, and life is, in fact, extremely good. The reasons are evident. One of them is scraping a fireplace shovel across a slate floor in a building made famous by artist Julian Schnabel: 2½-year-old Cameron, last seen running across the 18th green at Ridgewood CC, in full flight. Wife Sybi is preoccupied with another reason, a 1-year-old ball of energy named Carson. After lunch the family is going out to shop for Sybi's gown for the Ryder Cup Gala Dinner.
"The most important thing with life is I've got a great family," Kuchar says. "Whether I'm on top of the world or the bottom of the world, I've got a great family. I feel so fortunate with Sybi. She's everything I could have hoped for, an athlete, a girl who understands what I do, a girl who I'm completely in love with, and kids I have a blast with. I have two boys and they want to have a ball and something to hit it with. That's what I want to do. I want to pitch. I want to play ball with them. I just want to have a blast. As far as life, that makes everything great."
Sybi and Matt met during his junior year at Georgia Tech, where she was a star on the women's tennis team and he was just back from Cog Hill, where he won the 1997 U.S. Amateur. Kuchar admits it was hard to keep his eyes off her during morning workouts, but they never seriously dated until meeting at a homecoming years later. Last year, they finished fifth in the National Huband and Wife Hard Court Championship, losing their opening match but winning the consolation bracket. Listening to some of the commentary at the PGA Championship about her husband's supposedly gentle demeanor made Sybi laugh. He's not like that on the tennis court where Matt tries to beat her -- and does -- with a big serve and strong net game.
Just because he's picked up on TNT during the PGA Championship saying "Jeepers" after a bogey rather than dropping an F-bomb doesn't mean Kuchar is soft. Sybi's family owned a tennis club in Brevard, N.C., and one day Matt's father-in-law ordered everybody off the court in a match against Sybi and her mother. Matt was getting a little too "competitive."
"Some of the things [the announcers] were saying, I was thinking, 'These guys don't get it, they don't know how competitive he is, how much he wants to win,'" Sybi says. "I think it says something about him that he can be that fired up and still smile and appear so laid back. He is an awesome nice guy. But he wants to win."
The point is Kuchar might be the All-American Boy who picks blueberries with his sons on a family retreat in New Hampshire, but beneath all that is the Kuchar who closed out the Amateur at Cog Hill, who made the final 10-footer at the TPC Heron Bay to win the Honda Classic in 2002 and who carved the 7-iron from the rough on the playoff hole at Ridgewood, running the shot off a ramp at the back of the green to two feet for the clinching birdie in his win.
"I don't mind being the silent assassin," Kuchar says. "I don't mind having a bit of a disguise. I don't mind having a reputation as a good guy. That is who I am. I am a competitor. I love sports. I love competing. I love digging back from holes. Maybe if I'm not muttering under my breath or grumbling to myself people don't think I'm grinding as hard as I am. But I certainly do care and do grind and love to compete."
Grinding is all Kuchar did after the Amateur. Listening to advice from Payne Stewart at the 1998 British Open, Kuchar was second-guessed for turning down lucrative contracts to stay at Georgia Tech. "I talked to a lot of people at the British Open about the situation," says Kuchar. "A lot of pros said, 'You seem ready. Have at it. Make the jump.' The one guy who said something [different] was Stewart. He said, 'Matt, you've got four years to be a college kid. The PGA Tour is going to be there the rest of your life. Enjoy your time in college. The tour will be there forever.' That was the one that kind of hit home."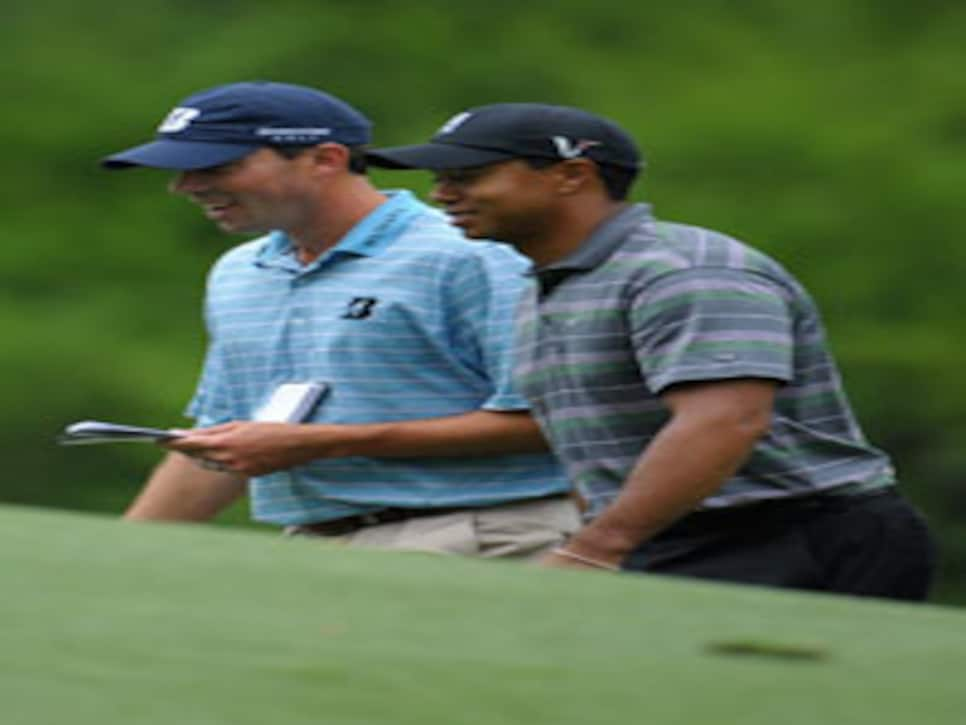 includes a pairing with Tiger Woods
He turned pro in 2000 and joined the PGA Tour in 2001. But after breaking through with a first, second, third and fourth in his first 17 starts, Kuchar hit a wall.
He spent the next four years missing more cuts than he made, losing his card but retaining his smile by hanging out with former teammates Molder and Matt Weibring on the Nationwide Tour in 2006. It was there that he listened to Weibring's advice about teacher Chris O'Connell, an advocate of the one-plane swing.
"A lot of people when they get demoted, they get angry, they get upset," Kuchar says. "They don't get courtesy cars when they show up. It's tough for people to go backward. I dealt with it, and said, 'I've got to play good and earn my way back to the PGA Tour.' I sucked it up and said 'I need to look at this the right way.' "
O'Connell's method "didn't look like golf" to Kuchar -- think "tallest guy on tour with the flattest swing on tour" -- but the ball flight doesn't lie and neither do the stats. He was 115th on the money list in his PGA Tour comeback season of 2007, climbed to 70th in 2008, then was 24th a year ago. Entering last week's BMW Championship
he led the tour in earnings. Between 2009 and 2010, he improved more than 100 places in ball-striking and greens in regulation, and he is first on tour in scoring. "The pre-shot routines looked so funny, the start-the-lawnmower back swing and this big over-the-top move," Kuchar says. "But immediately I was swinging around me. I picked up a bunch of power. I was swinging aggressively."
Kuchar could always putt, but when his ball-striking improved he became the most consistent golfer on the PGA Tour in 2010, with 11 top-10 finishes. Now 32, Kuchar has once again become the "accidental genius."
"Matt is almost the model when it comes to the approach of a long-term golf career," says Molder. "It looks like nothing bothers him, that he's just this happy-go-lucky character, yet the intensity is there too, and the intensity is genuine. But that demeanor is genuine as well."
What gives Kuchar a humble perspective as he sits at a kitchen table in a button-down shirt and jeans is the memory of 2003, when he missed 15 of 23 cuts. That's why he won't give long answers about possibly winning the tour's player of the year award. "Golf is going the way I hoped for years ago," he says. "When I envisioned the golfer I wanted to be, I didn't want to be the guy who threw his name in there and won, and missed a bunch of cuts. It's nice this year not to have any of those feelings. I make cuts no sweat now. It's not something I even think about. And finding yourself in contention is exciting. It's a completely different game playing late Sunday versus early Sunday. It's not part of a master plan, but everything is coming together."
At the Ryder Cup, expect Kuchar to be a favorite in the team room -- where his wingspan and hand-eye coordination make him a favorite in the Ping-Pong competition -- and on the course where he will be part of captain Pavin's strategy discussions.
"There's a lot more to Kuchar than meets the eye," says Pavin. "I didn't know him until the last couple months, but I'm impressed with his intelligence. He has opinions, and he isn't afraid to express them. I like that. That's what I want from the guys."
Assistant captain Davis Love III sees Kuchar as a perfect partner for anyone. "Just watch him on TV," says Love. "He's smiling all the time. He's always happy. He's just a good guy to be around and a good guy to pick on."
And a good guy to have in a tight match. "He doesn't seem like he gets overly bent out of shape about stuff," says Jim Furyk. "I think that's a good trait for that event. The emotional part can be really good or really bad in a Ryder Cup."
, just go back to the 70 he shot that Thursday at Augusta while paired with Woods. Instead of getting distracted by the circus atmosphere, the competitor in Kuchar dug in and focused.
"They knew I could handle the pairing," he says, showing a little-seen bravado. "I think there are some guys who would have disliked it more than I, maybe have caused some issues. They knew I could roll with it."
Like this apartment with views of Manhattan, that's just how Kooch rolls.