News
Pros Have No Trouble Grasping The Importance Of Grips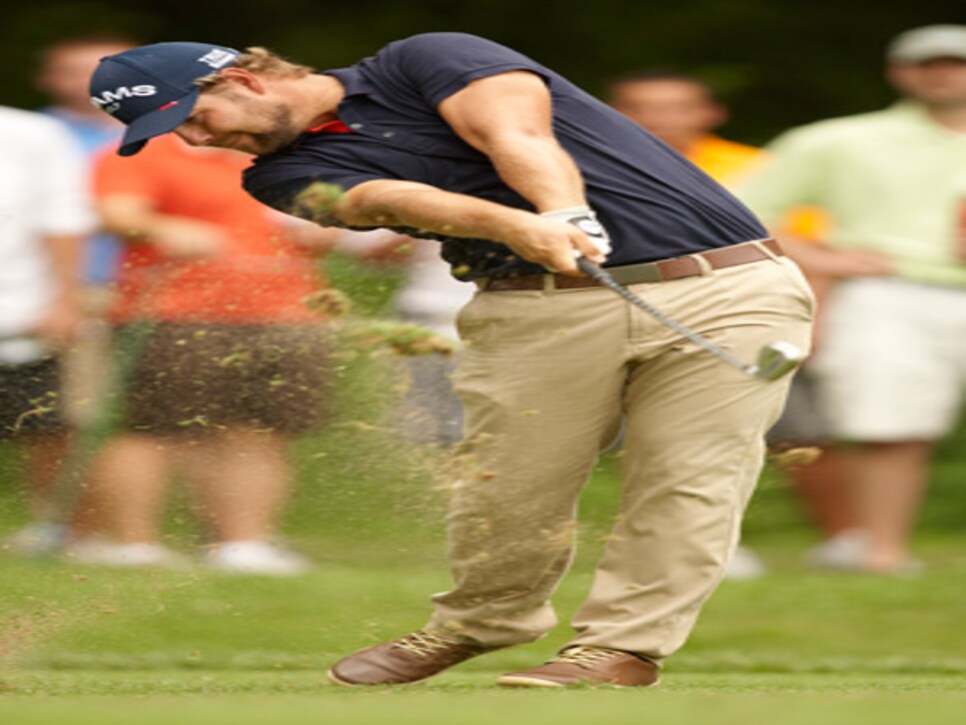 A Matter Of Degrees: Uncomfortable with the placement of the rib on his reminder grips, Moore fought a draw with his irons.
Any serious golfer will tell you the grips on his clubs are as important as the shafts he uses or the clubheads he swings. The grip affects how the club feels and even how the ball reacts at impact. Just ask Ryan Moore, who claimed at the recent Travelers Championship that his spotty play for much of the year was due to his reminder grips being placed with the rib 2 to 3 degrees closed, thus causing him to shut the face more than he wanted.
In other words, if you really want to mess up a golfer's game, just give him a grip he is uncomfortable with.
The grip is the only piece of equipment a player directly connects with during the swing, and its importance is considerable. While most average golfers concern themselves solely with the ability of a grip to allow them to hold onto the club, the size, weight, texture and position of the grip are of major concern to tour professionals.
Although about a third of the tour, such as Moore, use reminder grips that must be placed precisely in the correct position (three-time major champion Padraig Harrington, for one, is notorious for being persnickety about his reminder grips), grip size is often the key component. A grip that is too large may restrain hand action and result in a slice. Conversely, grips that are too small may increase hand action, producing nasty hooks. Of course, some players are prone to taking things to extremes. Bubba Watson, for example, has had as many as 11 wraps of tape under his grips to get the feel just right.
Size, however, is just one part of the grip equation. Weight also plays a critical role. If you change your grip to one that weighs just 10 grams more than your previous one, it can change the way the club feels by up to two swingweight points. Shaft flex also can be impacted. A stiff shaft with a soft rubber grip will become even stiffer if replaced with a hard, cord grip.
Speaking of cord grips, some players don't simply have them put on and leave it at that. They take sandpaper to the grip and make it feel softer by sanding the rougher-feeling part of the cord that sticks out from the rubber. It is a trick Rocco Mediate employed for many years.
Of course, there are rules governing grips. At the 2007 Heritage Brad Faxon nearly ran afoul of the rule that allows the reminder rib to be "slightly raised," defined by the USGA as meaning the minimum and maximum diameters of the cross-section at any point must not differ by more than one millimeter. Faxon's grips exceeded the limit, but the problem was discovered and resolved before play began.
Then there are players such as Bryce Molder, whose left hand is smaller than his right due to a childhood illness and therefore needs special attention paid to his grips.
"As you get further up on the shaft, the grip gets thicker [from the bottom]," said Molder. "So I try to reverse it. For the first inch, I actually have five wraps of tape underneath. Then I have four wraps for the next inch, then three, then two, then one. It ends up just making the grip uniform in size."
Molder's staggered grip taping was suggested to him five years ago by his teacher. "I didn't think it would matter, but all of a sudden it felt pretty good," he said. "It just feels right. Instead of my right hand getting all the way around the club and my left hand getting half way around the club, it feels a little more neutral."
When it comes to grips, feeling neutral works just fine for most players.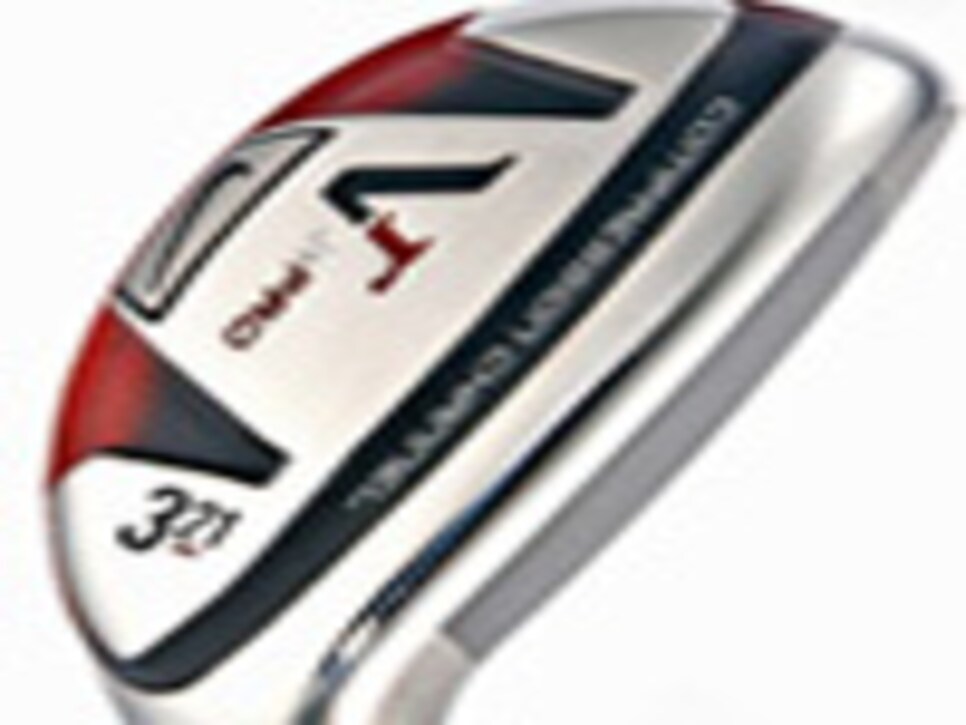 (Lofts: 15, 18, 21, 24 degrees)
As with the driver of the same name, the purpose of the compression channel along the front of the club's sole is to add spring to shots hit on the lower portion of this hybrid's clubface. A variable-thickness face also boosts ball speed.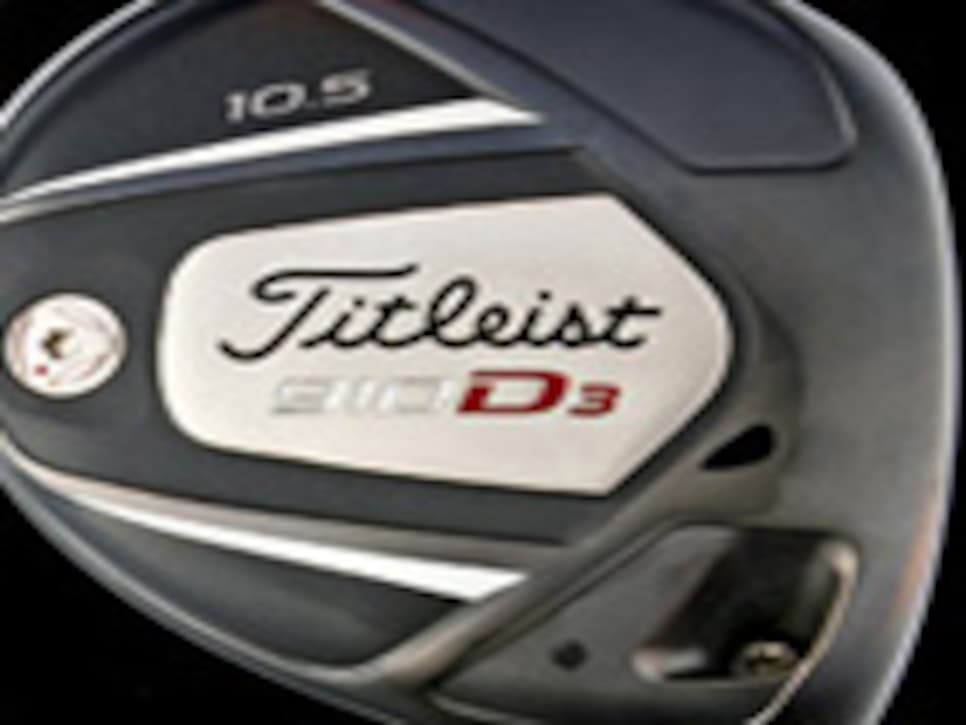 (Lofts: 8.5, 9.5, 10.5 degrees)
Nick Watney hit 69.6 percent of his fairways (ranked T-10) and averaged an eye-catching 320.8 yards per tee shot (ranked fourth) using a 910D3 at the AT&T National at Aronimink GC. The club (as with its sister D2 model) features a dual-angle adjustable hosel that allows the club's loft and lie angle to be set independently of the other to any of 16 settings. The crown of the all-titanium club is thinner from previous Titleist drivers to lower the center of gravity to produce a higher launch angle. The D3 features a smaller head (445cc) than the D2 which helps reduce spin.
On any given week up to 25 percent of the field in a PGA Tour event will change putters. Sometimes it pays off, as it did for Nick Watney at the AT&T National. Watney put a Scotty Cameron by Titleist Newport Fastback Select XPerimental Tour Prototype in play and the mid-mallet worked well enough for him to take the title on the strength of ranking second in putts per round and third in putts per green in regulation. At one point, over the third and fourth rounds, Watney had 16 one-putts during a 19-hole stretch...AT&T runner-up K.J. Choi's Miura 501 irons weigh 6 grams less in the hosel area in order to match the frequency of the shafts throughout the set. Choi also added a 3- and 5-wood from Akira Golf at Aronimink GC...Robert Allenby switched out his entire wood set and shafts (Aldila RIP) at Aronimink, using TaylorMade's Burner SuperFast 2.0 white driver (10.5 degrees) and Burner SuperFast 2.0 3- and 5-woods (15 and 18 degrees, respectively). Allenby finished T-6...A week after putting Ping's G20 driver in play (as well as going back to his trusty Ping Anser F putter which is 4 degrees flat), Chris DiMarco added Ping's G20 3-wood at the AT&T. DiMarco finished T-13 after a final-round 64, his second–best showing of the year (T-11 Puerto Rico Open).