News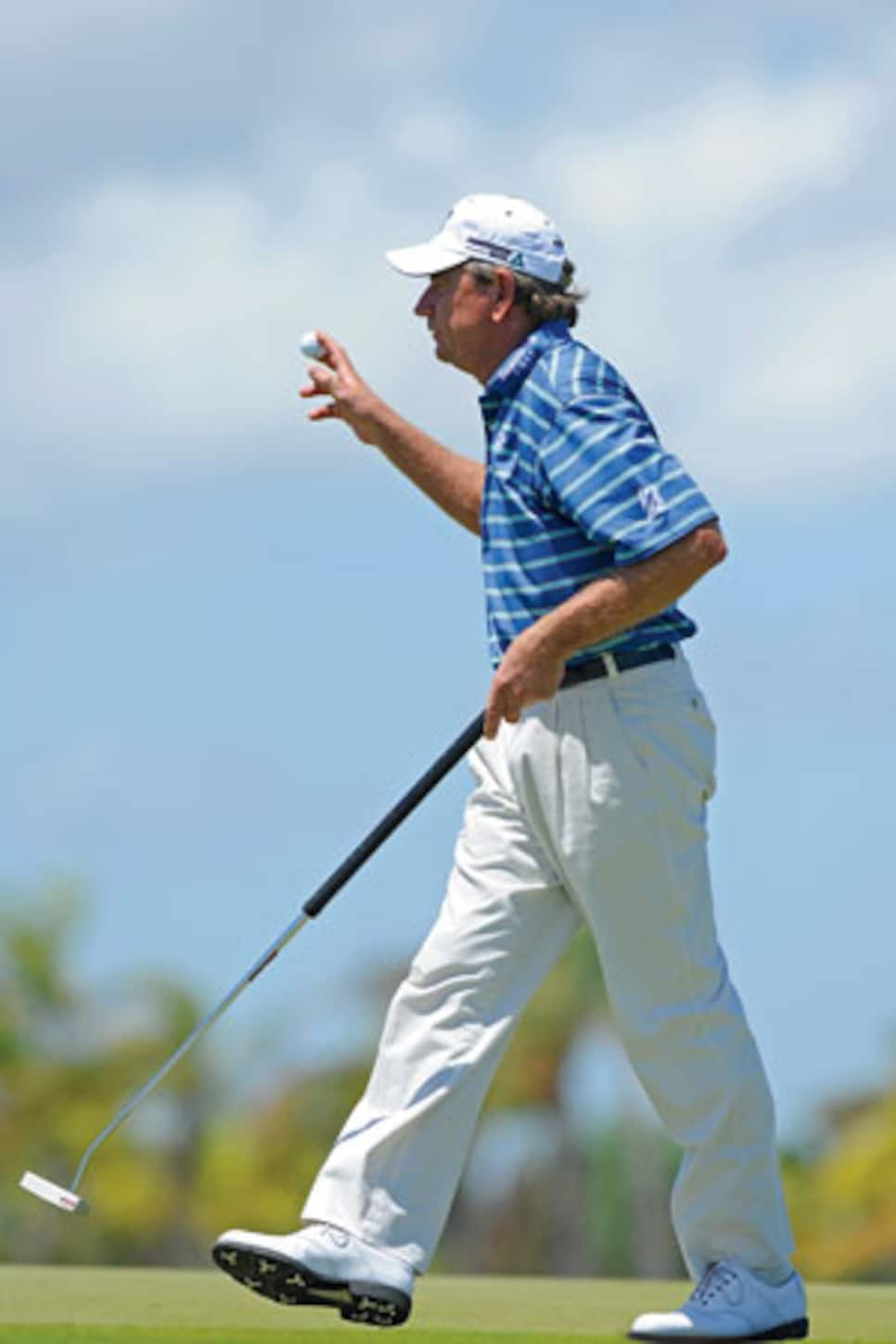 Nick Price used a belly-length Scotty Cameron by Titleist Kombi at the Cap Cana Championship.
As documented by the chart that appears on this page each week, it does not appear the 2010 grooves-rule changes have had much affect on the PGA Tour. That may change at Augusta National GC during the Masters.
"On the West Coast you're not going to see that much difference because it's so soft," Ernie Els told CBS earlier this year. "[But] the real test will be when we get to Augusta, when you've really got to be in control of your golf ball at all times."
In many ways Augusta National offers the perfect combination of conditions that could make the less-effective grooves, well, less effective. Balls coming into the firm greens will have less grab, particularly for those who have early tee times Thursday and Friday, when the fairways have a hint of dew on them, making dialing in the yardage a bit of a guessing game.
But perhaps the most significant contributor will be Augusta's "first cut" -- light rough about one inch in height. According to a 2006 USGA study conducted during its research on grooves, balls hit with a V-grooved 8-iron from light rough to greens rolled 30 feet farther than balls struck from the same condition with U grooves. Although the irons and wedges pros are playing don't have V grooves, they are designed to perform closely to them, making the possibility of additional roll likely. At a course such as Augusta National, where an extra few feet often results in a ball taking a slope and slithering a substantial distance from the hole, the grooves could play a significant role in the outcome.
"We will see the biggest impact with the grooves at Augusta because of the pinpoint control you have to have around the greens," said Stewart Cink. "Around the greens it's a lob-wedge issue, and without the ability to spin it as much, it's going to be hard to stop the ball on some of those tabletops. It won't be a huge issue, but there will be some shots that will be different. Some interesting situations could develop. It's going to be a challenge for a lot of the players."
Of course, players have had three months to acclimate to the new grooves, and early indications are they have adapted quickly.
"Little touch shots, bunker shots...they might run out more," said Mike Weir, the 2003 Masters champ. "But players should be used to that by now. Chip shots aren't going to check, and you kind of need some of those shots around Augusta, where it would be good to get the ball to check a little bit. So you have to adjust and maybe put more loft on the shot. Chipping at Augusta, you have to think a little more, and so there will be just a bit of extra strategy you will have to put into those little shots around the greens."
Short-game practice during early-week rounds is high on the list of any Masters competitor, but this year players will likely increase the time spent adjusting to the greens' slopes and curves. Conversely, don't expect to see an increase in the number of high-lofted wedges. Last year seven players in the Masters field, including runner-up Kenny Perry as well as Phil Mickelson and Vijay Singh, used wedges with more than 60 degrees of loft. This year it is quite possible that number will be zero.
"I haven't been using [the 64-degree wedge] much this year," said Mickelson. "With the less-effective groove, the ball slides up the face too much." Added Weir, "I don't think I would throw in a 62- or 63-degree wedge to get more height. I'll just have to practice around the greens more."
So will the new grooves impact this year's Masters? Sounds like they may already have.
Fred Couples (who uses a belly-length TaylorMade Rossa Imola 6 putter) isn't the only player on the Champions Tour benefiting from a longer-than-standard model. Nick Price (top right) came to the Cap Cana Championship with a belly-length Scotty Cameron by Titleist Kombi, a club he put in the bag a few weeks ago. "The last two days and the three days [at Allianz] are as comfortable as I've ever been with the putter," said Price, who made three bogeys and a double bogey against 18 birdies in finishing T-4 at Cap Cana. "There are no surprises [on the greens]. It's given me a lot more confidence."
Despite four top-six finishes in six PGA Tour starts this year, Retief Goosen was unhappy with his driving (ranked 97th in distance and 66th in accuracy coming into the Arnold Palmer Invitational). That led the two-time U.S. Open champ to change to TaylorMade's Burner SuperFast driver. Goosen used the 9.5-degree club to finish T-4, ranking, fittingly, T-4 in both distance and accuracy for the week...Chris Couch parted with his Nickent fairway woods in favor of a trio of new woods from TaylorMade -- Burner SuperFast 3- and 5-woods (15, 18 degrees) and an R9 21-degree 7-wood. Couch finished T-4 at Bay Hill...Correction: In the March 29 Winners' Bags section Jim Furyk is incorrectly listed as using a UST Mamiya Proforce driver shaft. Furyk used an Oban Devotion shaft in his Callaway FT Tour TA driver during his win at the Transitions Championship.