News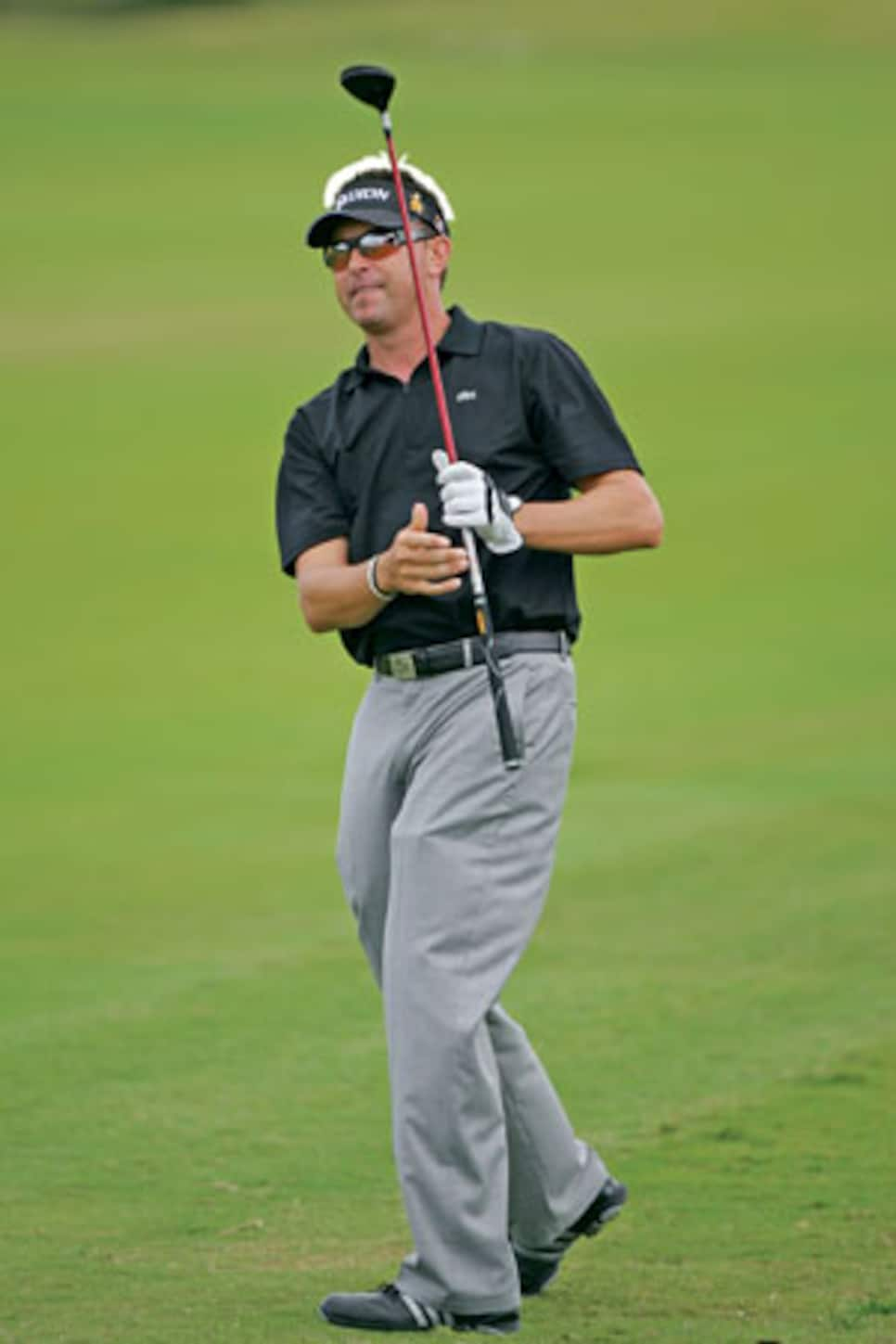 Robert Allenby made a hole-in-one with a new 17.5-degree Taylor Made Tour Burner.
Everyday golfers are infatuated with having "the tour pro experience" and more and more companies are happily finding ways to satisfy that need. Adjustable clubs have been touted as "tour vans in a box," while FootJoys and Adidas both offer everyday golfers the ability to custom design footwear.
Now another product has come along -- AccuSport's VectorX, a launch monitor specifically aimed at the consumer market.
The VectorX is designed to provide golfers information on ball speed, launch angle, back spin, side spin, side angle and more. This is a handy tool, but just as a scalpel is of little use to a patient unless a skilled surgeon is wielding it, a launch monitor does little more than spit out numbers unless a capable fitter is deciphering them for you. We're guessing you don't have one of those in your basement or backyard (two venues AccuSport suggests you can use this device), so before you drop $3,195 on the VectorX, here's a little Launch Monitor 101.
For starters, although television announcers constantly talk about the desire of tour players to achieve "high launch and low spin," that does not mean that's right for you. In fact, since almost all everyday players swing slower than those on the PGA Tour, you may actually need more spin to help keep the ball in the air, thus maximizing the efficiency of your tee shots.
Corey Pavin serves as evidence. The 2010 U.S. Ryder Cup captain only produces a clubhead speed of slightly more than 101 miles per hour, with a launch condition of 13.80 degrees (ninth-highest on tour) and 2,748 rpms of spin (in the top third of high spin). Heath Slocum is another example. At 105.87 miles per hour, Slocum is one of the slower swingers on the PGA Tour, yet he is ranked fourth in "carry efficiency," meaning he basically is getting all he can out of his golf swing off the tee. Slocum's launch angle is 11.89 degrees (somewhat high), but his spin rate is 2,660 rpms -- also on the high side, at least for tour pros. In other words, achieving the highest launch with the lowest spin isn't necessarily going to produce the best results for the professionals. And it may not for you, either.
Another aspect where launch-monitor fitting for pros differs from everyday players is this: It's OK for those who play for pay to be measured by their best shots because they make contact with the center of the face frequently. For the rest of us, however, there's a reason we're not driving courtesy cars: Most of our hits are off-center. Resist the temptation to fit to your Sunday punch. When you catch one on the screws, the numbers on the monitor may jump off the screen and dazzle you, but be realistic. Hit shots that are representative of your game, using several different loft and shaft combinations (if you have them available) and see which one brings the best results.
If possible, try different construction golf balls during your testing. You may get better results with a multilayer urethane ball than with the two-piece, harder cover ball you're playing -- or it might be the other way around. Or you might simply need to go from the lower-spinning version of a tour ball to the higher-spinning one. Or vice versa. A different ball can be an effective means of altering spin rate. It's not always the club that needs changing.
Launch monitors are incredibly cool toys and, in many ways, highly addictive for everyday players. However, whether you purchase your own or jump on one at the local golf store, the best way to get the most out of them is to have someone well-versed in how the numbers work interpret the data. Do that and you'll be much closer to having a true "tour pro experience."
Different club, same result: Earlier this year Robert Allenby retired a 16.5-degree Srixon W403 5-wood that, by his estimate, he had used for nearly eight years. Replacing it with a 17.5-degree TaylorMade Tour Burner, Allenby used the new club to make a hole-in-one on the 233-yard 13th hole at the TPC Blue Monster at Doral. Allenby said it was his 14th career ace. Ironically, his last 1 was made using the Srixon 5-wood during last year's Volvo World Match Play.
WGC-CA champion Ernie Els made a driver change at Doral, switching to Callaway's FT Tour TA (Tour Authentic) model. The 8.5-degree club had a True Temper Project X shaft and, unlike most Callaway drivers, a hosel. For the week Els averaged 297.5 yards off the tee, ranking T-16. He also was T-19 in accuracy...Much was made of Hunter Mahan's specially made Ping Eye 2 wedge that he used in winning the Waste Management Phoenix Open, but at Doral Mahan ditched the club (he felt he lost something around the greens with it) and went back to the Eye 2 he used during the Match Play...With par 5s playing such a critical role at TPC Blue Monster at Doral, Matt Kuchar added a 16.5-degree Tour Edge Exotics CB2 4-wood. Kuchar finished T-3 at the WGC-CA Championship, playing the 16 par 5s eight under par.