News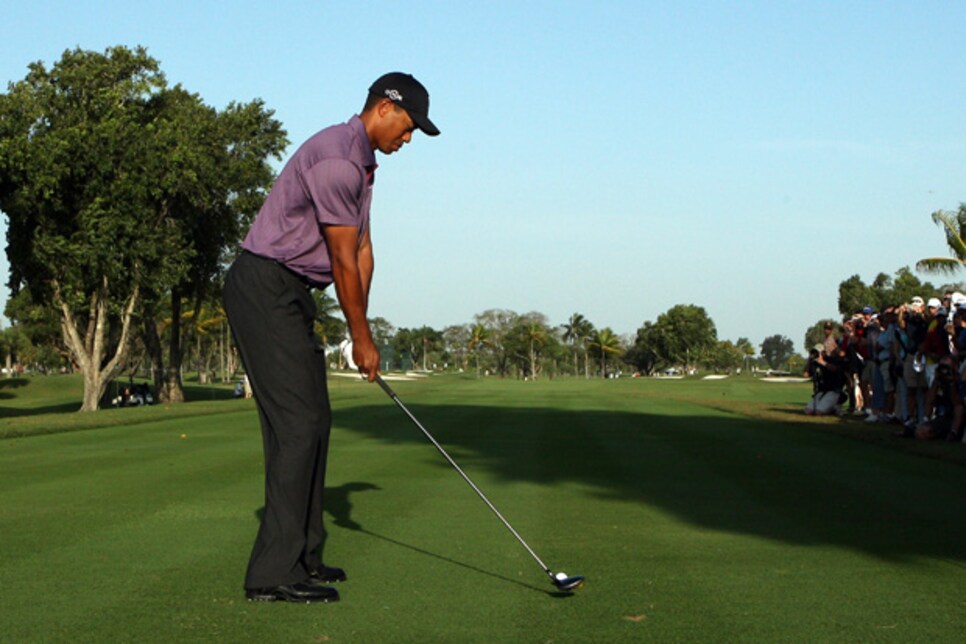 Tiger Woods using a 3-wood for his tee shot during practice for the 2008 World Golf Championships.
Over the last decade professional golf has become a power game with an equipment focus on golf balls that fly like Flubber and drivers the size of saucepans. Less noticed, however, has been the role of the fairway wood. Quietly, the fairway wood has gone from a club used to reach the green on par 5s and long par 4s to, in many instances, a second driver. As such, lofts on 3-woods have dropped faster than a politician's approval rating.
back that claim. A total of 122 players carried a 3-wood and 59 percent of them used a loft lower than 15 degrees. And 48 of those used a 3-wood with 13.5 degrees or less, including Warren Schutte who carried a 12-degree Ping TiSI Tec.
Although today's lower-spinning golf ball would seem to make a lower loft less desirable, the fact is lower-lofted fairway woods better match the modern tour pros' swing that produces a high ball speed with enough spin to keep the ball in the air. The standard 15-degree fairway wood can give off too much spin and the ball can shoot up higher than the player wants. In short, the trajectory with these clubs is more important than ever because they're being used off the tee now nearly as often -- and, at times, more so -- than from the turf.
The extra use off the tee helps clarify the rationale for the drop in loft. If 3-woods are being used as driving clubs, pros don't want to sacrifice too much distance in their efforts to find the fairway. Another added benefit of the lower-lofted 3-wood is that it narrows the distance gap between a large-headed 9-degree driver and a traditional 15-degree 3-wood. That disparity is, in many cases, just too great to be comfortable for some.
Another factor playing into less loft on fairway woods is that the tour plays in some places where the wind can really blow -- namely, Hawaii, Florida and Texas -- and the lower loft on a 3-wood becomes a real asset off the tee. The number of lower-lofted fairway woods will normally increase during those weeks.
Low-lofted fairway woods, however, are not for all golfers. In fact, this likely is one area where you should not be playing what the pros play -- except for the nine players at the Timberlake event who used 4-woods. A study conducted earlier this year by Golf Digest using the Trackman radar tracking device revealed that those swinging at 85 miles per hour boosted the height of their trajectory by three yards and added an additional five yards of carry when using a 17-degree 4-wood versus a 13-degree 3-wood. The reason: The shorter shaft on the 4-wood makes it easier to hit the ball solidly while the added loft creates much-needed additional spin at that speed to keep the ball in the air.
And low loft or not, a club that works is always in style.
Srixon's prototype tour ball, the Z-Star XV, made its PGA Tour debut during the Justin Timberlake Shriners Hospitals for Children Open as Brian Davis put it in play at TPC Summerlin. The Z-Star XV, which already had been used by Ryo Ishikawa overseas, boasts larger dimples than the current Z-Star and has the thinnest cover of any Srixon tour ball.
Ping has taken steps to ensure that its four Ryder Cup players Hunter Mahan, Bubba Watson, Lee Westwood and Miguel Angel Jiménez) have no equipment issues in Wales. In addition to contacting each player to confirm what clubs they would be playing and making sure each brought a backup driver to Celtic Manor, the company is sending its European Tour rep to the event stocked with each shaft used by the quartet. Additionally, Watson asked for a Redwood Anser putter with 20 extra grams of weight for the normally slower greens in the U.K...Sneak peeks: Oddly, the Tour Championship wasn't a bad place to get an early look at some equipment companies' new offerings. Matt Kuchar used Callaway's yet-to-be-released Diablo Octane 3-wood (15 degrees) and Titleist's new 910H hybrid (21 degrees), while Jeff Overton played Mizuno's next wood offering with a JPX 800 3-wood (15 degrees)...Ernie Els had his Callaway FT Tour Driver bent closed last week in the Callaway tour trailer so that it had almost 10 degrees of loft. He also had it re-shafted with a Fujikura Speeder 757X shaft.