The Loop
Golf in the Olympics finally resumes 112 years later, tears shed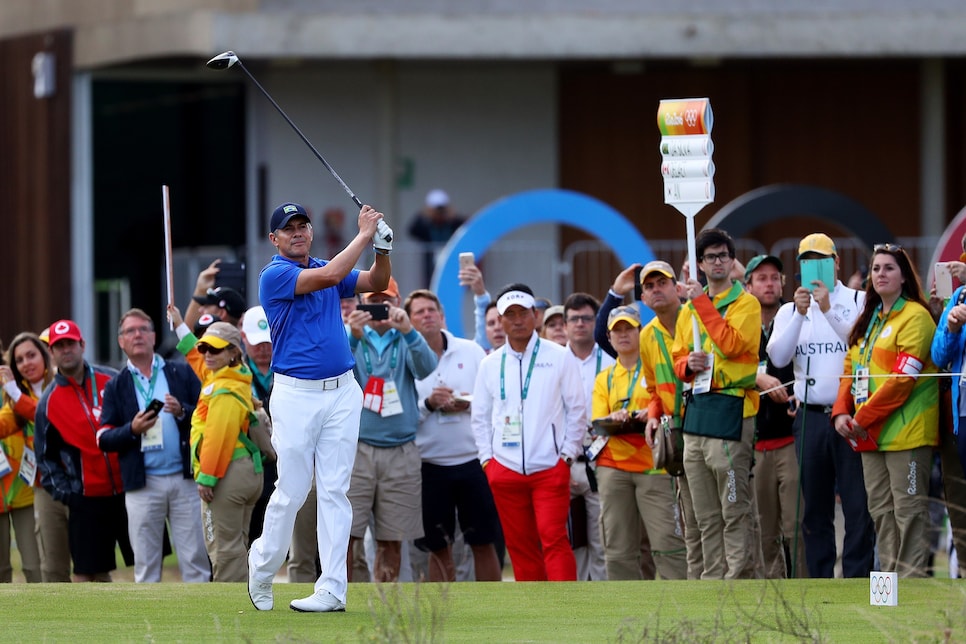 RIO DE JANEIRO — Never has such a standard beginning to golf ever been more welcome.
Years of meetings, brouhahas, a little begging and international media attention branding golf all but the greatest calamity to hit the Olympic movement, the sport returned after 112 years in unspectacular but gently emotional fashion when Brazil's Addison da Silva struck the opening tee shot.
Upon hitting his ball up the right center of the fairway, the 44-year-old chosen to open golf's return to the Games walked back to his bag near International Golf Federation officials, let out a sigh, and pulled off the moment without a hint of great stress. But watery eyes suggested the moment had understandably gotten to the 12-time Sunshine Tour winner playing before his home nation that greeted him with a louder ovation than playing partners Graham DeLaet and Ben An.
Under crisp, sunny skies following a day of dreary showers, spectators were asked to silence their mobile devices but were not discouraged from documenting the moment. Prior to the 7:30 a.m. grouping's tee shots, da Silva, DeLaet and An posed for a televised introduction and made brief small talk.
On hand were a collection of 150 or so spectators and seemingly just as many photographers and media. Greeting the players at the first tee were the IGF's Peter Dawson, Ty Votaw and Antony Scanlon, the three most important figures in getting golf to this moment. In a dignitary stand adorned with Rio's festive color palette immediately behind the tee stood PGA Tour Commissioner Tim Finchem, future commish Jay Monahan, PGA of America CEO Pete Bevacqua, PGA President Derek Sprague, USGA Executive Director Mike Davis, USGA President Diana Murphy and many other international executives. In the spectator grandstand, architect Gil Hanse sat with his family along with several of the shapers who built the long delayed, much-scrutinized Olympic course in Barra di Tijuca.
After the initial group was on its way down the center of the fairway, a mad-scattering of volunteers, cameraman chased after them just like any other golf tournament. The sheer simplicity of it all was a welcome sight after years of wondering whether the moment would ever happen.