Courses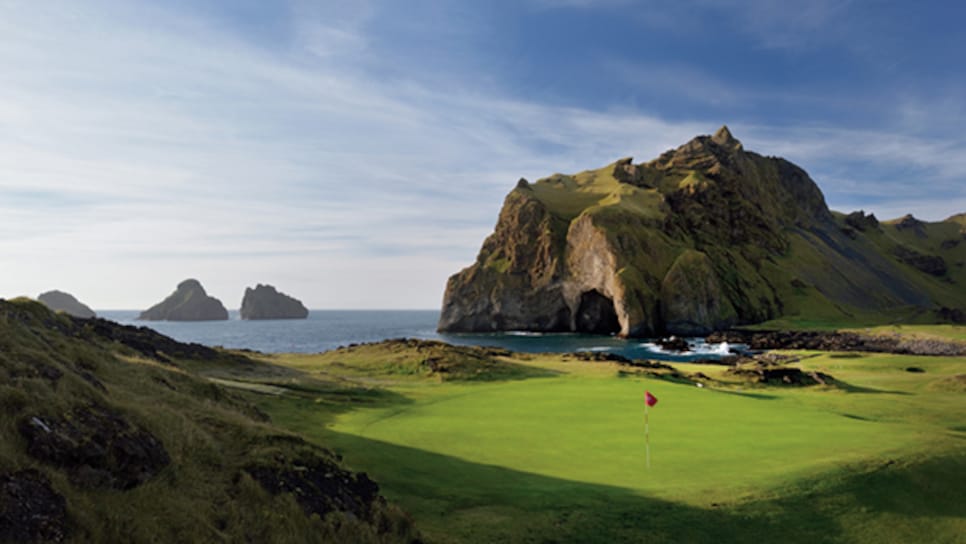 I visited Iceland for the first time in November 2013, and on that trip I made a few observations: 1. The landscape is bewilderingly beautiful. 2. Everyone is blond, and 871 percent better looking than you. 3. Nine out of 10 Icelandic homes are heated by geothermal springs, and this hot water kind of smells like flatulence. 4. Iceland is obsessed with golf.
Because of No. 4 (and slightly because of No. 2), I recently returned to Iceland, to spend five days immersing myself in its golf.
Did you know Iceland has more golf courses per capita than any other country in the world?
Yup. You read that right. The island has 65 golf courses for a mere 321,000 inhabitants, of whom roughly 60,000 are at least occasional golfers. Golf's popularity in Icleand is eclipsed only by soccer and team handball, owing to the country's silver medal in team handball during the 2008 Olympics. Eighty-five percent of all Icelanders tuned in for that final match, and a "phallological" museum in Reykjavik proudly created a special exhibition afterward, replicating every team member's, um, member. But I digress.
The golf season in Iceland is short—May through September— but when it arrives, it arrives with trumpets blaring. Summertime in Iceland means 24 delicious hours of daylight. And Icelanders, who have waited through an interminable winter of darkness, now act— ­how do I put this politely?— a little nuts.
During summer, many courses in Iceland are open for play 24 hours a day. Icelanders play golf after work, after dinner. "We just can't get enough golf; we become obsessed," says Helgi Eysteinsson, one of 3,000 members at Reykjavik Golf Club, Iceland's oldest club, dating from 1934. Prince Charles has played there, as has Rudy Giuliani, and Alice Cooper... sadly, not all in the same three-ball.
There are mega-marvelous golf adventures to be had in Iceland.
My favorite? The Arctic Open. This is serious bucket-list material. Played since 1986, the Arctic Open is an international golf tournament played at Akureyri Golf Club, the second-most northern 18-hole course in the world. (Norway's Tromsø Golf Park holds claim to being the northernmost.) The Arctic Open has one bizarre feature: You might begin your round after midnight, as tee times run from 4 p.m. through 12:50 a.m.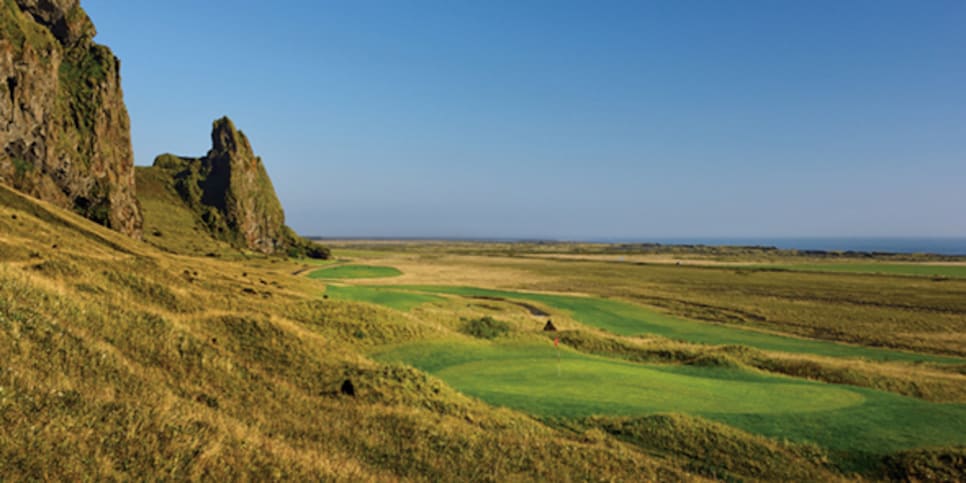 Assembling for the 36-hole net Stableford event are 200 golfers, mostly Icelanders mixed with a growing number of in-the-know international visitors. The mood is, quite simply, wonderful. On the 14th tee, two women greet you with sodid braud (bread with lamb) and hot chocolate mixed with rum. Your playing partners could include local fishermen or the CEO of Icelandair.
The Arctic Open entry fee is $385, which includes two practice rounds, meals at the opening and closing ceremony, and, on a different note, whale watching. First prize is a trophy paired with an Icelandic wristwatch. Other prizes include baskets full of wine and Icelandic cheeses. The golf can be competitive. Kristinn G. Bjarnason, a plus-2-handicap Icelander, shot a five-under-par 66 in the opening round. The eventual 2014 champion, Brynja Herborg Jónsdóttir, collected 78 Stableford points and became the tournament's first female victor. In comparison, I opened my 2014 Arctic Open campaign by topping a tee shot 37 yards, blanketing the first tee in a horrifying silence. I did not win any Icelandic cheese.
Playing under the Midnight Sun is like gambling in a casino. Time loses meaning: 3 a.m. comes and goes without warning, and there are only vague biological reminders of passing time, such as feeling hungry and then remembering you ate dinner eight hours ago. Having played through the night, many Arctic Open participants go straight to their jobs after holing out on 18. "My wife and I have played in this tournament for 26 years," says Bjorgvin Bjorgvinsson, a 60something Icelander from Reykjavik. "As soon as we leave here on Sunday, we book it for the next year."
As a group comes into the clubhouse, Bjorgvin continues: "I've missed out three years, total." He pauses, head down, a little sadly. "We've got three children and built four houses— but still, that's no excuse for missing out."
THE ORIGINAL 'ANGRY BIRDS'
Farther south, out on a peninsula minutes from Reykjavik, lies another superb golf adventure. Ness Golf Club, a charming nine-hole course with stunning views of Mount Esja (Iceland's tallest mountain) and one unique hazard.
"They're called kria," my Icelandic playing partner, Karl Karlsson, explains, as we pull into the parking lot. "They are a little... um... how you say... aggressive."
"Got it," I nod, and open my passenger-side door. I am immediately dive-bombed by a bird the size of my left hand.
"Cahhh cahhh cahhhhh!!!" the little bird screeches angrily at me.
"Ahhhhhhh!!!" I yell, and dive back into the car. Karl says nothing but seems vaguely ashamed of my cowardice.
I have met my first kria.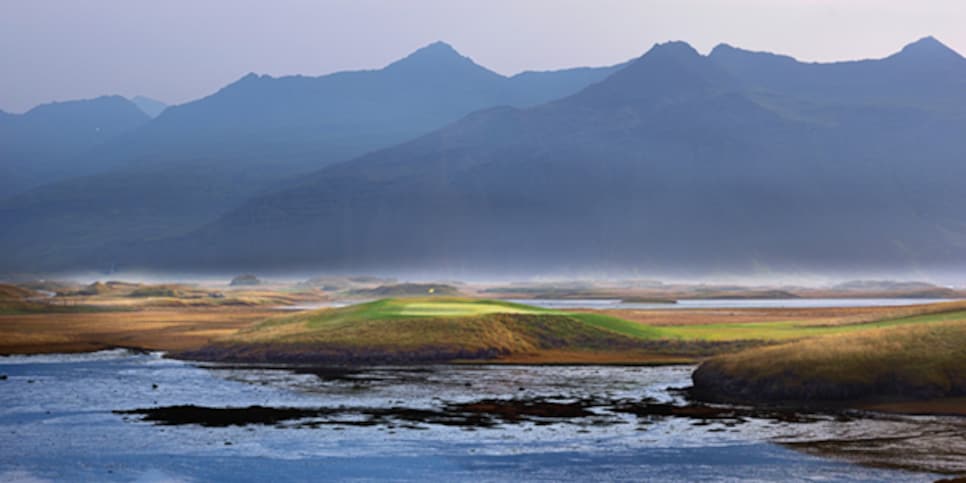 The kria are Arctic terns. Every summer, they travel from Antarctica to Iceland— the longest migration of any bird on the planet. If you've ever complained about your commute to work, consider this: Over the course of its life, each kria will make the equivalent of three round trips to the moon. Several thousand kria land on this very golf course, where they will nest in the rough from May until July, laying their eggs. If you keep your ball on the fairway, all is dandy. However, hapless golfers who wander into the rough are immediately swarmed by the angry birds. The kria don't just screech— they attack, sometimes drawing blood.
It is golf meets Alfred Hitchcock.
Amazingly, the 675 members of Ness Golf Club put up with the kria as a way of life. Members walk nonchalantly through the rough with clubs held above their heads— Ness Rule 101 of Survival, since kria attack their intruder's highest point. Some members use umbrellas in place of golf clubs, which also guard against a secondary kria attack method. (Hint: rhymes with "sitting.")
"The kria are a huge part of this club," Kristín Lydsdottir, the (blond, beautiful) granddaughter of the club's founder, tells me after my round. As I look down the ninth fairway and see the kria swarm another stunned tourist-golfer in the rough, I decide that nine holes at Ness give definition to "extreme golf," and possibly the best motivation ever for hitting fairways.
APRÈS GOLF: A GEOTHERMAL SOAK
When not hitting the course, hit "the pools"— geothermal hot tubs located in almost every town. They are Iceland's answer to the Scottish pub. In one such pool, my lasting memory of Icelandic golf was formed. I had just finished my first round in the Arctic Open (at 6 a.m.), and, feeling exhausted, decided to retreat to the local pool for a restorative soak. As I floated blissfully in my hot tub, a corpulent Icelandic businessman suddenly plunged in beside me. Instead of saying "hello," he made a confession:
"My chipping... was terrible."
Such is the importance of golf to Icelanders.