News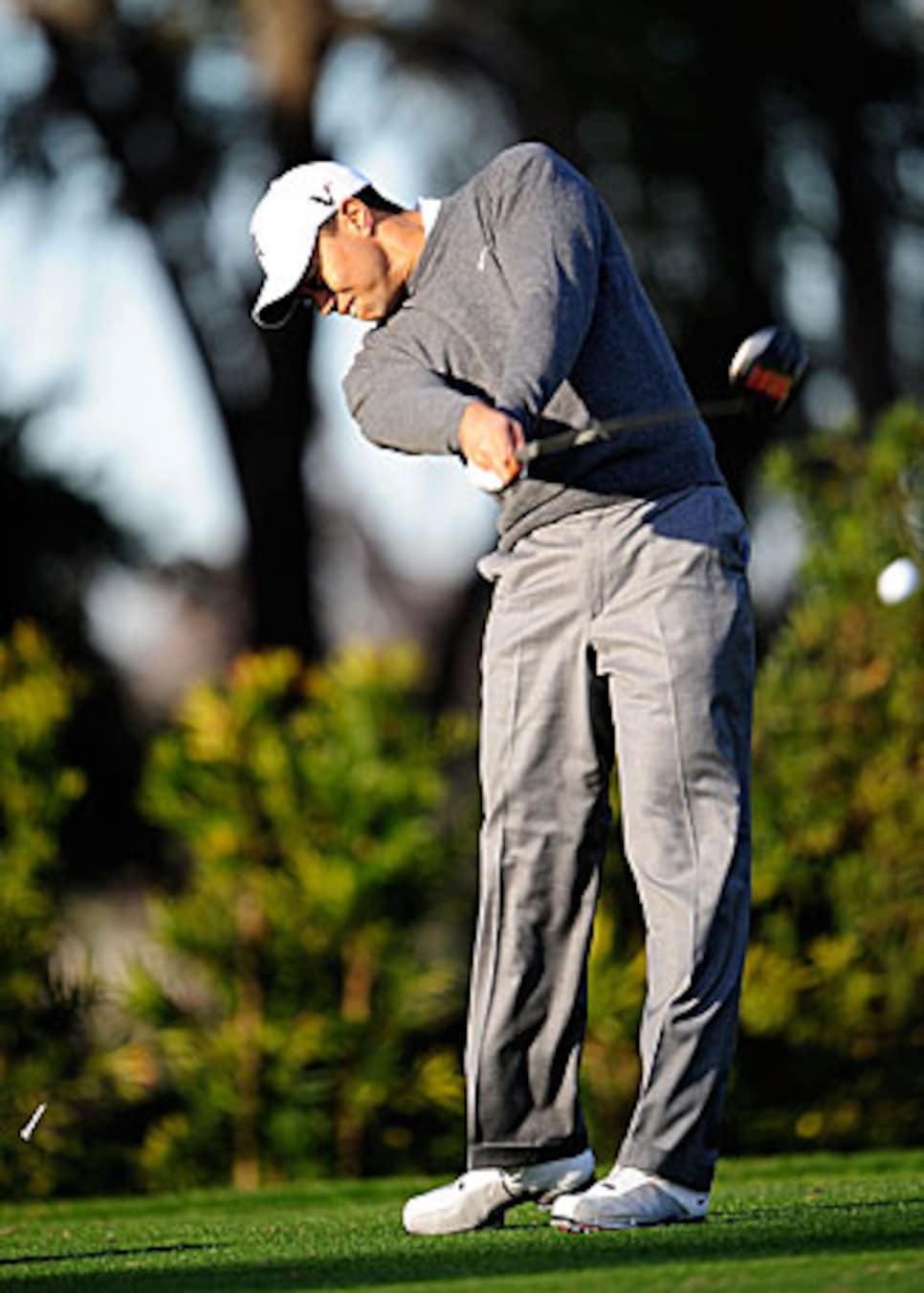 As was the case prior to his return to rehab, Tiger Woods has been spotted practicing at Isleworth.
PALM BEACH GARDENS, Fla. -- The word is Tiger Woods is out of therapy and hitting golf balls at Isleworth, where he lives a couple hours up the Florida Turnpike from here. As has been the case with most of what has gone on in this bizarre saga, speculation far outweighs fact and none of the sources seem to have a name. But let's just for the sake of argument say he is taking steps toward what he told us on Feb. 19 is an inevitable return to competition.
First off, the best he way can make this whole mess go away -- or at least have it moved to the back burner of the gossip pages -- is to not only get back to golf, but get back to winning golf. That will not only stop endorsement partners from leaving, it will embolden new ones to jump on his battered bandwagon.
And if Woods is beginning to survey the competitive landscape to which he would return, what he finds is that no one has taken advantage of his absence so far and the window for dominance is wide open. As the PGA Tour heads east this week, after stops in Hawaii, California, Arizona and Mexico, one thing that's clear is that there is no clear No. 1.
Nine tournaments -- including the Mayakoba Golf Classic the week of the Accenture Match Play -- have produced nine different winners. In a share-the-wealth scenario that would make even Sweden proud, nine players have already won more than $1 million on tour this year and 15 have earned more than $750,000. Part of what Woods has created by sitting on the sidelines is his own stimulus package for other players.
That picture may all start to change now. What begins this week at the Honda Classic at PGA National is a run-up to the Masters. The fields will get better as those players who chased early-season appearance fees overseas gather in Florida for a month–long spring training that will get them ready for that major league ballpark called Augusta National.
But while the road to Augusta begins for real here on Thursday, and while many players have thoughts of that green jacket rattling around in their heads, what begins here is also a compelling stretch of tournaments that has successfully reclaimed the former glory of the Florida Swing.
The Honda has found a worthy home at PGA National -- although the over/under on Golf Channel/NBC mentions of The Bear Trap is somewhere north of the 95 in I-95 -- and has become a riveting start to the Florida swing. Then comes the CA Championship at Doral, the Transitions Championship, the Arnold Palmer Invitational, Shell Houston Open and then the Masters (and can't you just hear the hushed tones when you read those words?).
If you are trying to handicap a return date for Woods -- and it is really guesswork since his only appearance was in a controlled setting with no questions allowed and thus we have no real sense of his state of mind -- the earliest would be the Palmer at Bay Hill, near Woods' home, with the possibility of the Tavistock Cup played on his home course of Isleworth the Monday and Tuesday preceding.
But for now, the best thing for everyone to do is adjust their mindset to the fact Woods is not here and that we won't know when he is returning until he tells us. So who is taking advantage of Woods' absence? Well, no one and everyone.
Six players have finished in the top 10 a tour-leading three items so far: Robert Allenby, Tim Clark, Retief Goosen, Charles Howell III, Alex Prugh and Steve Stricker. The top 10 in FedEx Cup points reads: Dustin Johnson, Stricker, Ben Crane, Ian Poulter, Ryan Palmer, Hunter Mahan, Geoff Ogilvy, Bill Haas, Allenby and Matt Kuchar.
As you can see, the early going of the tour is pretty much a free-for-all. Not only have there been no repeat winners, but of the six players with three top-10 finishes only two -- Stricker and Allenby -- are in the top 10 in FedEx Cup points. And of the four major championship winners from last year -- Angel Cabrera, Lucas Glover, Stewart Cink and Y.E. Yang -- only Yang is in the top 20 on the money list, and he's No. 19.
And it's not like they haven't tried. Yang and Glover have played in five tour events while Cabrera and Cink have competed in four. Only four players -- Kuchar, Pat Perez, Mark Wilson and Ted Purdy -- have played in a tour-leading seven tournaments so far this year. Phil Mickelson has played four times and is No. 49 on the money list.
What we are seeing is a lot of good golf punctuated by occasional great golf. But what has yet to emerge is a stretch of sustained brilliance by any one player or a group of players, the kind of breathtaking golf upon which we have come to rely on Woods to supply.
Certainly, there are reasons for a start with this kind of NFL-like. A lot of top players were chasing those appearance fees in the Middle East, and the weather on the West Coast Swing was as wet as it has been in recent memory. While there is no guarantee the weather will get better, the fields certainly will.
The Honda has four of the top-10 players from the Official World Ranking: Lee Westwood (4), Paul Casey (6), Rory McIlroy (9) and Padraig Harrington (10). Two things are worth noting here. First, none are American, which is a good sign that the top international players want to be at the revitalized Honda Classic. Second, all four are eligible for the European Ryder Cup team, which is bad news for the PGA of America, that organization of club professional who puts together the U.S. Ryder Cup squad and whose headquarters is right at PGA National. Gives a hint of how difficult it will be to retain the Cup on the road this year.
And by the way, there's another question we haven't addressed: Would the U.S. Ryder Cup team be better or worse if Woods returns to play this year? They did pretty well without him in 2008 at Valhalla, which makes you wonder if the guys are looser when he is not on the team. But that's a question for another day.
What we do have now is the beginning of the Florida Swing. And while it has to still be considered a long shot that the swing will end at Bay Hill with Woods in the field, it is almost a certainty that the quality of the golf will kick up a few notches over the next four weeks and that someone will begin to emerge as a player-of-the-year candidate. The only question is who.