News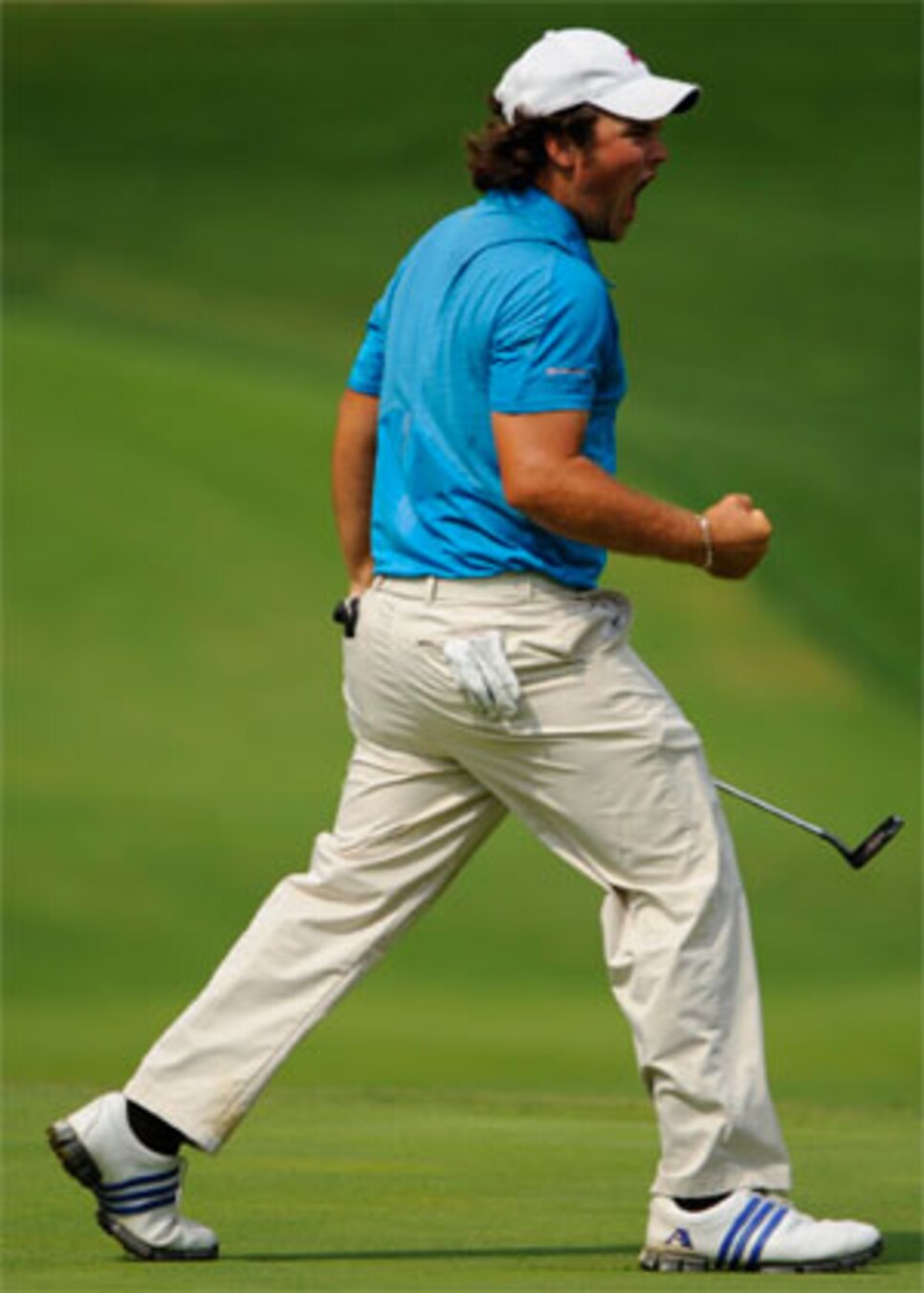 Making Some Noise: One of the Jaguars' best, Reed scored a victory in helping his team beat Georgia Tech in the quarters.
Josh Gregory first learned there was something different about being the men's golf coach at Augusta State when he came to campus to sign his contract almost eight years ago. A former player at SMU fresh off a two-year stint as an assistant at N.C. State, Gregory figured he would shake hands with athletic director Clint Bryant, sign on the dotted line and get to work. Before leaving Bryant's office, however, Gregory's new boss mentioned one more thing he needed him to do. Something about attending a press conference to announce his hiring.
You're not serious, Gregory thought to himself. A press conference for the golf coach? OK, maybe a couple of cub reporters would ask him a question or three and be on their way. Yet when he stepped to the podium to thank Bryant for having the faith to hire a then 27-year-old, Gregory spoke to a packed house, complete with television crews from all three local channels.
"They treated me," Gregory said, "like I was the new football coach in town."
That's not far from the truth. Golf pretty much is football at Augusta State, when you consider it is the only sport of the seven offered at the Georgia school (enrollment: 7,071) that competes at the Division I level. The golfers are big men on campus, recognized at times by fellow students who have seen their pictures around town.
It is why, without hesitation, a few hundred Jaguar faithful hit the road at 5 a.m. June 6 to make the four-hour drive to The Honors Course in Ooltewah, Tenn. Never mind no one outside the city of Augusta truly thought this program could win an NCAA title. This was their team, and darned if they weren't going to watch when their boys proved everybody wrong.
Sure enough, Henrik Norlander, Patrick Reed, Mitch Krywulycz, Taylor Floyd and Carter Newman made it worth the trip, knocking off Oklahoma State, 3-1-1, in Sunday's championship round. That the victory came against the vaunted Cowboys, 10-time NCAA champs and the top-ranked school throughout the 2009-10 college season, only made the moment more surreal.
Hold the David versus Goliath comparisons though. This wasn't a repeat of "Do You Believe in Miracles?" The Jaguars had finished in the top five in their last nine tournaments, winning three times and arriving at nationals 10th in the Golf World/Nike Golf coaches' poll. Moreover, Norlander, a ball-striking fiend from Sweden, and Reed, an Augustan who found redemption by coming home, were ranked among the country's top 15 collegians individually.
A more apt analogy comes from college hoops: This was Butler beating Duke.
"We expected to do it," said Floyd, Augusta State's newest folk hero. "But when you look at what kind of school we are, it's almost unbelievable that we actually got it done."
At dinner Friday after the team's quarterfinal victory over Georgia Tech, the sophomore from Macon, Ga., started getting stomach cramps and feeling chills. His flu-like symptoms persisted throughout the weekend, yet Floyd played on, pouring his guts out -- sometimes literally -- for the team in winning his match in the semifinal versus Florida State.
Facing Oklahoma State's Trent Whitekiller in the championship's final tilt, Floyd squared the match with a 15-foot birdie putt on the 16th hole and seemed poised to secure the title-clinching point -- until Krywulycz beat him to the punch. The redshirt junior from Australia was 4 down with seven holes remaining against OSU's Kevin Tway, but won the next four (three with birdies) to turn the match around. All square through 18, the players went to extra holes, and both had putts for birdie on the first green. Krywulycz (pronounced Craw-vol-itch) putted first from 25 feet, but came up 18 inches short, and his par was conceded. Tway's try from 22 feet, however, trickled five feet by the cup. When the comebacker burned the left edge, Augusta State had accomplished the improbable.
Folks who knew Jack Lupton, The Honors Course patriarch who died at 83 May 16, believe he would have enjoyed the championship, even with his 7,395-yard course playing easier than it did in 1996, the year Tiger Woods shot a final-round 80 yet won the NCAA individual title by four strokes. Intermittent rains throughout the week softened the greens too much for the world's best amateurs not to make birdies.
Still, it was hard to get used to the red numbers posted by the 30-school, 156-player field. Illinois' Scott Langley earned medalist honors with a 10-under 206 after 54 stroke-play holes (see page 90). No one predicted Oklahoma State's 14-under 850, four strokes clear of Florida State, would be the low team score, or that to make the Elite Eight would require shooting four over par.
With skepticism lingering about the change in format a year ago, the dramatics of match play served as another helpful "we-told-you-so" for the NCAA men's golf committee. It started in the quarterfinals, when Pac-10 powers Oregon and Washington squared off, the deciding point coming in a match of the conference's co-players of the year, Eugene Wong and Nick Taylor. The duo made six birdies (and just one bogey) between them, and Wong claimed victory for the Ducks, 1 up.
For the second straight year Oklahoma State's reward for being the top seed was a match against the nation's No. 2-ranked school. This time the Cowboys drew Stanford after the Cardinal survived a playoff with San Diego and Arizona State for the eighth seed (of the match-play qualifiers; all eight were ranked in the top 16.)
Given last year's quarterfinal loss to Georgia, all anyone wanted to know from OSU coach Mike McGraw was what his team learned that might help this time out. "I've got three guys [Tway, Morgan Hoffmann and Peter Uihlein] who remember how miserable they felt in that locker room at Inverness," McGraw replied. "They never want to feel that way again." Sure enough, the Cowboys, five-time winners in 2009-10, dispatched Stanford 4-1, then knocked off Oregon 3-1-1 in the semifinals.
Play in Sunday's finale was more ragged than during the week, although that didn't apply to Norlander. The 6-foot-2 junior who finished fifth in stroke play and won his first two matches, jumped to a 6-up lead on Hoffmann through eight holes, en route to a 5-and-4 victory. Similarly, Reed took down Uihlein with ease, winning 4 and 2.
Cowboy fans found solace in Sean Einhaus' 2-and-1 win over Newman. Before Krywulycz's rally against Tway, it appeared Floyd versus Whitekiller would be the deciding contest. Scheduled to be the day's second match, it was pushed back to the last (at McGraw's urging) to allow Floyd time for an IV treatment before the round. On the par-5 17th, Floyd was lining up a 30-foot eagle putt to take the lead, only to hear the celebrating on the nearby first hole and know his match had become academic.
"For Taylor to even be able to play golf today was remarkable," a tearful Gregory said afterwards. "I didn't think he would be able to go, but he told me, 'Coach, there is no way that I would miss it for the world.' "
"Coming into this week," noted Reed, a transfer given a second chance by Gregory after off-course issues caused him to leave Georgia in the middle of his freshman year in 2009, "Coach kept saying, 'Nobody expects you to win. Nobody expects you to be here.' When you're a player and you hear that from somebody, it gets you all fired up."
Indeed, Gregory spent much of his time at Augusta playing the "no respect" card to motivate his golfers. Struggling to get blue-chip juniors to come to a small school with no conference affiliation, he developed a niche by recruiting international players familiar with the Augusta "brand name" (apparently there's a pretty famous tournament held in town each April). He then filled out the roster with in-state golfers overlooked by "higher profile" schools.
"This is a tremendous feat for the university," said school president Dr. William A. Bloodsworth Jr., among those in attendance. "Really for the whole community. College golf means something in Augusta."
Of course, now Gregory faces a true dilemma: With all five starters back next season, he needs to find a new way to motivate the boys.
"I'll think of something," he said with a wink. "It's a good problem to have."

Improbable Outcome: When Augusta State needed him to come through in the final to defeat favored Oklahoma State (left), Krywulycz rallied to earn the clinching point and a hug from coach Gregory (left).