News
The Reclamation Of Robert Garrigus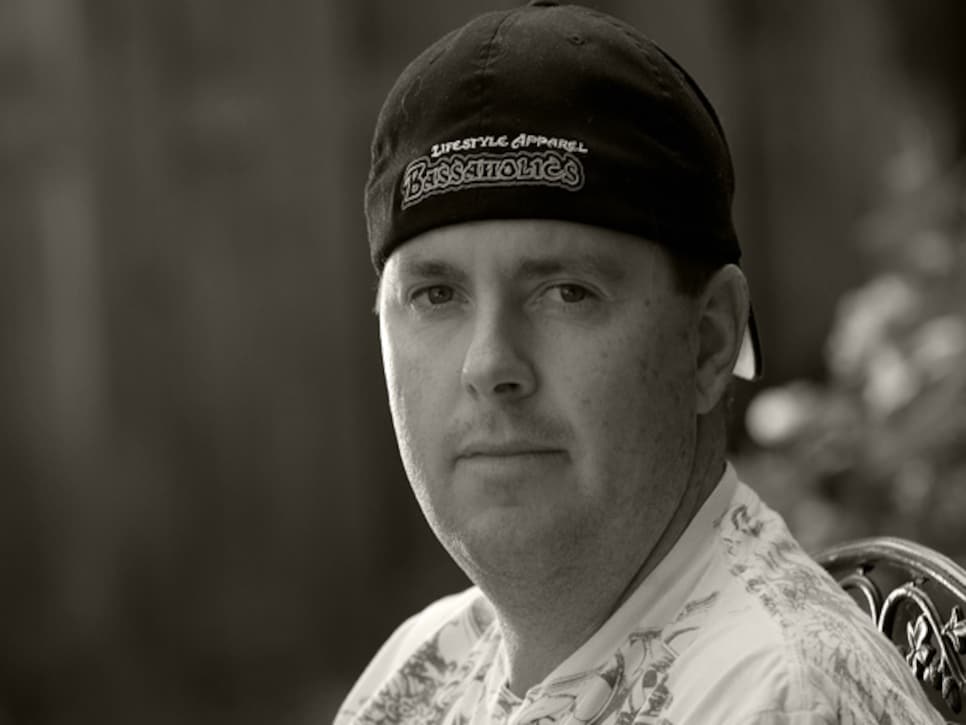 Rotten chicken or fresh marijuana?
A week removed from 45 days in drug rehabilitation, Robert Garrigus lingered in his darkened kitchen to ponder the choice. He was tired, hungry and irritated, having had to break into his own house in Scottsdale only to find the electricity shut off and the dwelling stiflingly hot. His plans were in tatters. He had intended to retrieve his golf clubs, which he hadn't touched for seven weeks, and then go pound balls at a lighted driving range into the wee hours before playing in a U.S. Open sectional qualifier the following morning.
His roommate was nowhere to be found. Garrigus had left money for him to take care of the house and pay the bills. The man used it for recreational drugs and gambling, and he skipped town just before Garrigus returned -- and before bookies to whom he owed $2,500 found him. He left the dope, and a note for Garrigus. It read: "Hope rehab was great. Have fun."
"Oh yeah, there were plenty of guys on the Nationwide Tour who smoked in the middle of the round...We always talked about it. You could go in the Porta John and take your drags."
Garrigus wears a bemused smile as he recounts this tale of temptation. He smiles and laughs for much of an hour-long interview in the players' dining room at Riviera CC, near Los Angeles, following the second round of the Northern Trust Open. The subject matter is delicate and embarrassing, but the 33-year-old Garrigus embraces the opportunity to tell his story of being freed from the shackles of drug and alcohol abuse. "If I can help just one person by sharing what I've gone through, then it's worth it," he says.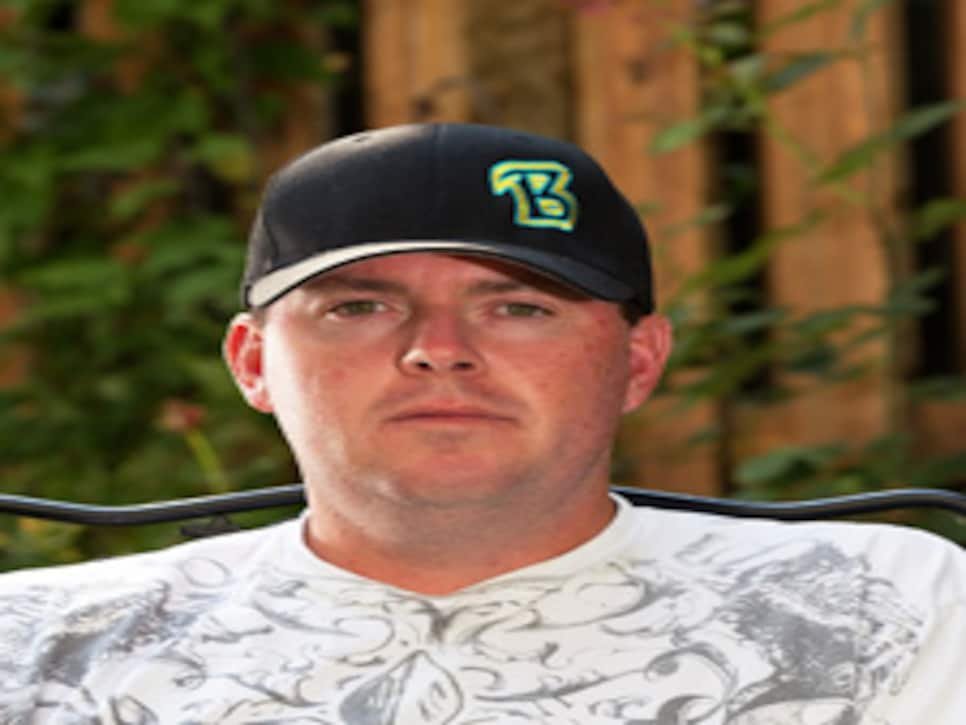 There might not be a story worth telling had he made an ill-advised decision that sweltering evening in 2003. Turns out, neither poultry nor pot would keep him from his appointed recovery.
"I stood there for a minute, and then I grabbed the weed and threw it in the garbage. Then I took the refrigerator and threw it out with the chicken, everything. I called the electric company to get them to turn on the power. When I wake up the next morning, I didn't realize until I get to the golf course that my roommate had been using my putter. So I race back to the house at 140 miles per hour, get my putter, race back just in time for my tee time. I have no warm-up, no caddie, and my clubs are on a pull cart. I shoot 70 and miss by two shots. I told myself that wasn't too bad after 45 days without hitting a ball. I knew then I was going to be OK."
Garrigus always has had a game that was better than OK. You might recognize him as the man with the Fisher-Price-size putter. Others know him as one of the obscenely long hitters on the PGA Tour. He might be best remembered for his final-hole collapse at the 2010 St. Jude Classic. Garrigus suffered an acute case of the Van de Veldes and lost a playoff while wearing tan slacks so saturated with sweat from the Memphis heat that it appeared, well, that he'd made a mess of more than just the 72nd hole.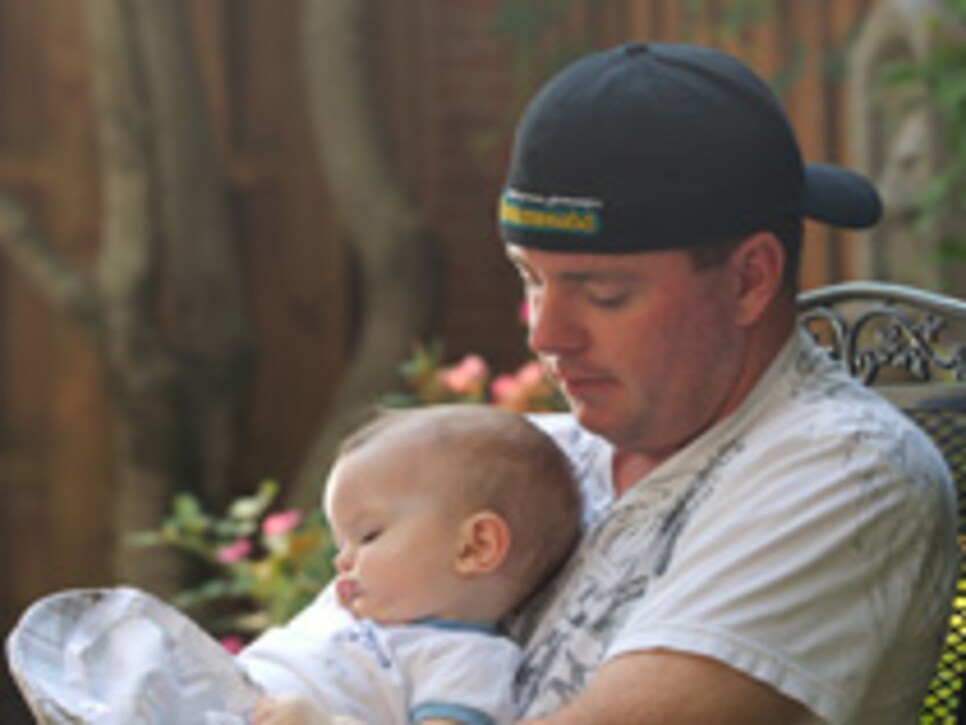 Written off by the sporting cognoscenti -- most famously ESPN's Tony Kornheiser, who said, "I feel terrible for this guy. He may never win" -- Garrigus not only broke through at the season-ending Children's Miracle Network Classic, but he proved his chops more recently and on a much grander stage by finishing T-3 at last month's U.S. Open at Congressional CC in Bethesda, Md.
With rounds of 70-70-68-70, Garrigus joined champion Rory McIlroy in bettering par all four rounds. Only eight men have ever had four subpar rounds in an Open, three without winning: Sam Snead (St. Louis CC, 1947), Curtis Strange (Oakmont, 1994) and Garrigus. As is his wont, Garrigus added his own little touches. His feet were so wet after playing a shot from the water on the sixth hole Sunday, he sprinted to the locker room at the turn to change his socks. He rallied from that water-laden outward 39 with three straight birdies followed by a 25-foot par-save on the last for an inward 31 to tie rookie Kevin Chappell for low American at six-under 278.
Now you'll see more of Garrigus in Grand Slam tournaments. His Open finish guarantees him entry into next month's PGA Championship at Atlanta AC and the first two majors of 2012: the Masters (which will be his first visit to Augusta National GC) and the U.S. Open at Olympic Club.
"Can you imagine me at Augusta? I might shoot 100, but I'm going to bomb it all over the place and have the time of my life," Garrigus mused enthusiastically outside the Congressional clubhouse. "I'm probably the farthest thing from a country-club guy they'll ever see there. Just thinking about it, what I did here, playing in the Masters, it's a validation of everything I've been trying to do with my life these last seven-to-eight years."
Garrigus was so overjoyed that he nearly was in tears, but he was holding up better than his caddie, Brent Henley, who was sobbing in the locker room. Henley had only been working for Garrigus a few weeks after regular caddie Mark (Shoestring) West was sidelined with a torn Achilles, which he suffered starting a motorcycle. Trust us, this will seem normal in the Garrigus universe.
"He finished like a champion. I haven't been on the bag long, but I've known Robert for a couple of years, and you won't meet a nicer guy," Henley said, his eyes red and his voice breaking. "He's been through a lot, but you saw today he's got tons of game and tons of heart."
What Garrigus has been through is largely of his own making. Likewise, he can take all the credit for reclaiming a life that was wasting away mostly in a cloud of smoke. OK, so he won't take all the credit. "I have learned to put all of my trust in God," he says. "The whole reason I'm here is because I chose to change my life. I don't go around knocking on people's doors or anything. It's not something that I wear on my sleeve, but if somebody asks me anything about my past, turning my life over to the Lord and trusting in Jesus is a huge part."
Salvation nudged Garrigus out of a stupor via a 3 a.m. infomercial. He was high at the time, yet probing depths of despair as he sat on his couch in Scottsdale when he saw an infomercial for Calvary Ranch, a Christian rehabilitation center near San Diego.
"I was feeling sorry for myself, thinking I was wasting my career and my life," he recalls. "I was 25, and I hadn't done anything special. I felt I could be beating the guys I was playing against. I felt guilty about everything, and I knew I needed help. I knew if I could get clean, I could succeed. But I didn't know how to get there until that night."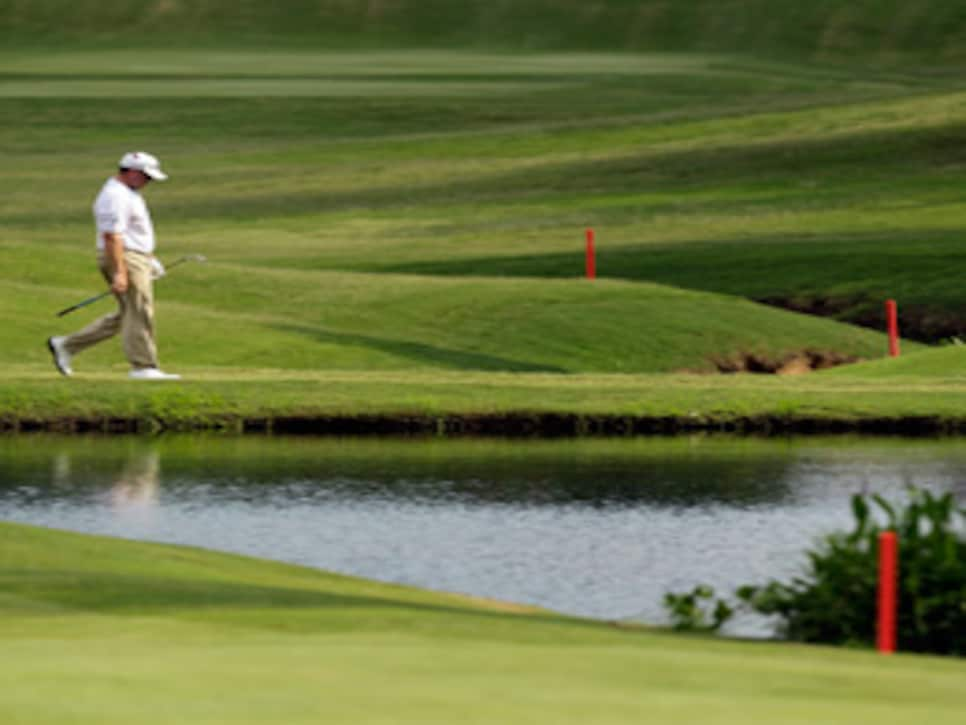 last year put him in a playoff that should not have
been, Garrigus won his first title -- the Children's
Miracle Network Classic -- four months later.
There always has been a tiny thread of self-destructiveness woven into Garrigus' DNA along with potent athletic genes. The latter he derived from his father, Tom, who served in the Air Force and later won a silver medal in trapshooting at the 1968 Summer Olympics in Mexico City. While growing up in Banks, Ore., there wasn't a sport or an outdoor activity at which Garrigus didn't excel. But neither was there one in which he couldn't hurt himself. Had the X Games existed then, biking or snowboarding might have been his competitive calling. Fortunately, the option didn't yet exist. "I took up golf because I was on my way to breaking every bone in my body," he says.
Garrigus was 10 years old when his grandfather, Chet Carpenter, introduced him to the game. Born in Nampa, Idaho, Garrigus would visit Carpenter every summer and tee it up with him and his cronies at Eagle Hills GC near Boise. "He gave me a real stiff, heavy driver and told me to swing as hard as I could. I would learn how to putt later," says Garrigus, who led the tour in driving distance in 2009 and 2010 despite having the build of your average bass fisherman. (He would take this as a compliment; he loves bass fishing.) "Once I started rolling in putts, I got to a different level as a player." He rose to become the No. 1 junior player in Oregon, despite another hurdle: attention deficit disorder.
"He was a good kid, never got in trouble, but he was so active ... he was all over the place," Garrigus' mom, Linda Cox, says. "Turns out he was ADD, but we never knew it until he was in high school. Everyone has something now, but back then it didn't manifest itself. Someone told us on the golf course they suspected he was ADD. It was the way he played."
When he arrived at Scottsdale Community College, he majored in golf but excelled in chemistry. "It was all golf and partying," Garrigus says. "I never did hard drugs. I never did coke or LSD. It was just smoking and drinking and hanging out with friends. It was just a change for me, but the smoking got to be habitual: five, 10, maybe 20 times a day. I didn't keep track of how much. I constantly needed to be high. And I took it to the max. Every single day. Mostly just smoking, smoking, smoking."
And he took it with him when he turned professional in 1997, first to the Hooters and Gateway tours, and then, in 2000, to the Buy.com Tour (today's Nationwide Tour). It was as much a part of his routine as hitting golf balls. Not surprisingly, his scores got high, too.
"I played well in spurts, but I would be really inconsistent," he says. "I had no idea what the hell I was doing. It's hard to be consistent if your body isn't right, but it was part of my everyday life."
That included lighting up inside the ropes, if you must know.
"Oh yeah, there were plenty of guys on the Nationwide Tour who smoked in the middle of the round," Garrigus says without blanching. "We always talked about it. You could go in the Porta John and take your drags.
"I had a very high tolerance, and I didn't know that it wasn't helping me," he says. "All you're thinking is that it feels good, so it must be good for what you're doing. It wasn't until I quit that I realized how stupid it was. But I don't regret any of it because it put me on the path I'm on now."
The period in question is the 2002 season, six years before the tour instituted drug testing. Ty Votaw, PGA Tour vice president of communications, said the tour had no comment. Garrigus made eight of 21 cuts with one top-25 finish. He earned $15,357. He was back on the mini-tours in 2003 when Calvary Ranch parted the clouds. There he not only got clean and found spiritual peace, but he also met his wife, Ami, on a blind date. She was a student at San Diego State. They met through mutual friends at the church.
"The amazing thing was that the guy I knew, he had a relapse. I never really spoke to him again. Ami's friend, she didn't keep in touch with her, either. But Ami and I hit it off," Garrigus says. "That's when you know things are spooky cool."
Garrigus uses the word "cool" frequently. But once clean, his game started warming up as he returned to the Nationwide Tour in 2004 and competed in his first U.S. Open, and then he qualified for the PGA Tour in 2006. However, only once in his first four seasons did he retain his card as he struggled with his concentration and consistency.
That's how he ended up in Memphis last June having made only seven starts because of his conditional status and having to rely on sponsor's exemptions. He was ranked 366th in the world. The benefit of almost winning seemed obliterated by the manner in which he lost. All of a three-stroke lead evaporated when he triple-bogeyed the 18th at TPC Southwind. Lee Westwood eventually won the three-man playoff over Garrigus and Robert Karlsson.
Not since Jean Van de Velde's meltdown at the 1999 British Open had golf witnessed such a thoroughly gut-churning conclusion to a professional tournament. Garrigus returned to Arizona a changed golfer, but he was not a changed man.
"I knew it was only a matter of time before he bounced back," says Ami, who wanted to go watch her husband, but was pregnant at the time and worried about saving money; Robert's season earnings were $80,455 before the tournament. "He came home, and he was so excited. Sure, he was disappointed, too, but he never once complained about losing. Robert is such a positive person that he looked at it more as a learning experience."
Garrigus can still picture how the nightmare at Memphis unfolded, how his legs quit on his tee shot, sending the ball left, and then how each successive shot he got faster with his thinking, with his routine, with his swing, until it added up to triple bogey. Then he bogeyed the same hole, the 18th, in the playoff.
"You want to know the truth? It didn't feel that bad," Garrigus says. "You've got to get there to blow it. Granted, I blew it, but I was whipping Lee Westwood's butt up and down the course all day, and then I gave it away on one hole.
"You have to learn from your mistakes. If you don't, you're stupid," he adds. "That's how Memphis helped me win Disney."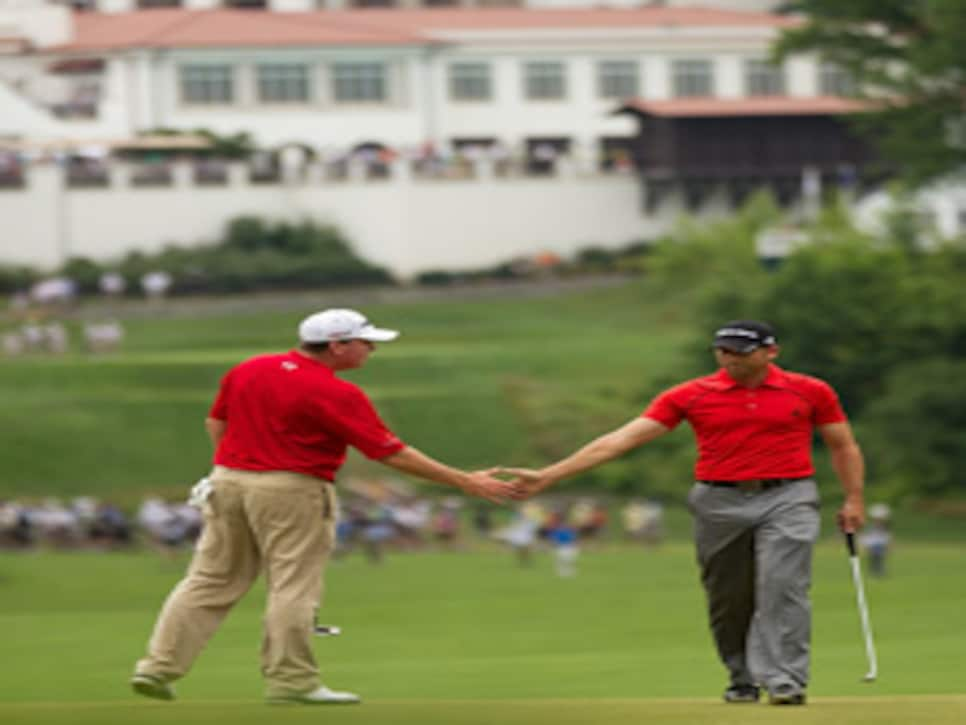 Congressional. (Andy Lyons/Getty Images)
Garrigus arrived at Walt Disney World Resort last November as a new dad. His son, Robert, was born in September. He also arrived wielding a new wedge game, courtesy of some pointers he received from former tour player Jim Ahern. Garrigus trailed Roland Thatcher by five strokes with 18 holes to play but pounded the Magnolia Course into submission with an eight-under 64. He won by three. He made par at the last.
In addition to his performance at Congressional, Garrigus had another close call at the season-opening Hyundai Tournament of Champions. Jonathan Byrd beat him in a playoff. Otherwise, he hasn't been in contention often, and one of his chances was scuttled by a health scare. He trailed by five after 54 holes at the AT&T Pebble Beach National Pro-Am when he withdrew because of heart palpitations caused by dehydration.
"That was disappointing because I was playing great, and I don't give myself as many chances as I should," Garrigus says. "I still struggle with my concentration, staying in a round. It's something I'll probably always struggle with."
He was referring to the ADD. But at least it's his only demon now. "I look at what I've overcome, and I know that going through rehab and changing who I was is a lot harder than anything I'll ever encounter on the golf course," he says. "Most guys out here, they're groomed to be out here. I wasn't groomed for anything. I pretty much figured it out on my own, and that's pretty cool. When I play my best, I truly believe I'm as good as anyone."
And, as Garrigus can tell you, it's all about what you believe anyway. And the choices you make.