News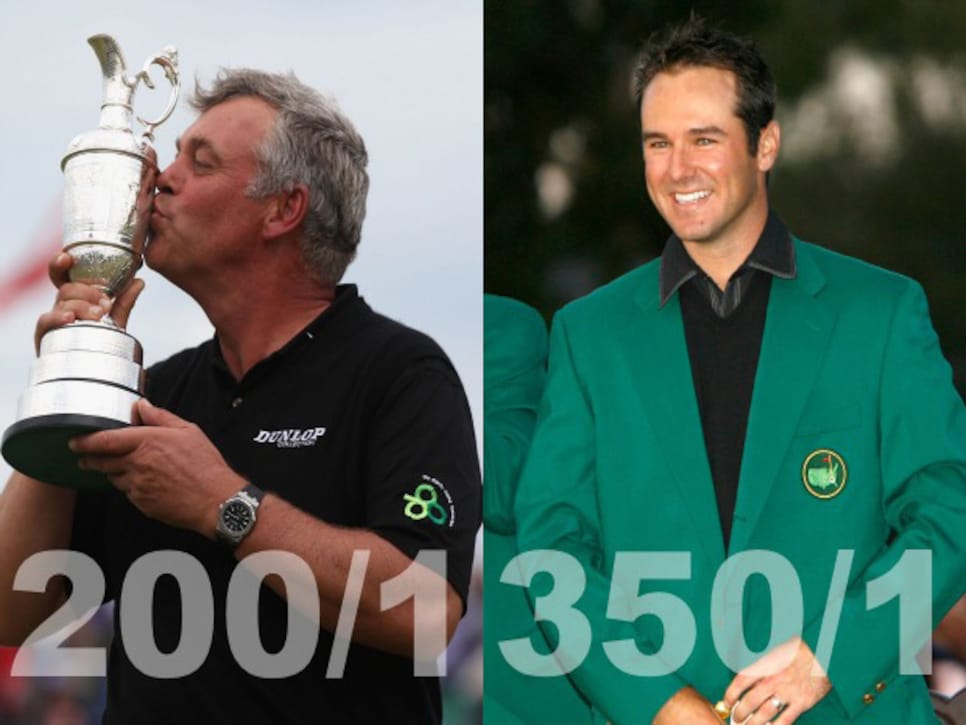 Dave Kelner and Mike Grenham picked Darren Clarke and Trevor Immelman the week they won their sole majors. They were priced at 200/1 and 350/1, respectively.
Tom Watson stood over a putt he needed to make to complete one of the greatest triumphs in golf history. It was 8 feet, and he read it about an inch outside the hole. When the ball slipped by the cup a few moments later, the heart of the collective golf world broke -- 2009 was now to be remembered as the year a 59-year-old Tom Watson almost won the British Open.
Aside from Mike Grenham. He recalls it fondly as the year of Stewart Cink.
"I backed him that year, what a fantastic memory," Grenham said of the man who walked away with the claret jug that day. "I might be the only person who likes that Open finish."
At 100/1 odds, Cink in the 2009 Open might have been Mike Grenham's favorite bet ever. Either that, or the one the year prior -- when he tipped Trevor Immelman to win the Masters at 350/1.
Betting on golf is more difficult than on any other sport. Instead of two teams facing off, it's hundreds of different players each week of varying forms, competing on different courses around the world. For that reason it's perhaps most analogous to venture capitalism -- even the best finish with a low hit percentage. It's classic high risk, high reward, and whoever separates the sound from the noise best wins.
And together, Mike Grenham and his partner Dave Kelner and have proved remarkably effective at it.
As members of the broadcast division for William Hill, the United Kingdom's largest bookmaker which generated more than $2 billion in revenue in 2012, the pair crunch every number they can find and out pop a few names. If the odds are good enough, Grenham and Kelner will tip them on their weekly golf betting podcast, the "William Hill Golf betting" podcast, which broadcasts to about 9,000 listeners every Tuesday.
Most pundits could probably build a resume on Grenham's 2013 alone. He tipped runners-up in all four majors -- Angel Cabrera at the Masters at 125/1, Phil Mickelson at the U.S. Open at 16/1, Henrik Stenson at the British at 40/1, and Jim Furyk, at 70/1 odds at the PGA. He picked Matt Kuchar the week he won at the Memorial, Gary Woodland the week he won at the Reno-Tahoe, picked Keegan Bradley the week he shot 60 and tipped Furyk one other time -- the week he shot 59 at the BMW Championship.
He also got pretty unlucky, all things considered. He picked Hunter Mahan at the British Open, where Mahan three-putted his 72nd hole to slip one shot outside of the payout zone. He tipped him again the next week at the Canadian Open, when he withdrew as the 36-hole leader to attend the birth of his child. But that goes with the territory, Grenham said.
"You have to be prepared and stay patient with your losing runs, because everyone has losing runs," Grenham said. "In golf there are so many runners, you have to play the long game. I love the fact that if you pick a golf winner, you'll get a good price and get your rewards."
Dave Kelner's 2013 wasn't quite as good -- by his standards, that is – although it's hard to imagine anyone else complaining. He picked Tiger Woods to win the Cadillac Championship, and correctly tabbed Henrik Stenson and Kevin Streelman to place at the Players Championship at 66/1 and 90/1 odds, respectively.
How does that all equate?
Since the Wells Fargo Championship, the average odds of Grenham's picks are about 60/1 to win. If you were to take that bet 100 times, putting $1 down each time, bookies say you should win about twice and pocket about $93. But, if you were to bet 100 times on a golfer with 60/1 odds that Grenham said to pick in 2013, you would have won closer to five times, and profited more than $170. Do that same equation with Kelner's picks (which average at about 58/1), and bet on them to place, and his picks would have paid out almost double what the bookies expected to happen.
Not bad, but it was nothing like Kelner's 2011. That year he picked long shot Kevin Chappell at 750/1 to finish in the top five of the U.S. Open, which he did (T-3). At the British Open a month later, he tipped Darren Clarke at 200/1 to win his first major victory at Royal St. Georges. His reasoning?
"He'd won the Iberdrola Open under tough, windy conditions in Mallorca earlier in the season," Kelner said. "I thought the price was big."
Dave Kelner and Mike Grenham haven't always been betting on golf. Kelner is the younger of the two. He's been at William Hill for nine years and betting on golf for five of those. The early days were spent mostly on horse racing and soccer, but as his duties expanded, golf played an increasing role, helping elevate the podcast from nothing along the way.
Like Kelner, Mike Grenham started at William Hill 20 years ago focusing on horse racing, but he was hooked on golf betting in 1998. That was the year he correctly picked Michael Bradley to win the Doral-Ryder Open -- the second of his four career PGA Tour wins -- based on three top-20s the year before ("when I think about it, that one might be my favorite," he said. "It sticks in the memory").
Guys like Grenham and Kelner get their rewards because they're almost never picking favorites -- they don't win often enough, and the return simply isn't big enough when they do. Making money on golf betting depends on finding players who are undervalued -- long shots who shouldn't be long shots -- so Grenham and Kelner are happy to let others pick the big names. Their focus is on little guys who no one else is looking at. But to do that well it takes preparation.
"I probably put in at least four hours preparation per tournament," Dave Kelner said. "I'll start by looking at the course, looking at players' form, see who's due a win, I'll find statistics from similar players who have played there recently, I'll find quotes from superintendents . . . all sorts of things."
From there Kelner says that he'll assign what he thinks the odds should be for each player in the field and compare them to the odds given. When one of his players has better odds than those the bookies have assigned him, that's when he makes a move.
There are certain rules that both Kelner and Grenham follow along the way, too. Recent form outweighs course form, Kelner often says. A player has good odds but doesn't win a lot (a la Jason Day)? That's a red flag for Grenham.  Forgive one missed cut if a player is playing well, they'll say, because that'll lower their price.
Jumble all that together, and what remains are a few names that no one else is even thinking about, let alone betting on.
That's why, when almost every other English pundit is busy backing home dogs like Justin Rose, Lee Westwood, and Ian Poulter, Grenham and Kelner are busy tipping guys like Stenson before the British Open, or Jordan Spieth before his win. When the rush notice how well he's playing and bloat his price, Kelner and Grenham are already long gone. And there, perhaps more than anything, lies their secret.
"Every good tipster knows that players like Westwood and Poulter are artificially short . . . they're bad value most of the time," Grenham said, something that Kelner agrees with.
"In the mainstream media, guys who aren't interested in betting and don't really look at the odds, they just pick Westwood and Donald," he said. "It's become a running joke between us, but we don't really mind."
Includes additional reporting by Keely Levins