News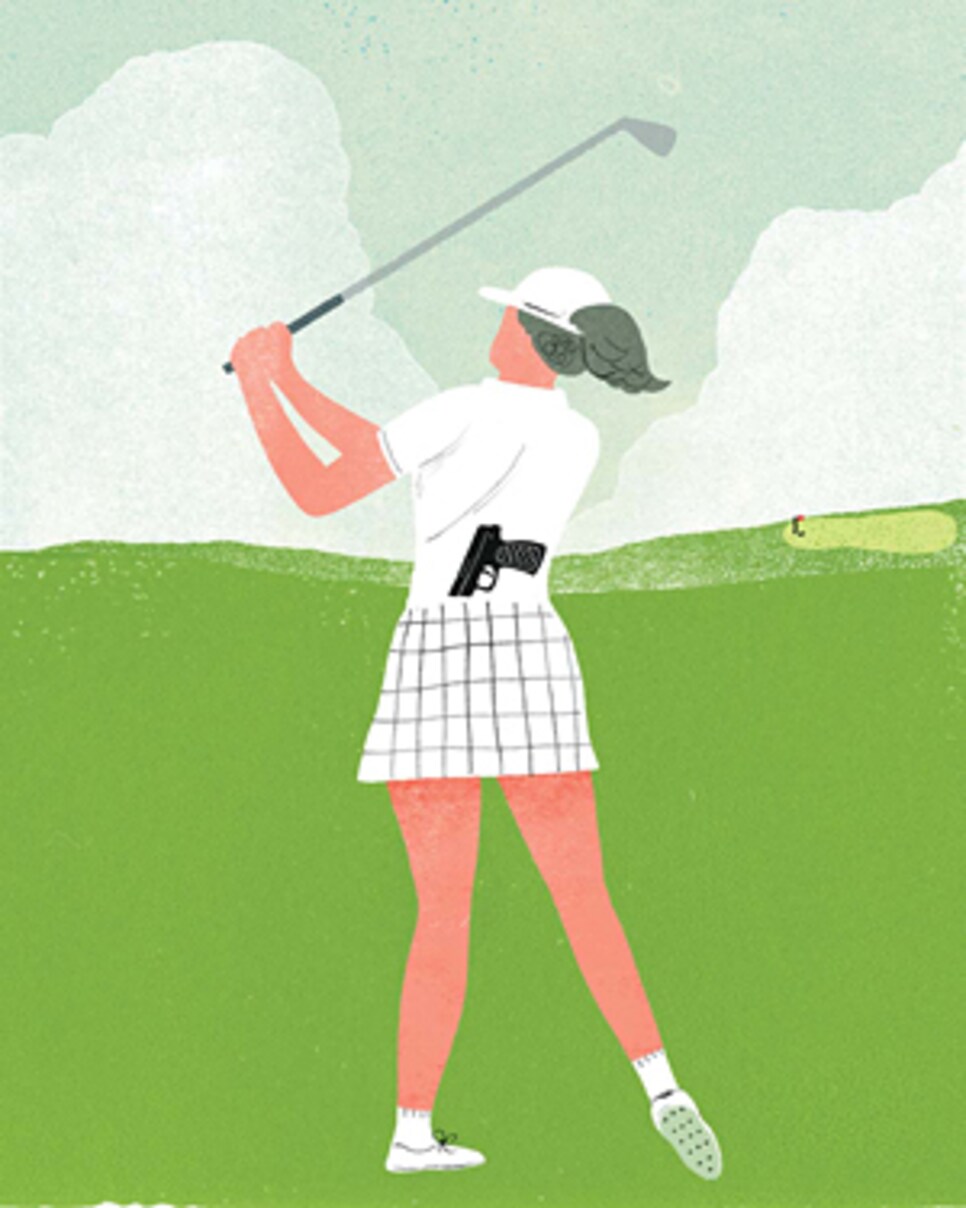 I've signed up to play as a single. I do it all the time and have ever since I started playing golf for real 25 years ago. It's partly out of necessity -- because of my job, I often find myself in locations where I don't know anyone who plays -- and partly because I enjoy meeting new people. Most of the time I get paired with strangers, mainly men. Today is no different. As I walk up to the first tee, I catch my new playing partners casting me skeptical glances and looking at each other with pained expressions. "Darn," they're likely muttering, "we have to play with a chick." I'm used to that reaction.
After we say our hellos, I watch them tee off from the blues before sticking my peg in the ground between the white tee markers. One of the men, with hesitation in his voice, says "the ladies' tee is up there." I respond as politely as I can. "I know. I like the whites." Before they can protest any more, I knock my ball about 245 yards down the center of the fairway. The silence that follows is one I relish.
Inevitably, the awkward small talk picks up as we walk to our second shots. Then comes the part that changes everything: They ask me what I do for a living. I pause to make sure there's no question I'm telling the truth. "I'm a special agent for the FBI."
After that, we're fast friends.
I stumbled into this career in 1978 while working as an insurance underwriter in Providence, R.I., a year out of college. A co-worker had seen an ad in the paper looking for FBI candidates, and every childhood fantasy I'd ever had as a lover of spy novels and danger was awakened. I didn't get in right away -- at first, the recruiters told me I was too young and inexperienced -- but I tried again a few years later, and after a rigorous application process I was finally accepted. Six months later, I was sent to Tampa to work my first field-office assignment as a bank-robbery investigator.
My training agent, Larry, was a crusty old character straight out of central casting who reluctantly became my mentor. I was one of two women in an office of 80 agents, and Larry wasn't happy to be stuck with me. His intensity and disdain scared me, but I knew that if I was going to make it in this job, I had to get him to accept me. Over the next few months, I worked twice as hard as the rookie guys to prove myself, volunteering to do the most menial tasks just to show that I was someone they could count on. Finally, one day, when we got to the scene of a bank robbery, the police detectives who'd been first to the scene challenged me to tell a joke. I pulled out an old story my dad used to tell -- a long and risqué one involving a broad Maine accent -- and when I got to the punch line, Larry laughed until he cried. I'd won him over.
In the mid-'80s, I was reassigned from Tampa to New York City, and that's when the golf bug bit me. I hadn't made many friends in the city yet, and my free time was very free. So when someone told me bureau staffers could play at the West Point Military Academy Golf Course north of the city, I listened. Although I had dabbled in golf while growing up in Salem, N.H., I'd never taken it seriously. But because the FBI firearms range was near West Point, I figured I'd give golf another try.
I was working in a surveillance group at the time, which gave me an odd schedule. Tuesdays were usually my day off, so I went to the course, which was when the women's league played. Most the league members were spouses of retired military personnel, and they invited me to play with them. I was wary of playing competitively right away; I've never liked losing and was afraid I wouldn't be good enough yet. But because all the women were older than 50 -- ancient to me back then -- I thought, what the heck.
That's how I met Shirley. She was 82 years old, 5-feet tall and weighed nothing yet played a wicked game while carrying her bag on the hilly West Point layout. At first, she found it odd that I was there alone, but she let me tag along and became my friend. Watching Shirley, I knew golf was for me. It was a game for a lifetime.
It didn't take long to realize that I had a knack for hitting the ball far, and the competitive aspect of the sport suited me perfectly. Growing up, I played lacrosse and softball, so I had built-in swing speed. I loved that golf was an individual sport rather than a team sport, so the onus to perform was on me.
Since then, I've been stationed all over the United States and the world doing a job I love. I've worked the violent-crimes unit, terrorism and foreign counterintelligence. And everywhere I go, golf comes with me. I'm 55 now and a supervisor and firearms instructor, and I've spent the past eight years based in Houston. I play more than 100 rounds a year and carry a 7-handicap. A couple of years ago, I qualified for the USGA Senior Women's Amateur.
The longest I've gone without playing golf since 1985 was in 2008, when I spent 100 days in Iraq to help train the U.S. military in FBI evidence-collection techniques. I wasn't about to let my game deteriorate during those months: To keep my swing in shape, I brought along a junior club and a pair of balance disks. Every day in my trailer at the military base, I would stand on the disks and swing away, working on my technique. When I got back home to Texas, the first round of golf was as sweet as the first swig of water after hours of intelligence training in the desert of the Middle East.
I won't lie; I enjoy the reaction I get when I play as a single. But more than anything, it's the friendships that grow out of those encounters that are so precious. Golf and the FBI are a lot alike: You have to prove to yourself and others that you can hold up under pressure.
In the end, it's the people you meet in those moments -- the Shirleys and the Larrys -- who make it all worthwhile.