News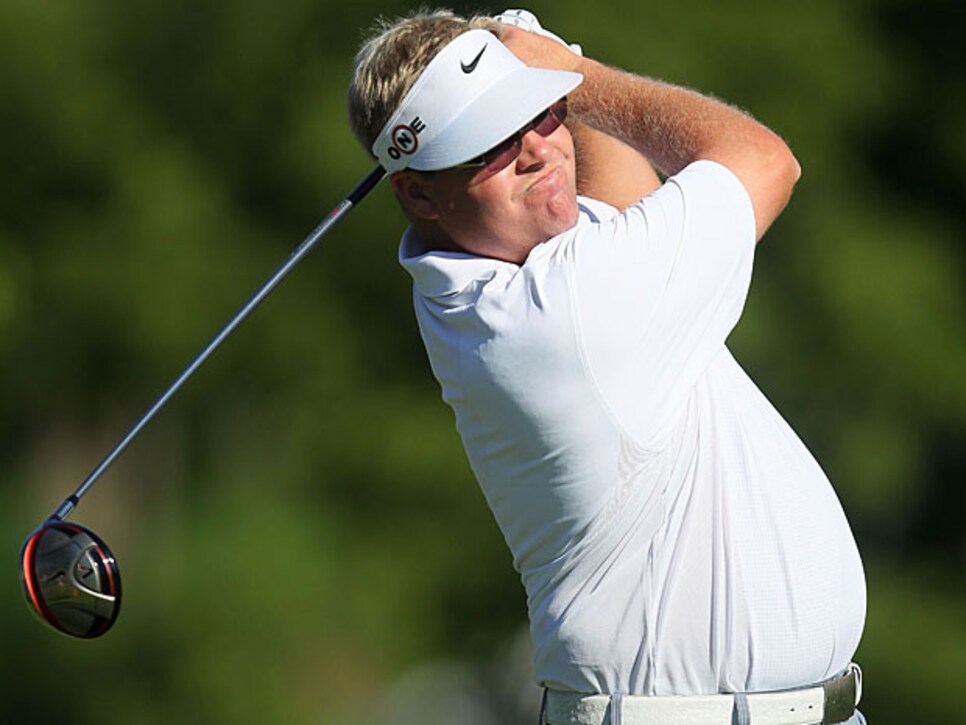 After his performance in Canada, Carl Pettersson is a stud in our book.
Welcome to another edition of Fantasy Fix, where we'll start by telling a tall tale.
In my one-and-done work league, a senior editor had the foresight to pick Carl Pettersson at the Canadian Open. Before you get too impressed by this man's knowledge, however, let me explain how this pick came to pass.
After forgetting to make his selection by the time the tournament started and not having access to see who was in the field (He was out playing golf, I mean, um, he was having computer problems), this "expert" requested to make a blind pick by selecting the first player (by alphabetical order) in the fifth group of the day teeing off of the back nine. That player wound up being Retief Goosen, but since the Goose had been selected for an earlier tournament, the pick then became Pettersson, whose name came next thanks to Camilo Villegas rounding out the group.
Why am I telling you all of this? For one thing, to provide a personal disclaimer by proving again just how unpredictable fantasy sports, especially fantasy golf, can be. For another, with a new PGA Tour event on the schedule this week, there isn't as much "analysis" to do as usual.
Out with the old (Buick Open) and in with the new as the tour heads to West Virginia for the Greenbrier Classic. Judging by the list of entrants, it appears that most of the world's top players didn't get the memo. Nevertheless, the Greenbrier Resort will be back in the spotlight after hosting a few big events throughout the years, most notably the 1979 Ryder Cup. In our random fact of the week, the Greenbrier is also where Tom Watson happens to hold the title of golf professional emeritus (For some reason, I get an image of Watson dressed in khakis and a sport coat, lugging around a leather briefcase and giving lectures while smoking a pipe every time I hear that).
For obvious reasons, we won't be examining that 1979 Ryder Cup (In golf terms, Watson was still an undergrad in his prime then) in an effort to get a feel for what might happen this week. And for even more obvious reasons, we won't dive into the results from either the 1994 Solheim Cup that was played here or the Champions Tour event that was staged at this site from 1985-1987.
No, we are going to have to stay in the present by looking at current trends that could help predict this week's outcomes. Or we could simply take a flyer on the second player in alphabetical order teeing off the back nine in the fifth group on Thursday. Until those tee times get posted, however, here are some thoughts.
Carl Pettersson: Not sure if the burly Swede has ever been referenced as a "stud" before, but there's no doubt he's got some serious game. After just making the cut in Ontario, Pettersson nearly shot golf's mythical number on Saturday, grazing the edge on a long birdie attempt on the final hole to settle for a 60. He caught fire on the back nine on Sunday with four birdies in a five-hole stretch to overtake third-round leader Dean Wilson and pick up the win.
Pettersson, 32, is no flash-in-the-pan, though. The winner of the 2005 Memorial now has four PGA Tour victories to his credit. He's also discovered the key to his success: not losing weight.
After some celebratory beverages, he should be in good shape to keep going low.
It's been a breakout year for Ricky Barnes on the PGA Tour. The only thing missing now is a win. Barnes has played his way into contention at a few recent majors -- most notably when he held a six-shot lead at one point in the third round of last year's U.S. Open -- but has also been very consistent in regular events as well. He's tied for third place with Ernie Els and Tim Clark for the most top 10s in 2010 (six) and he's made seven straight cuts, including a T-3 at the Memorial and a T-5 at the Travelers. Plus, with only three tournaments left to earn points, Barnes needs to turn it on if he wants to move up from his current spot of No. 11 on the Ryder Cup points list.
Speaking of consistency and trying to make a first Ryder Cup team, how about Matt Kuchar? The 32-year-old is tied with Retief Goosen for the most top 10s on Tour this year (seven) and he's currently No. 7 in the standings (the top eight automatically qualify). Kuchar is on a roll having finished in the top 10 in three of his last four events, including a T-4 at last week's Canadian Open. Plus, he did a recent "What's In My Bag?"
feature for the magazine. Don't laugh. That kind of reasoning paid off for another colleague earlier this year.
Justin Leonard: The former Ryder Cup hero isn't trying to make the team as much as he is just trying to qualify for the FedEx Cup Playoffs. Currently at No. 129 in the standings, Leonard needs a strong finish or he'll have an extra-long off-season.
What's happened to Ryuji Imada? He was in contention at the Farmers Insurance Open back in January before a final-round 75. In March, he finished T-7 at the Arnold Palmer Invitational, but since then, it's been a whole lot of nothing. Imada has missed the cut in half of his 12 events since, including at his last two tournaments, the John Deere and the Canadian Open. During that stretch, the best he's been able to produce is a pair of T-29s.
It hasn't been a banner year either for__Nicholas Thompson__, who is coming off a missed cut at the Canadian Open as well, despite shooting an opening-round 66. Thompson has missed the cut in seven of his last 12 events to fall to No. 141 on the FedEx Cup points list. What's worse is that he's falling in the ranks within his own family as well. 15-year-old sister Alexis, just finished second at the LPGA's Evian Masters and 17-year-old brother Curtis won stroke-play medalist honors at last week's U.S. Junior Amateur Championship. For some reason, I don't think there's been much chatter about old Nicholas lately at the Thompson family dinner table.
Richard S. Johnson: The Swede is coming off an impressive performance at the Scandanavian Masters, where he ended an eight-year winless drought on the European Tour. Johnson drained a 30-footer for birdie on the 72nd hole to edge Rafa Echenique by a shot and overtake Louis Oosthuizen and K.J. Choi among others. It's only been two years since he won in America at the U.S. Bank Championship. While we don't necessarily expect another victory, we'd be surprised if he doesn't climb in the FedEx Cup rankings, where he's currently only 163rd despite playing in 19 events this year.
It's been a tough stretch for Chris DiMarco, but the veteran has been playing much better of late. He's made six consecutive cuts and he currently is only behind Ryan Moore for having the best streak of rounds of par or better (20).
And finally, we like Brendon de Jonge, who has finished in the top 15 in four of his last six tournaments. Plus, as a graduate of Virgina Tech in relatively-near town of Blacksburg, Va., there's a good chance he'll have some decent fan support. If that sounds like a bit of a stretch, that's because it is. Hey, it seems like more sound advice than just making a completely random pick -- at least, in theory.
Alex Myers is a contributing editor for GolfDigest.com.