News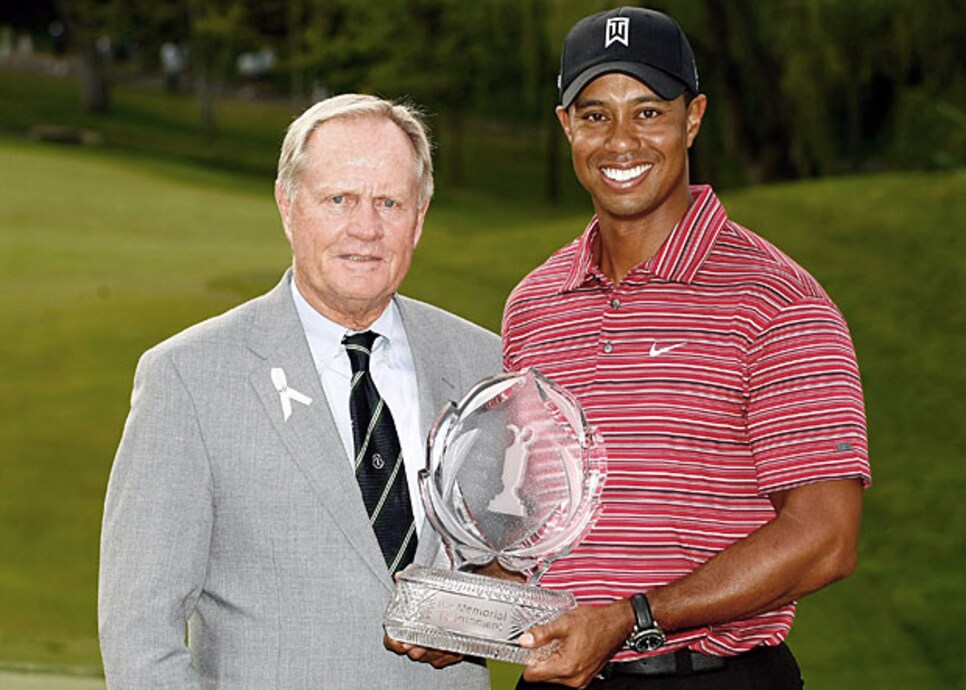 Things semmed so much simpler a year ago when Tiger accepted the trophy from Jack.
Welcome to another addition of Fantasy Fix, where there's no such thing as too many BBQ ribs on Memorial Day.
A huge slab of the good stuff still sits in our fridge a day after a friendly holiday get together on Monday. More than just a generous helping of leftovers, it's also a sad reminder that Memorial Day Weekend has passed. But fortunately for golf fans, the Memorial will be held this weekend, meaning we're in store for a top-notch field as well as plenty of Jack Nicklaus highlight packages.
Last year Tiger Woods was victorious in what has to be considered one of the most thrilling non-major wins of his career. In a ridiculous final round, Woods hit every fairway (huh?!), chipped in for an eagle and hit it stiff on No. 18 for a tap-in birdie that wound up being the difference over runner-up Jim Furyk.
Tiger's 65 had everyone practically handing him the U.S. Open title at Bethpage and there were thoughts of him running the table at the majors the rest of the way like he did during his historic 2000 season. But as we are all aware, the end of 2009 ended up being historic for other reasons, and after perhaps the worst two-tournament stretch of his life (a missed cut at the Wachovia and a withdrawal in the final round from the Players), Tiger will now tee it up at Muirfield Village without Hank Haney as his swing coach for the first time in more than six years.
In other words, be wary of Woods this week, despite the fact he's won Jack's event a record four times. (Disclaimer: I figured I'd address Woods here and not put him under a specific category due to all the questions surrounding the world No. 1. Yes, that's a copout. But no, I don't feel bad about doing it. Forced to make a prediction, my gut tells me to expect a top 10. But maybe that's just the ribs talking.)
With the Tiger talk out of the way, here are some other thoughts heading into this week.
Jim Furyk: I feel like I keep pumping this guy up, but it's simply a credit to how consistent he seems to be, no matter what the venue. Furyk's runner-up last year was his second here, but he also picked up the coveted crystal hardware from Jack in 2002.
Furyk is coming off a rare missed cut at Colonial. However, it's not like he played terribly (72-67). Also, considering the Grinder usually doesn't miss more than two to three cuts in a year, I wouldn't expect that to happen again any time soon.
A week after picking him in my one-and-done league, I'm still on the Kenny Perry train. The Kentuckian has won this event three times, but even more amazing is the amount of time those titles have spanned. In 2008 he won by two shots, but all the way back in 1991 he defeated none other than Hale Irwin in a playoff. He was in position to make a big paycheck at Colonial before a final-round 70 dropped him to T-22.
Inconsistent play has plagued Geoff Ogilvy since he won in Hawaii to kickoff the 2010 season. However, at Memorial, the Aussie has been plenty consistent. His last three appearances: T-10, solo ninth and T-9. With a 64 Sunday at Colonial to move up to T-13, perhaps Ogilvy is starting to find his game again.
Then there's K.J. Choi, who has finished in the top 13 at Memorial in five of the past seven years. That includes a win in 2007 in which he shot 67-65 over the weekend to take the title by one over Ryan Moore. Choi is coming off a strange performance at Colonial where he flirted with a course record in the third round. Needing a birdie on the final hole, however, Choi morphed into a 30-handicapper, hitting a series of terrible shots that saw him wind up with a quadruple-bogey eight.
Finally,Ernie Els has been one of the most consistent performers at Muirfield Village over the years. The Big Easy has teed it up here 16 times, has 10 top 25s and six top 10s, including a win in 2004. After an inevitable down patch following consecutive wins at Doral and Bay Hill, Els finished T-3 at his last event, the Valero Texas Open. For 10 straight weeks, he's led the FedEx Cup points race. He's a good bet to still be in front come Sunday.
Phil Mickelson: The No. 2 player in the world would have been in this category even if he didn't finish T-113 at Colonial, defeating only one player in the field that finished two rounds. However, that surprisingly poor performance is more of a reason to save this big gun for another week. Lefty has never won this tournament (A T-4 in 2006 was his best), and only has two top 10s in the 10 trips he's made to Dublin, Ohio.
The world's No. 4 player, Steve Stricker, has also played in Jack's tournament 10 times. He's had even less success than Mickelson, though, with no top-10 finishes and just two top 25s. His best performance at Muirfield came in 1996 when placed 13th and he's coming off a T-38 at Colonial after sitting out with a sore shoulder for a month. In other words, I wouldn't expect the tears of victory to be flowing come Sunday evening.
Another top player with little to show for his trips to Ohio is Ian Poulter. The Englishman has finished T-53 the last two years and his other three appearances haven't ended much better with a T-30, T-34 and a DQ. Poulter made the cut at Colonial, but finished dead last of all those who made the weekend. His 73-76 finish shouldn't exactly make you ooze with confidence to insert him into your lineup.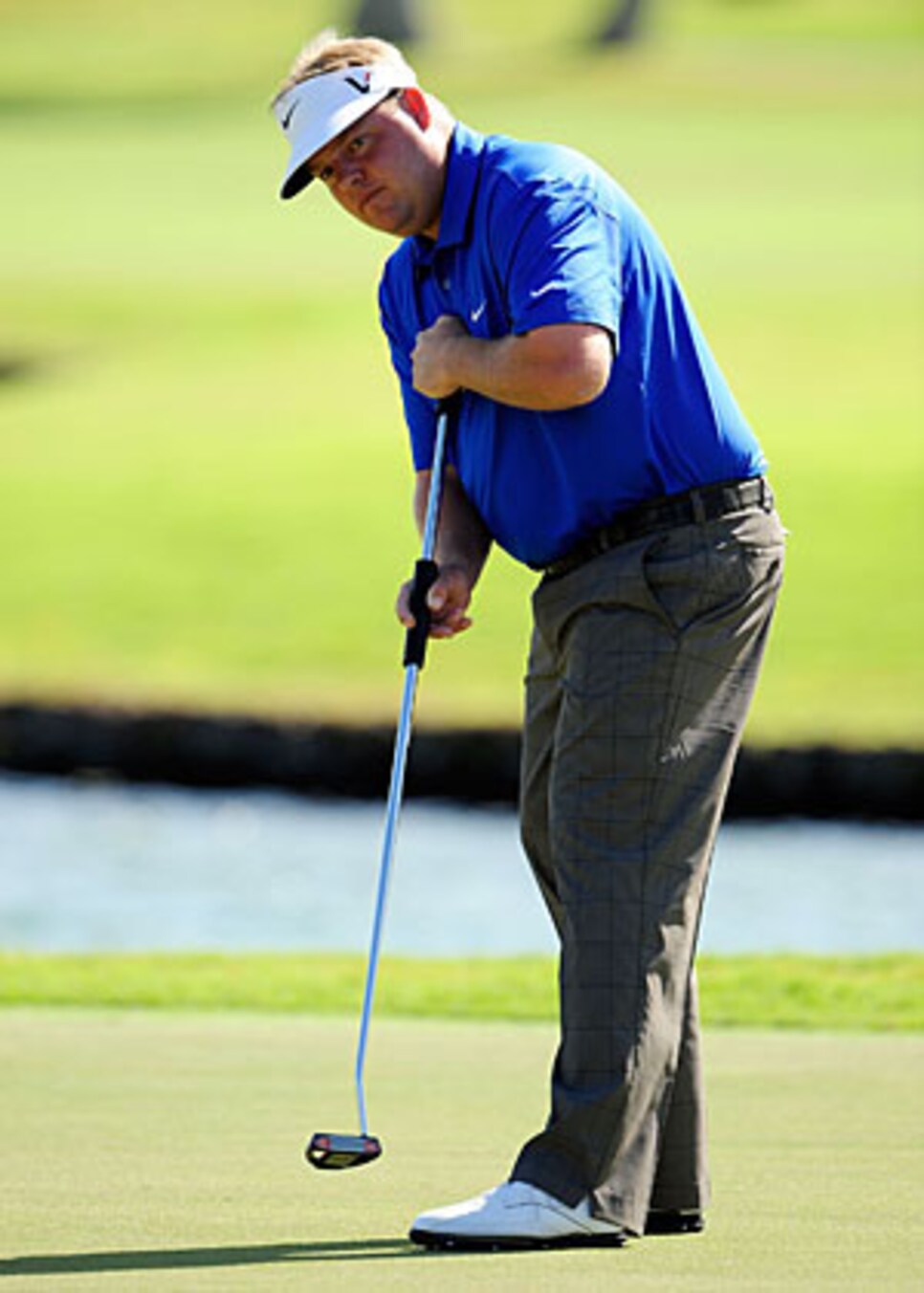 Mark Wilson: Last year Wilson played in the final pairing with Matt Bettencourt, making it the all-time surprising final group in the history of a high-level tournament. Wilson's 73 bettered Bettencourt's 75, but each fell out of contention. Still, Wilson's T-3 has to be considered the best achievement of his PGA Tour career since getting his first win at the Honda Classic in 2007 (sorry, winning the Mayakoba Golf Classic last year just doesn't cut it). He's also made the cut all three times he's teed it up here.
Time to go back to the well with Charl Schwartzel. It's probably a stretch to keep labeling him a sleeper, but it's not like he's a household name yet. Besides, since introducing himself to the PGA Tour with a runner-up at Doral and a third in Houston, he hasn't done much, finishing T-30 at the Masters and missing the cut at the Players Championship. He hasn't done much at the Memorial, either, but he has made the cut in all three appearances.
And don't be shy about taking a flyer on__Carl Pettersson__. A dismal performance at Muirfiled last year aside, the Swede has made the cut in all five of his other attempts, finishing at least T-34 every time. He won in 2006 and added a T-10 in 2008. Plus, he looks like he's a fan of ribs, too.
-- Alex Myers is a contributing editor for GolfDigest.com.