News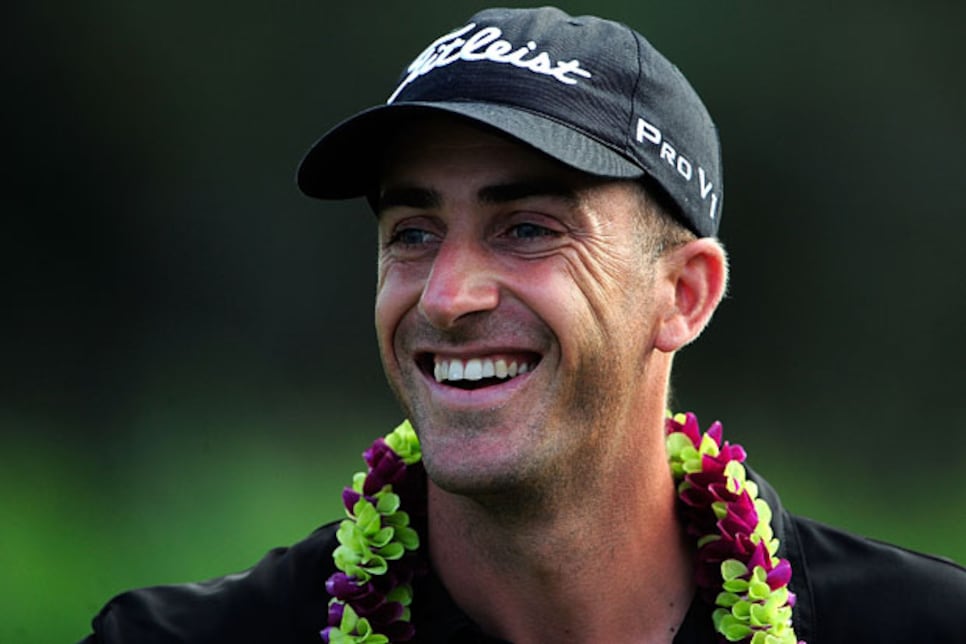 Can Geoff Ogilvy tune up for the Masters and become the second two-time winner on the PGA Tour this year?
Welcome to another edition of Fantasy Fix, where the term "final four" refers to the final four rounds before you-know-who returns to the world of golf. This week the PGA Tour heads west to the Shell Houston Open before attention shifts squarely to the Masters next week. To the average fan, it's like that pesky side of vegetables that you had to eat as a kid before you got your dessert. To the players in the field, though, it's another crack at a $1 million first prize; and to fantasy owners (unless you're in a league where major championships count double), it's just as important that tournament in Augusta.
Without further ado, here are some thoughts on the week ahead:
Fred Couples: Freddie is in the midst of a torrid stretch right now with three straight wins on the Champions Tour. While this week will mark a return to competing against players who could pass as his children, it would be silly to dismiss his chances, especially at this event.
Couples has had plenty of success in this area going all the way back to his days at the University of Houston. The winner of this tournament in 2003, he also has six top 10s and 12 top 25s in his career. Perhaps even more impressive is the fact that in 17 attempts, he has missed the cut just one time and that came in his first try in 1981, before yours truly was even born.
How can you not ride the other hot hand in the world of golf right now? Ernie Els looks like he's turned the clock back about a decade and now the King of the Florida Swing must be considered one of the favorites at Augusta following his back-to-back wins at Doral and Bay Hill. Els has played sparingly here, but has been under par in seven of his eight career rounds in the tournament (although not all on the same course), including all four rounds last year on his way to a T-14.
Defending champion Paul Casey is also a solid pick. It was here where Casey earned his breakthrough win on the PGA Tour when he held off J.B. Holmes in a playoff. Curiously, Holmes isn't back after his near miss, but I would still like to single him out for keeping me alive in my knockout league. I was all but done until the Kentuckian slung a little 32 on the back nine of the final round to pick up a back-door top 25. Way to keep grinding, J.B. Then again, it's easy to keep plugging when that final push earned Holmes a lot more money than I stand to make even if I win the whole pool.
Speaking of former champions here, look who's back is back. Vijay Singh is in the field, and with good reason. The big Fijian is no exception has three career wins at this tournament, in 2002, 2004 and 2005. Singh was playing well before his bad back forced him to withdraw from the previous two events, but one can only assume he's back to full strength if he's playing this week and not taking the time for some extra rest.
. A winner at Scottsdale, the Plano, Tex., resident, has a very strong track record in H-Town having finished in the Top-11 in four of the last five years, including a T-6 last year.
Finally, Geoff Ogilvy has finished in the top 10 at this event four of the last five years. Last year, he entered the final round tied with Casey and Couples before stumbling to a 75 and a T-6 finish. He is also the owner of a sparkling opening-round scoring average of 69 at Redstone. He is going to be my pick this week in my one-and-done format, which, given my recent track record (Els, Furyk), means he'll probably win the Masters instead.
Phil Mickelson: When Mickelson was winning everything at the end of the 2009 season, it was hard to imagine him getting off to a slow start in 2010. That is exactly what has happened thus far, though, with his best finish being a T-8 at Pebble Beach. What's more odd is that in each of the events he's played, he's showed flashes of returning to top form only to falter over the weekend. Bay Hill was no exception as Lefty shot a 67 in the second round to climb the leader board, before a final-round 77 dropped him into a tie for 30th place.
Word trickled out last week that Mickelson fired a course-record 58 at The Plantations Course in Indio, Calif., the Monday before playing Bay Hill, but since the PGA Tour doesn't appear to be heading there for any tournaments in the near future, I'd refrain from inserting Phil into your lineup. Especially at an event where in five tries, he's missed the cut twice and has a T-23 as his best showing.
Last year was Sergio Garcia's first attempt in Houston. He probably wishes it never happened. Garcia made the cut, but wound up shooting an 81 in the final round to finish last among those who played the weekend.
I hate to pick on Argentina, but both Angel Cabrera and Andres Romero have been downright brutal here the last two years. Each has missed the cut both times, and Romero returns sporting a career scoring average of 75.5 in four rounds at Redstone. Of course, the formula for Cabrera still must have worked: He ended up slipping on his first green jacket the following week.
Johnson Wagner: With half of his four career top-10s on the PGA Tour coming right here, including his lone win in 2008, it's safe to say that Redstone suits the eye of "J-Wags." In his 10 career rounds there, Wagner has broken par seven times. In our random plug of the week, he also recently did a delightful
for Golf World on Charlotte, N.C.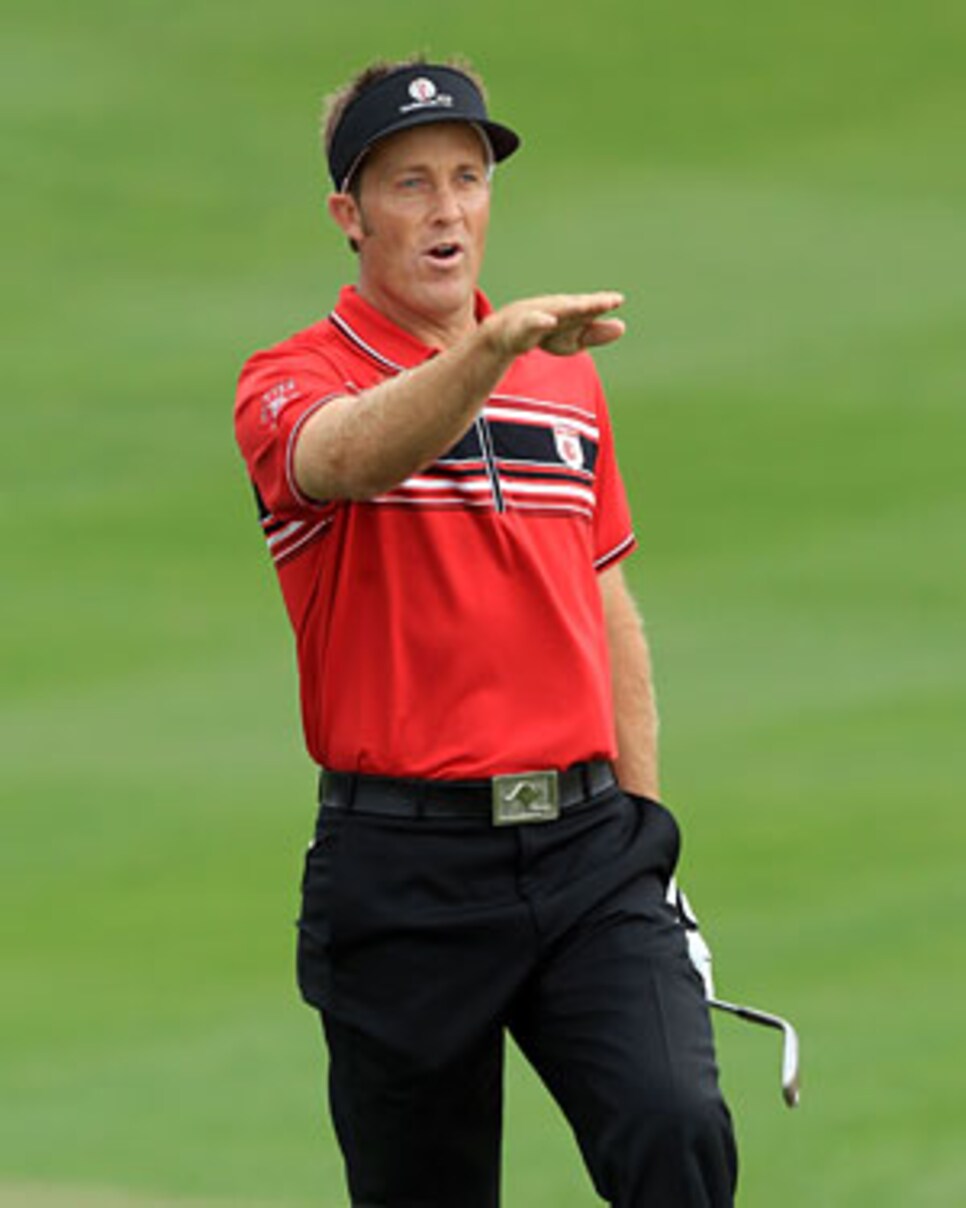 Tavistock Cup, but he does have two titles in Houston.
It would take a giant leap of faith to pick a guy who has made just one cut in eight starts this year, but if you were going to do it, then John Mallinger is your guy. The 30-year-old posted a T-6 here last year on his way to finishing 60th in the FedExCup standings. The year before, he opened with a 70, but had to withdraw; and in 2007, in his first trip to Houston as a tour player, he finished T-37.
Then, there's Nicholas Thompson, who has been under par in six of his last eight rounds at Redstone. Unfortunately for the Georgia Tech product, those two bad rounds in between (A 75 and a 78) were very, very bad.
It may be a stretch to mention Adam Scott as a sleeper, but considering how poorly he's played in the last calendar year, it makes sense. Plus, I was a little heavy on the studs this week. The 2007 champion at this tournament, Scott opened his title defense in 2008 with a 63 before withdrawing after a 76 in the second round. He didn't play here last year, and while he hasn't done much of note in 2010, he has made four consecutive cuts at least.
In the same vain as Scott, how about Stuart Appleby? The Aussie has won this event twice and has also finished runner-up another two times. Although I wouldn't blink if both Scott and Appleby pop up on the leader board at some point, I also wouldn't be surprised to hear them slamming their trunks Friday evening on their way out of town.
-- Alex Myers is a contributing editor for GolfDigest.com.