News
Hopefully, someone pointed Aaron Baddeley toward the right tournament this week.
Welcome to another edition of Fantasy Fix, where we never miss a tee time. It was nice to see a wild week at Riviera end with a win by Aaron Baddeley, who we took a shot at earlier in the year. Hey, it's great to know that our motivational influence is that powerful. Will Sergio Garcia be next? Maybe we should rip Trevor Immelman to get him back on track. Regardless, let's move on to this week's action and as always, we aren't responsible for our picks showing up on time.
The PGA Tour splits in two for the first time this season, with its top guns going to Arizona for the WGC-Accenture Match Play Championship and its other guns heading to Mexico for the Mayakoba Golf Classic. While this second-tier event might not garner as much attention as the WGC event, in the world of fantasy golf, it is considered more important due to its full field (which is better than you think) and stroke-play format. Thus, we will spend most of our time focusing on what's going on South of the Border.
Random tournament fact: Mexico is the 14th largest nation in the world, or slightly bigger than Tiger Woods' new home in South Florida.
Cameron Beckman. If you remembered this journeyman won this tournament last year, you have a memory like IBM's Jeopardy-winning computer, Watson. You also probably need to get out more. A lot more. Beckman, on the other hand, probably wishes the PGA Tour schedule allowed him to get out to Mexico more. Other than last year's win, he also has a solo seventh and a T-15 to his credit in this event.
Aaron Baddeley. Badds is coming off his first PGA Tour win in more than four years at Riviera. Unfortunately, his resurgence didn't happen in time to qualify for the Match Play. On the bright side, though, his switch away from the Stack & Tilt swing method has made him the talk of golf instructors
Jhonattan Vegas. We're going to go out on a limb and say this is probably the first time the No. 2 player in the FedEx Cup standings has ever made the trip to El Cameleon Golf Club. The rookie is off to an incredible start and his Venezuelan roots should translate into huge crowds this week. Well, relatively speaking.
DON'T BE SURPRISED TO SEE THESE GUYS MAKE A RUN
Kevin Stadler. The Walrus' son is a veteran of this event, having played in all four years and he's done fairly well with three top 20s, including a T-9 last year. Throw in the fact he's coming off a T-12 at Riviera and this is a prime opportunity to contend for a first PGA Tour win.
Spencer Levin. A former college star who takes a few extra years before "figuring it out?" I think we've heard this one recently in the form of Fantasy Fix favorite Bill Haas. Levin, 26, could be close to a breakthrough of his own with three consecutive top 20s, including a T-4 at Pebble Beach.
J.J. Henry. Nicknamed "The Grape" by a reader due to his tendency to wear a lot of purple in honor of his alma mater, TCU, Henry arrives in Mexico with back-to-back top 15s. He also finished runner-up here in 2009, though there is no visual evidence to support that he wore any purple since someone at the Golf Channel got confused and taped over the recording by accident when filming an episode of Big Break Dominican Republic.
"Hey, Alex. Big fan. Just letting you know that if you ever need some in-round inside info, I'm your man. Sincerely, Jim Gray."
Thanks for the offer, but I'll pass. No, Jim Gray didn't really write me following his latest controversy, though I wouldn't put anything past him. Seriously, though, please feel free to e-mail me with comments, questions or just to make fun of my picks. And of course, you can follow me on Twitter
THIS WEEK'S OLD GUY WHO COULD DO SOME DAMAGE
Tom Lehman. If the 51-year-old is still convinced that he can compete at regular PGA Tour events (he was the Thursday overnight leader at the Waste Management Open), then he probably thinks he can win a tournament with a watered-down field like this. In two events on the Champions Tour this year, he has a win and a runner-up.
GUY MOST EXCITED TO BE IN MEXICO
Briny Baird. No, he's not a tequila connoisseur (at least not that we know of), but Baird probably has this event circled on his calendar every year. Why? Well, not to sound too harsh, but it's probably his best bet of ever picking up that elusive first PGA Tour title. Baird has thrived at El Camaleon Golf Club with a T-4, T-6 and T-12 finishes in four appearances. Plus, the strong rays of the sun actually give him a good excuse for wearing those straw hats.
While we joke about the field at Mayakoba, there are plenty of players who would love to get a crack at playing. That includes former major champions Todd Hamilton and Mark Brooks, who began the week as alternates. If they don't get to tee it up, hopefully, they'll at least make a fun side trip to nearby Carlos'n Charlie's.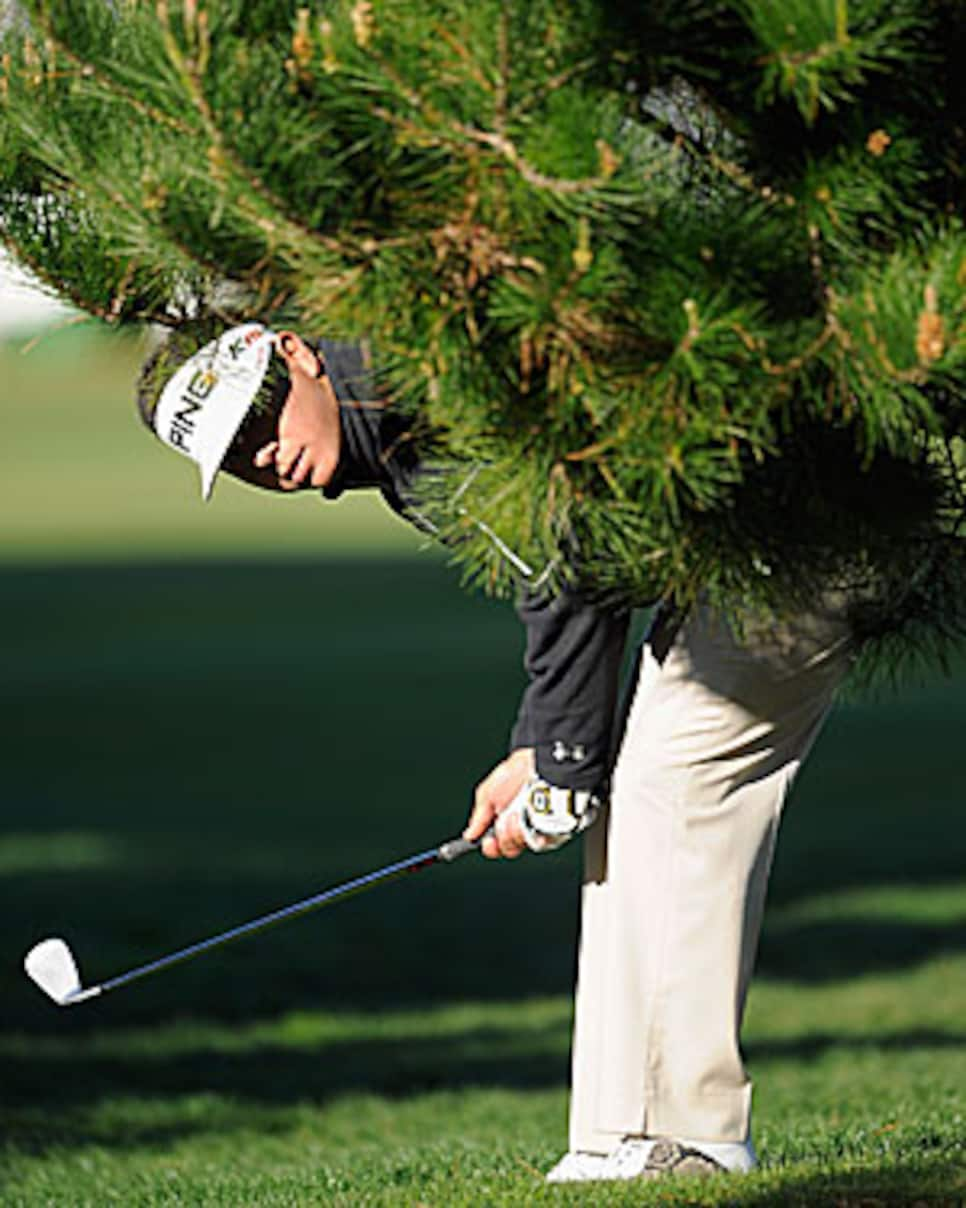 GUY YOU'VE NEVER HEARD OF WHO COULD WIN
Plenty to choose from for this category this week, but we'll go Zack Miller. The PGA Tour rookie can bomb it off the tee and he comes to Mexico having racked up four straight top-30 finishes. Plus, he's a good guy according to Golf Digest Senior Travel Editor Matt Ginella, who recently played with him at the Bob Hope
FREE FANTASY BASKETBALL ADVICE
After months of reports and rumors, Carmelo Anthony is finally coming to New York. As a Knicks fan, let me just say, "Woo!" As a Melo fantasy owner, double "Woo!" Not that Anthony wasn't already playing in a high-scoring offense, but under Mike D'Antoni the shots will be flowing like its Spring Break in Cancun.
We can't totally forget about that other tournament going on this week. After all, you may have a one-and-done league that counts the WGC event or you might want bragging rights against that annoying co-worker in an office pool. Either way, here's our bold Final Four: Luke Donald, Rickie Fowler, Martin Kaymer and Paul Casey, with the recent winner in Bahrain taking the trophy. And while we're at it, let's end with a few more predictions:
Stewart Cink will upset Ian Poulter in the battle of Twitter giants. The reason? He'll remind the Englishman he still has more followers as he stands over a big putt late in the round.
Miguel Angel Jimenez will beat Yuta Ikeda in a matchup of the most interesting man in the world vs. the international man of mystery.
And 17-year-old Matteo Manassero will politely ask Steve Stricker who he is on the first tee.
*-- Alex Myers is a contributing editor for GolfDigest.com. Feel free to e-mail him
on Twitter since he has self-esteem issues.*