News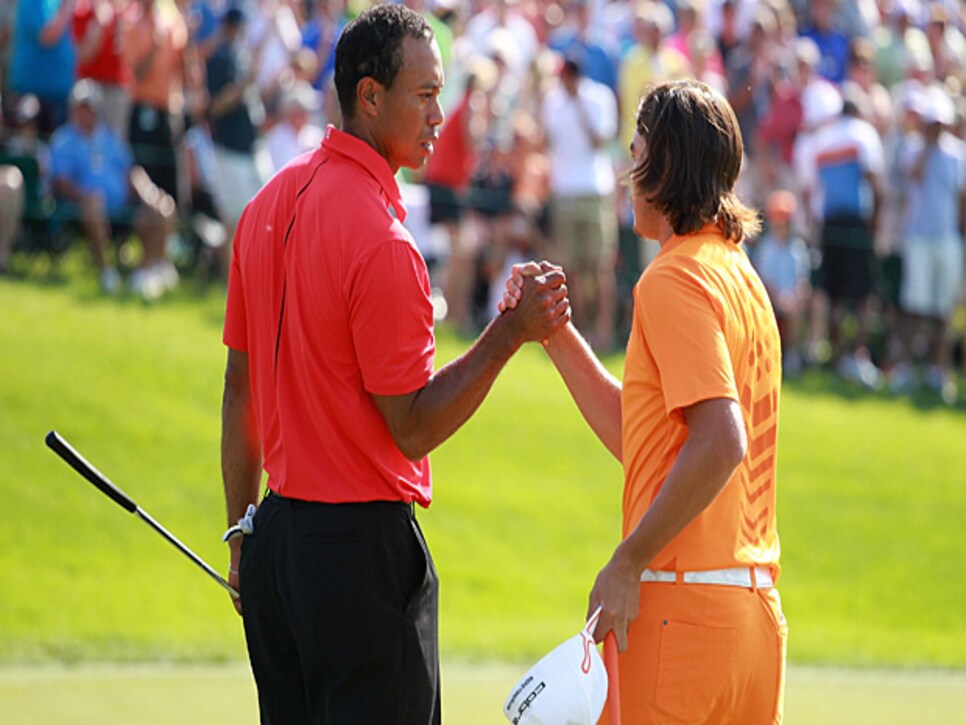 A Tiger-Rickie showdown that's actually a showdown? Yeah, that would be nice.
Welcome to another edition of Fantasy Fix, where we're thinking about waving a white flag after what happened in the Great White North. Scott Piercy over William McGirt and Robert Garrigus? It's getting tougher to write about fantasy golf than it is to be Charlie Sheen's psychiatrist. But as we enter a huge two-week stretch, we're not backing down from the challenge. Inspired by Olympic spirit and theme music, it's time to do some winning of our own. Let's get to it.
The PGA Tour returns to the comfy confines of the United States for both the WGC-Bridgestone Invitational and the Reno-Tahoe Open. For obvious reasons, we'll focus on the action in Akron, Ohio, where the leader board promises to be more impressive than what we saw over the weekend in Canada
. Oops, hope I didn't jinx you into having to watch a "duel in the sun" between Marcel Siem and Lee Slattery.
Random tournament fact: Maybe we won't get much drama after all. Seven of the 13 events since this became a World Golf Championship have been decided by four shots or more.
Adam Scott. It was here last year where Steve Williams had the best week of his life. Scott had a decent one as well in picking up his first WGC title. And despite the Aussie's recent collapse at the British Open, we have him pegged for another solid week. Not having to pitch out of bunkers sideways at Firestone should also help.
Tiger Woods. With seven wins in this event, how can he not be? True, Tiger also had his worst tournament as a pro here two years ago, but that was just before the start of his "process" with Sean Foley. Although Woods still seems to be lacking something on the weekend at majors, he's proven he can still win any regular PGA Tour event when he's on. A week before he plays in this year's final major, we expect him to bring his "A" game.
ANOTHER FORMER WINNER TO WATCH
Hunter Mahan. The 2010 champ also finished T-4 in 2009 and T-10 in 2008. Mahan is already a two-time winner in 2012, including a title in the season's first WGC event, the Accenture Match Play. We'd probably highlight more past winners here in this week's field, but a certain Nike Swoosh-wearing guy hasn't made that task especially easy. . .
WEEKLY YAHOO! ROSTER SELECTIONS
Starters: Keegan Bradley, Tiger Woods, Rickie Fowler, and Charl Schwartzel.
Bench: Adam Scott, Hunter Mahan, Lee Westwood, and John Senden.
) for a chance to appear in next week's column. Or if you just feel like making fun of my picks or discussing your favorite part of the Summer Olympics.
Luke Donald. Not for his golf (there's actually no reason not to play him this week), but for his lack of help. You see, I was the 54-hole leader of my annual golf trip and this year's final round was at Innisbrook's Copperhead Course, where Donald won the Transitions Championship earlier this year. I tweeted the World No. 1 asking for some advice the night before, but received no reply and only managed a runner-up finish as a result. Thanks for nothing, Luke. . . (Side note: Considering I was hitting the driver like a blindfolded Charles Barkley, nothing Donald could have told me would have helped. But that's beside the point.)
Keegan Bradley. Last year, Bradley was in the mix until a back-nine collapse on Sunday. Although he returns in a bit of a slump (one top 25 in his last 10 starts after finishing in the top 25 in his first nine events of 2012), seven of his last 12 rounds have been 68 or lower and his length should come in handy on the PGA Tour's longest (7,400 yards) par-70 layout.
FREE FANTASY FOOTBALL ADVICE
Don't be a sucker. Don't draft Tim Tebow. Playing with the Jets' special teams isn't going to improve his fantasy value. Neither will the fact that he still can't throw a spiral.
AUSTRALIAN OF THE WEEK (NOT NAMED ADAM SCOTT)
John Senden. Aussies have fared well at Firestone over the years, with Greg Norman winning a couple times (when the event was called the NEC World Series of Golf), Scott breaking through last year, and Robert Allenby and Stuart Appleby combining for three runner-ups. Like those guys, Senden is a tremendous ball-striker, who also happens to be enjoying a strong season with five top-10 finishes.
Rickie Fowler. Last year, Fowler matched his (then-) best showing as a pro with a T-2 that included a final-round 66. We expect to see a lot of orange on CBS' coverage again this year now that he returns a winner on tour and 12th in the FedEx Cup standings. Mix that in with the normal amount of red that Firestone seems to see on Sundays and everyone wins. . .
*-- Alex Myers is a contributing editor for GolfDigest.com. Feel free to email him
since he has self-esteem issues.*