News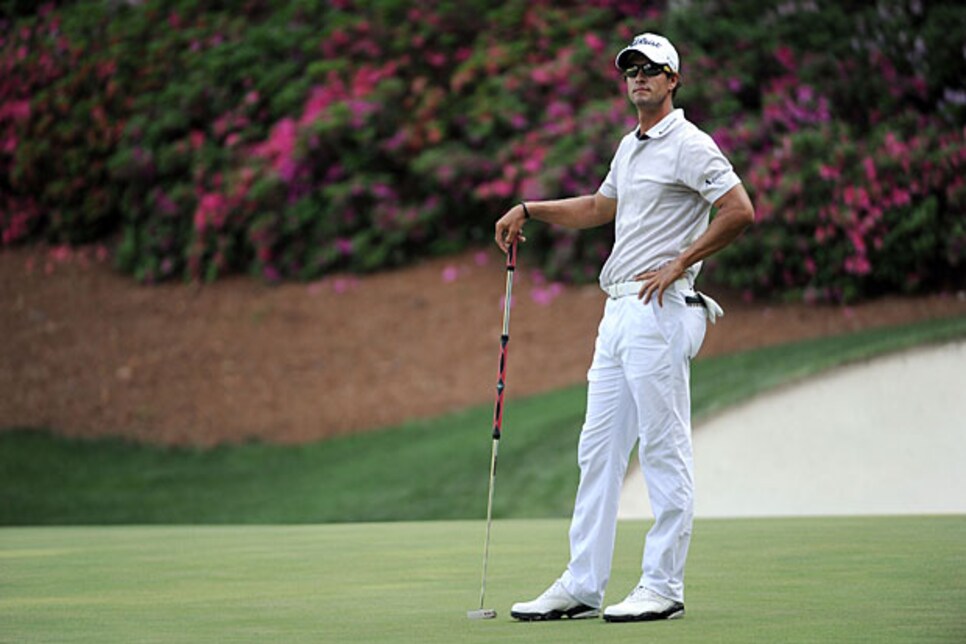 Scott didn't come away with the green jacket, but he did leave Augusta with more confidence in his long putter.
Welcome to another edition of Fantasy Fix, where if we close our eyes, we can still hear the roars coming from Augusta National. What a finish, though we can't believe that a guy whose parents didn't finish his first name when filling out his birth certificate won the Masters. What we can believe is that someone that light can compete on such a big golf course. Since when does weight matter in golf? The South African could comfortably fit in a pant leg of Charles Barkley, yet it's not like the Chuckster is bombing 300 yard drives down the middle. In any matter, that was fun. It's just too bad there's a big break in the schedule now... wait, there's another tournament this week? OK, better get to it.
The PGA Tour heads to the Lone Star State for the Valero Texas Open. Last year the tournament moved to the brand-awareness friendly A&T Oaks Course at TPC San Antonio, which was designed by Greg Norman with the help of Sergio Garcia (please insert golfing gods/losing joke here). We hope the fact the Spaniard didn't bother showing up this week isn't an indication of track's quality. When it comes to the quality of the field, not surprisingly, it's a little weak and not just because of Garcia's absence. Incredibly, only one player teeing it up on Thursday has won on tour this year. His name? Johnson Wagner. His win? The Mayakoba Golf Classic. You get the point.
Random tournament fact: The winner has the honor of donning a pair of cowboy boots at the awards ceremony Sunday night. And by honor, I mean has the misfortune.
Adam Scott. After nearly a decade of hearing he was the next Tiger and then a couple years of hearing he's washed up, the Aussie nearly shocked the golfing world with his first major championship at Augusta. The green jacket was his for the taking after a kick-in birdie on No. 16 in the final round, but unfortunately for him, Schwartzel was there to take it away with those four closing birdies. How will Scott bounce back? Considering he didn't choke and he never seriously contended in a major before, I believe him when he says he's taking positives from the experience. After handling some of the world's toughest greens so well, he's also clearly adjusted to his new long putter, making him a safe play this week.
Martin Laird. The Masters rookie made the cut, but was only mentioned over the weekend when Ian Baker-Finch basically blamed him for Tiger's missed three-footer for par on No. 12 in the final round. I'm sure his parents were really pleased by that. The CBS announcer thought Woods was affected by having to wait so long for Laird to complete a three-putt of his own. Hence, his new nickname, the "Tiger Stopper." No reason to believe he can't contend here after recently winning at Bay Hill.
J.B. Holmes. After narrowly missing qualifying for the Masters, the long hitter is well rested (then again, so is most of the rest of this field). Holmes finished T-13 here last year despite a disastrous final round of 76. The Kentucky native is still looking for his first PGA Tour win at a venue other than the TPC Scottsdale. Maybe the TPC San Antonio is where it will finally happen. And yes, we called J.B. Holmes a stud...
"Hey, Alex. Sorry about letting you down, since I know you went out on a limb to pick me at the Masters. I really thought I was going to pull it out, but those three-footers are getting tougher in my old age. Keep me in mind at Congressional. Sincerely, Tiger Woods."
You got it, Tiger, though I'll need to see similar ball-striking for another couple tournaments before I pick you for a U.S. Open. No, Tiger didn't really write me, but I bet he does appreciate the support since most of the golf media had written him off despite the fact he has about half of his career (or more) remaining. Seriously, though, please feel free to e-mail me
with comments, questions or just to make fun of my picks. And of course, you can follow me on Twitter
Geoff Ogillvy. The Aussie is coming off a T-4 at Augusta, but unlike some of the other high finishers at Augusta, Ogilvy genuinely came away pleased after birdieing five straight holes on the back nine to at least go down with a fight. As good a player as the 2006 U.S. Open winner is, though, it's been too long since his last win, the 2009 season-opener in Hawaii. And so what if an Aussie hasn't won a Masters? They've had multiple winners of this tournament.
MASTERS STAR TO STAY AWAY FROM
Angel Cabrera. The nickname "El Pato" works, but we like the simple, yet effective "Beef" even better. In any regard, normal PGA Tour events don't seem to bring out the best in the Argentinian the way major championships do. Our advice/bad pun? Steer clear of Cabrera.
FREE FANTASY BASEBALL ADVICE
If you have Howie Kendrick, congratulations. The Angels second baseman is off to an incredibly torrid start to the young season and has proved to be a solid and consistent fantasy option when healthy. But this is just nuts. Deal him while he still has Joe Morgan-like value (pre-announcing days, of course) and before he returns to being the A.L. version of Orlando Hudson.
Anthony Kim. So he didn't exactly come through last week at Augusta like we thought, but at least he went down swinging with four birdies on his final six holes to miss the cut by one. We think he can carry that momentum (and the confidence he got from that second-round 64 in Houston two weeks ago) into this week. If he does, with this field, he could find himself back in the winner's circle after a rough past 12 months.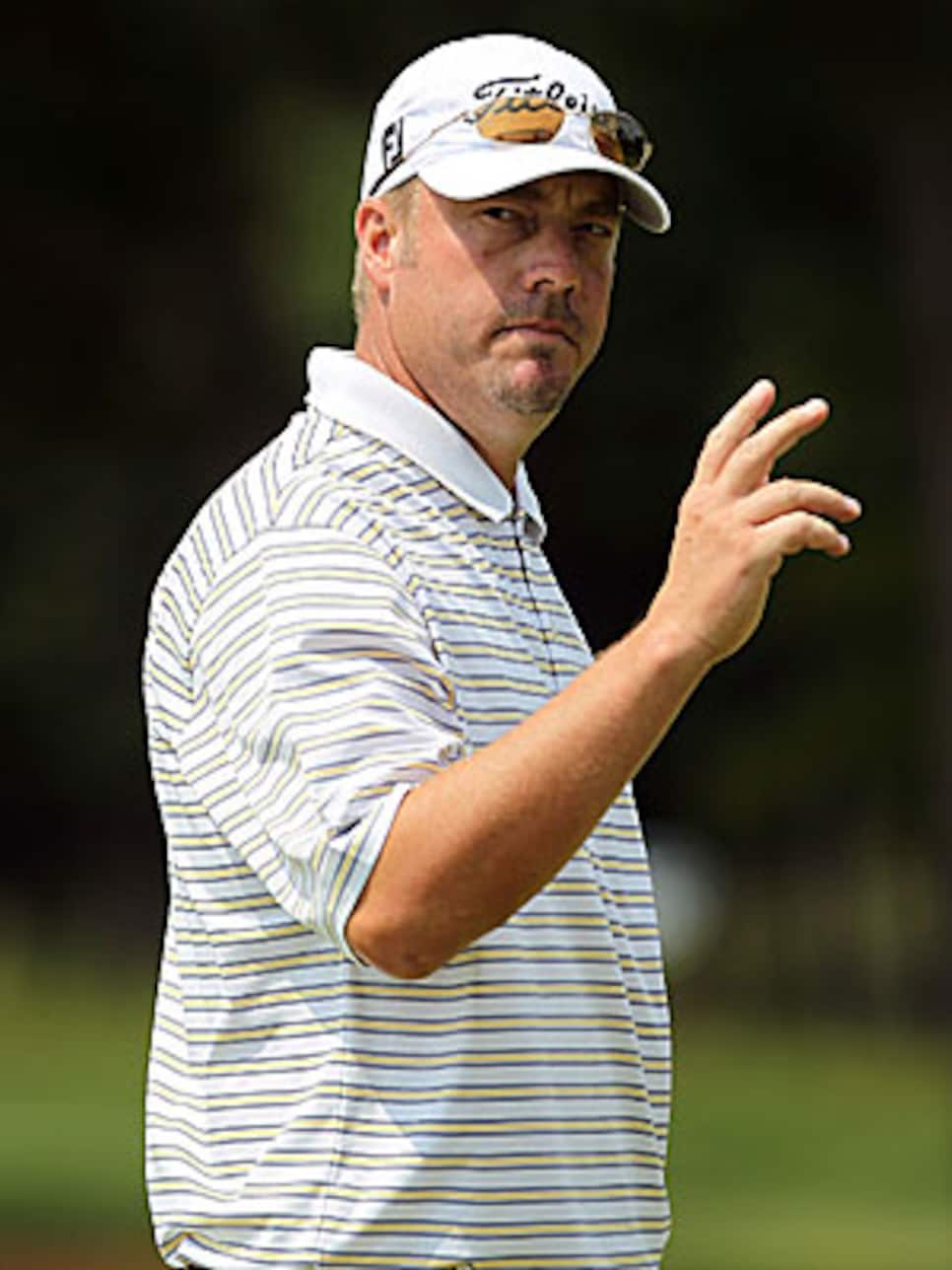 makes him look serious about it.
Justin Leonard. The Texas native has thrived in this event his entire career. That is, until it moved to the big-boy course measuring more than 7,500 yards last year. Leonard finished T-64 and his one top 10 in the past year and a half doesn't give us too much confidence in his chances this week.
Spencer Levin. Enjoying a breakout year, Levin is still in search of his first PGA Tour victory. It could have came here last year if not for a final-round 73 that dropped him to T-9.
Brett Wetterich. The former Ryder Cupper recently won a Nationwide Tour event, which will do wonders for his chance at getting his PGA Tour card back for next year. So would another high finish at an event where he finished T-13 last year.
GUY YOU'VE NEVER HEARD OF WHO COULD CONTEND
Garth Mulroy. The 32-year-old finished T-6 here last year, the lone top 10 of his PGA Tour career. He has, however, won on the Nationwide Tour. Plus, he's South African. I hear they're doing pretty well at this golf thing of late.
*-- Alex Myers is a contributing editor for GolfDigest.com. Feel free to e-mail him
) since he has self-esteem issues.*