News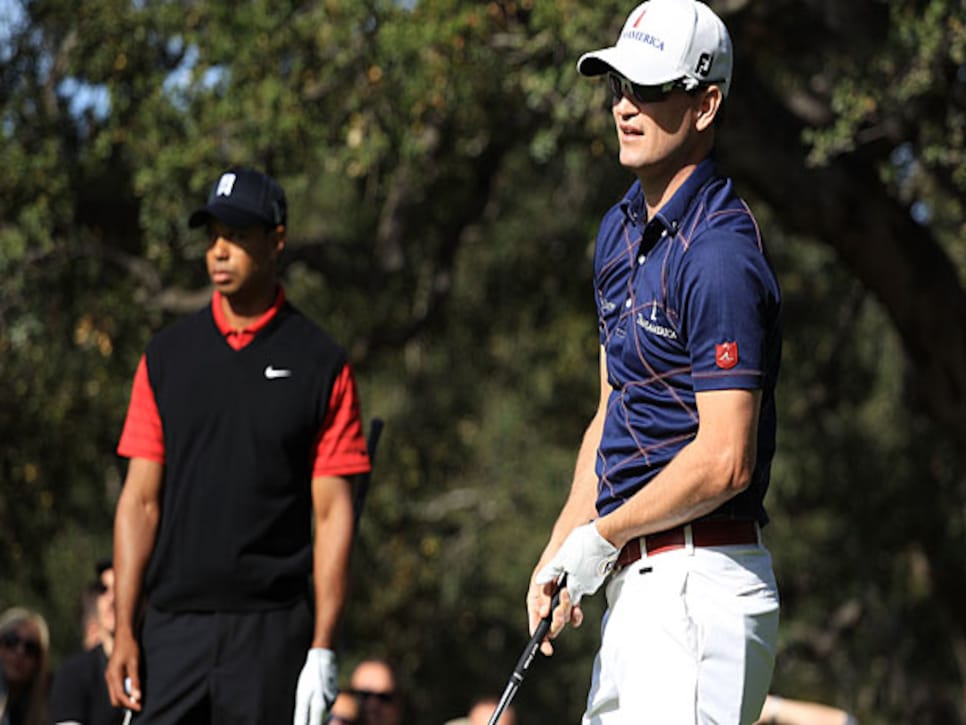 Zach Johnson came up short in his last battle with Tiger, but we like him a lot in 2012.
Welcome to another edition of Fantasy Fix, where we'll never over-stuff the broadcast booth. No, instead of Johnny Miller or Nick Faldo, you're just stuck with me -- and that might not be such a bad thing. Four of the golfers I touted from last week (Stricker, Simpson, Byrd and Kirk) finished in the top seven on the leader board at Kapalua. Yeah, yeah, it was an extremely small field, but you've got to start somewhere, right? Let's keep the momentum going into Week 2:
The PGA Tour stays in Hawaii with the Sony Open, the first full-field event of 2012. And since this tournament has alternates, it will stay that way, no matter how many "fluke" ocean accidents are suffered by golfers this week.
Random tournament fact: Michelle Wie will not be playing on a sponsor's exemption in her home state this year.
Mark Wilson. It was here last year where "Little Cheese" picked up his first of two early-season victories, when he outlasted Tim Clark (Remember him?) and Steve Marino. We love the diminutive Wisconsinite, but we like a lot of guy's chances this week better.
K.J. Choi. A former winner here (2008), the Korean Tank got off to a strong start to 2012 with his T-5 at the Hyundai Tournament of Champions. Getting off to a good start is a key in this event as well. In his two best finishes, he opened with a 64.
Again, there doesn't appear to be a scenario right now in which you wouldn't want to play Webb Simpson, who starts 2012 with yet another strong showing. Same can be said for__Steve Stricker__, who picked up his 12th career PGA Tour title at Kapalua. The Strick Show is getting so used to winning, he's not even crying (that much) anymore.
Charles Howell III. Sticks had a strong summer last year after switching, like seemingly everyone else, to a belly putter. He had four top-five finishes in his final 13 starts, plus a T-6 at the Tour Championship. He's also been in the top five in five of his 10 trips to Honolulu. We'll take him over Davis Love III and Billy Hurley III in our first installment of the 2012 battle for the honor of top third-generation names.
RANDOM SELF-PROMOTION PLUG OF THE WEEK
My new list of top 10 sleepers for 2012 will be coming out tomorrow. Please check it out. That is all. (Update: It's now out.
Time to make some history. Our first-ever guest pick comes via Twitter from Kunle Obafemi (@TheRealNoVa7):
"I tried very hard to go against the hot hand, but I just can't do it. I'm picking Strick to pull back-to-back wins. He was T-9 here last year, a solo third in 2010, and T-4 in both 2007 and 2008; that's four top 5s in his last five appearances. He plays better at Waialae than at Kapalua. I think he pulls through for the second weekend in a row."
) for a chance to appear in next week's column.
KNOCKOUT PICK OF THE WEEK We'd rather save Choi for down the road, so we'll go with Howell III in this spot. And as a reminder, we will be having a contest for each of the four majors, as well as the Players Championship on Golf Digest/Golf World's Facebook page.
After a so-so start, here's this week's plays:
Starters: K.J. Choi, Chris Kirk, David Toms, Jonathan Byrd
Bench: Zach Johnson, Ryan Palmer, Steve Marino, Sang-Moon Bae
with comments, questions or just to make fun of my picks. And of course, you can follow me on Twitter
Brendan Steele. From his Twitter handle, @Brendan_Steele, last Friday: "First round of 2012 today! Very fortunate to be able to play in such a beautiful place. #pgatour #kickoff" He may have finished nearly dead last in his first trip to Kapalua, but we loved his attitude.
Rory Sabbatini. Like at Kapalua, Sabbo is a two-time runner-up (2008 and 2006) in this event. That didn't play out well for him last week, but his two other top 15s at Waialae in the past three years give us enough reason to endorse him again. Plus, unlike last week, his "buddy" Ben Crane won't be playing.
David Toms. What a brilliant move being in last place so he could tee off first as a single on Monday and have plenty of time to watch his LSU Tigers in the BCS National Championship game. On second thought, maybe he should have played a little better so he wouldn't have had to see all of that snooze-fest. Last year, Toms began his season with a sub-par T-42 here, but the five years prior he had a win (2006) and finishes of T-2, T-4 and two T-13s. He should be less distracted this week, though we hope he's able to shake off that pathetic performance (Sorry, DT) by his alma mater.
HE DOESN'T HAVE A GREEN JACKET FOR NOTHING
Zach Johnson. One 2011's biggest surprises was that neither Matt Kuchar or Jason Day picked up a win on the PGA Tour. Just as stunning was that ZJ didn't really even come close. Unless, you count the Chevron World Challenge. There, the seven-time winner showed his usual poise under pressure until a certain someone outdueled him down the stretch. In our first official guarantee of the year, we say ZJ will return to the winner's circle this year.
SLEEPER/ROOKIE OF THE YEAR PICK
Bud Cauley. The University of Alabama product's year is off to a great start before he's even hit a shot thanks to the Tide's big win over LSU. We expect big things from this guy as well, having joined an elite list of players (Tiger Woods, Phil Mickelson, Justin Leonard, Ryan Moore, Scott Verplank and Gary Hallberg) to have earned his PGA Tour card after leaving college without having to go through Q School. He should have plenty of competition this week and all year from other rookies, though, especially from a pair of South Koreans: Seung-yul Noh and Sang-Moon Bae. Other rookies to look out for? Well, you'll just have to check out that sleepers slideshow I mentioned before
Lucas Glover and Paul Casey. We end with two unfortunate leisure-sports injuries. First, Glover, after shaving his beard, lost so much of his powers that he sprained his right knee paddleboarding in Maui and had to WD at Kapalua. Then, Casey dislocated his left shoulder snowboarding in Vail. Listen up, pro golfers: the only boarding you should be doing is at the airport.
*-- Alex Myers is a contributing editor for GolfDigest.com. Feel free to email him
since he has self-esteem issues.*