News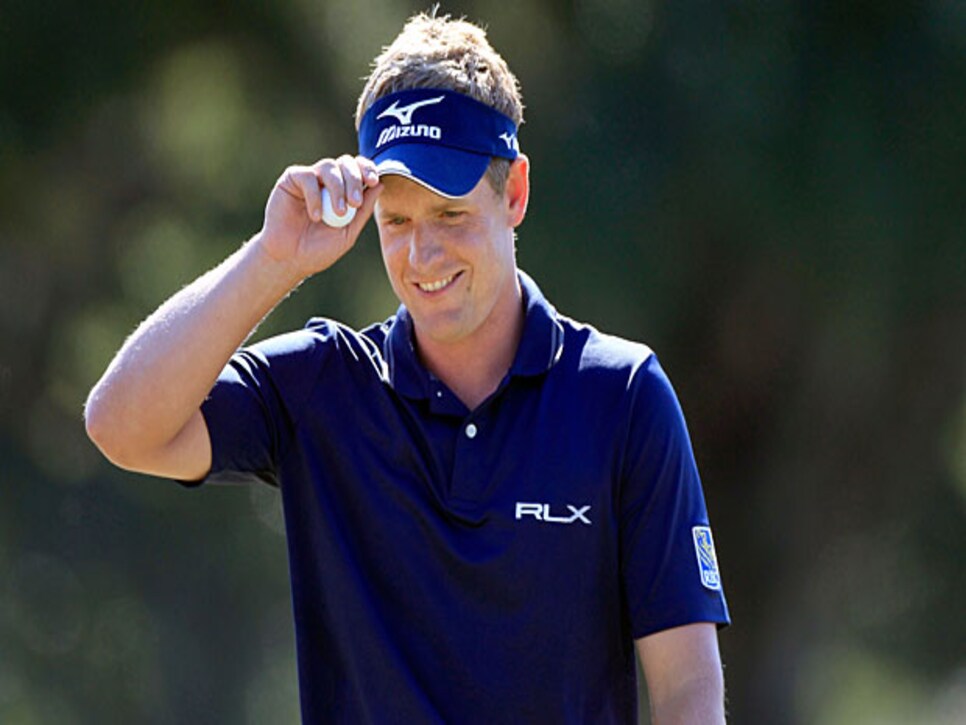 We expect last year's player of the year Luke Donald to pick up right where he left off.
Welcome to a Valentine's Day edition of Fantasy Fix, where we'll gladly trade "X's" and "O's" for "T's", as in T-10s and T-5s. Even better than that are "W's" and it will be tough for anyone to pick up one in more spectacular fashion than what Phil Mickelson did on Sunday at Pebble Beach. What made it even more impressive was that many people thought Phil was more cooked than a well-done burger from Five Guys. Moving on, what's in store for Lefty & Co. in L.A.? We examine.
The PGA Tour's West Coast Swing continues at historic Riviera CC, aka "Hogan's Alley." For a second-straight week, the field is decent, but the course will garner a lot of the spotlight -- and rightfully so. In a recent survey conducted by Golf World, PGA Tour players ranked Riviera as the third-best course they see
Random tournament fact: Ben Hogan won three times at Riviera, including the 1948 U.S. Open. That means the steely legend actually flashed that movie-star smile at least three times at this venue.
Aaron Baddeley. Despite an underwhelming previous track record at Riviera, Baddeley won last year for his first PGA Tour victory in four years. He wound up winning more than $3 million for the season and his fourth-place finish at Pebble last week shows he's carried that good form over into the new year.
STUD/KNOCKOUT PICK OF THE WEEK
Luke Donald. In one of the oddest happenings of the 2011 PGA Tour season, Donald shot a second-round 79 here last year to miss the cut. This after 13 straight rounds of par or better at Riviera and three consecutive years finishing in the top six. Of course, the world's top-ranked player has been on a tear since. At this point, that 79 looks like a misprint.
This week's pick comes from Matt Schriefer (@Schrief615) in Nashville, Tennessee:
"It looks like with Tiger out of the picture this week, it might open up the chance for you to actually pick someone other than Tiger. I suggest you go with the comeback story of the year last season and the still red hot Sergio Garcia. The once former inconsistent El Nino made 15 of 16 cuts last year and then followed it up with back-to-back wins on the Euro tour in October (winning one by 11 strokes). I'm predicting Sergio to start with the Northern Trust this week and then move on to take at least one major this season and shed his label of being unable to win a major for good."
Touché. Full disclosure: Matt is a college buddy and an avid fan of Garcia. In fact, I once dragged a Michelob Ultra life-size cardboard cutout of the Spaniard out of a bar (I have the picture to prove it, but I doubt my boss wants me to show it...) for him to have in his living room. Why? Because that's what friends are for.
) for a chance to appear in next week's column. Or if you just feel like making fun of my picks or discussing global warming.
WEEKLY YAHOO! ROSTER PICKS
Starters: Luke Donald, Ryan Moore, Dustin Johnson and Aaron Baddeley
Bench: Charles Howell III, Bill Haas, Jason Day and Charlie Wi
DON'T BE A SUCKER PICKING THESE STARS
Phil Mickelson. He delivered an all-time great performance at Pebble, but he won in similarly spectacular (and out-of-the-blue) fashion in Houston last year and other than at the British Open, we didn't hear from him again the rest of the year. Mickelson is feeling especially good after dusting Tiger Woods, but we don't expect a repeat result, especially since his red-wearing foe isn't in the field.
Fred Couples. Yes, last year he nearly won this event for a third time in his annual Hollywood cameo before faltering on Sunday and yes, he has 20 top 25s (wow) and 14 top 10s (bigger wow) at Riviera, but there are too many question marks. He recently had another blood-spinning treatment on his back and after a decent performance in Dubai (T-33) he's flying all the way back to California to play back-to-back weeks? Yeah, that can't be too good for the back. We will respectfully back off...
Charles Howell III. In his six times teeing it up in the Nissan Open, Howell has a win, a runner-up and a T-6. In his four times playing the event with Northern Trust as the sponsor, he's done no better than a T-55. But aside from his apparent favoritism to Japan-manufactured cars over a U.S.-based wealth management company, we expect a strong finish.
Rory Sabbatini. Like CH3, Sabbo has an odd Riviera track record that includes both a win and a runner-up. Unlike CH3, he can't be folded up into a carry-on bag. Regardless of their differences in appearance and demeanor, both seem to be pretty safe bets this week.
Adam Scott. Forget what putter this Australian uses, this is a ball-striker's course (See: Hogan, Ben) and Adam Scott is a ball-striker. That is all.
Spencer Levin. We're proud of Levin for bouncing back from his collapse in Phoenix with a T-9 at Pebble. Now the Sacramento native and former UCLA Bruin (he wound up transferring to New Mexico) has a chance to nurse those self-inflicted wounds even more on a course he's very familiar with and where he notched a T-12 last year.
Tiger Woods. For three days, I looked brilliant as Woods hit the ball from tee to green better than anyone in the field and even flashed a hot putter on Saturday. Unfortunately, that red on Sunday isn't what it used to be anymore. Maybe it's time to start switching it up? I've called dibs on wearing blue to work on Fridays to close out the week in strong fashion, but there are other options to choose from. A lovely chartreuse, perhaps? Also, it's a shame that he never plays here despite it being the site of his first PGA Tour appearance as an amateur in 1992.
Ryan Moore. After a rough start to the season, Moore showed signs of life before a bad back nine at Pebble on Sunday. He's too good of a player to have just one PGA Tour win to his credit and we will go as far as to guarantee another victory at some point this season. Maybe it will come under the bright lights of L.A. for the man who often dresses like he's living in Hollywood's Golden Age.
FREE FANTASY BASKETBALL ADVICE
Pick up Jeremy Lin. Duh. Trade Jeremy Lin. Bigger duh. As a diehard Knicks fan, I am as wrapped up in Linsanity(!!!) as anyone, but this is the perfect opportunity to sell high on a player you got off the scrap heap. Lin's stunning performance over the past week have proven he's not a fluke, but there are too many variables when Amare Stoudemire and Carmelo Anthony return to the lineup. Lin looks like the point guard of the future, but to expect any more 38-point outbursts with "Sir Chuck-a-lot" Melo, would be silly.
Dustin Johnson. Last year, DJ infamously had to sprint to the first tee on Thursday to avoid being DQ'd for missing his tee time. His effort was in vain as he still wound up missing the cut, but in the two previous years he posted top 10s, including a T-3 in 2010, despite a third-round 74. After an opening 63 at Pebble, a T-5 was somewhat of a disappointment, but he looks poised to win sooner rather than later. Plus, we hear his 40-yard-dash time has gotten much better.
Andres Romero. Prediction: This won't be the last time you hear about this Fantasy Fix favorite this year. The former PGA Tour Rookie of the Year had four top 10s in the second half of last season and he has a T-3 and a T-5 to his credit in two appearances in this event. In a year where the unexpected has become the standard, perhaps he'll be smooching the trophy
at the end of the weekend. Now those are the kisses we really get excited about...
*-- Alex Myers is a contributing editor for GolfDigest.com. Feel free to email him
since he has self-esteem issues.*