News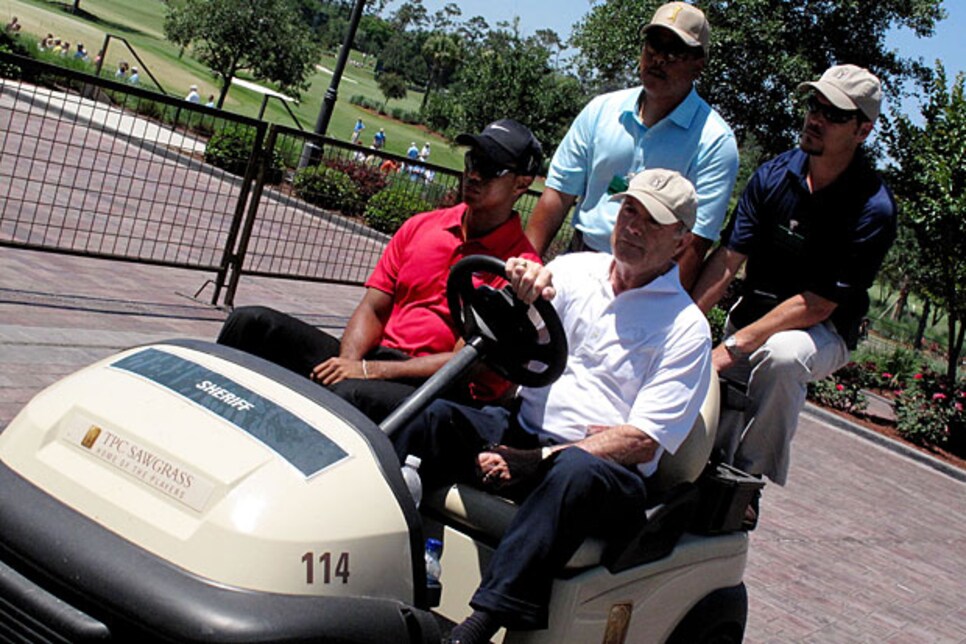 Not only did Tiger fail to play well again at TPC Sawgrass last year, but his week ended with an injury.
Welcome to another edition of Fantasy Fix, where we don't fear beards, island greens, or even Rory Sabbatini. OK, so that last part might not be true. It's been a wild stretch on the PGA Tour, with three straight events having ended in playoffs. Let's get to our thoughts on what should be another exciting week.
The PGA Tour heads to TPC Sawgrass' Stadium Course for the unofficial "fifth major," the Players Championship. Has a big-time event been as unpredictable in the last decade? Since Tiger Woods won in 2001, this tournament has been littered with surprise winners, most notably 48-year-old Fred Funk in 2005 and Craig Perks in 2003. We're pretty sure Perks hasn't broken par since...
Random tournament fact: There have been 18 different winners of this tournament in the last 18 years and since it moved to TPC Sawgrass in 1982, only three players (Fred Couples, Hal Sutton and Davis Love III) have won it twice. Translation: Don't get on me for not having picked Greg Chalmers when he's hoisting the crystal trophy Sunday evening.
Tim Clark. Last year, the Fantasy Fix favorite fulfilled our prediction he would get his first PGA Tour win during the 2010 season right here. This year, he can't stay healthy long enough to tee it up anywhere. Clark says he'll give it a go this week, but while struggling with an injured elbow, he's only played two official rounds (A pair of 73s at the Masters that resulted in a missed cut) since a T-2 at the Sony Open.
Again, the prevailing question, "Is he back?", still applies. As much as we seemed to learn about his golf game at Augusta, a re-injured knee and Achilles tendon make evaluating Woods that much tougher. What we do know is that he has only one win and four top 10s in 13 appearances at TPC Sawgrass. In other words, this probably won't be the week he ends the longest winless streak of his career. Speaking of Woods, the 14-time major champion has fallen to No. 8 in the world rankings and is now behind four non-major champions, including Paul Casey. This would be like Michael Jordan in his prime being ranked behind former Knicks "legend" John Starks on a list of top NBA shooting guards.
Luke Donald. The "real" Donald should have won here in 2005, but he collapsed on Sunday with a 76. Since then, he hasn't produced anything spectacular at the Stadium Course, but he arrives in Ponte Vedra Beach as arguably the hottest player in the world. It's hard to find a reason not to pick him.
Matt Kuchar. The most consistent player on the PGA Tour over the past two years has been equally as solid in this event, posting consecutive top-15 finishes in 2009 and 2010. Isn't it about time he added to his career total of three titles by picking up one we'll actually remember?
OBVIOUS REMINDER OF THE WEEK
Don't put top-ranked Lee Westwood or world No. 6 Rory McIlory in your lineups this week. Why? Because they're not there. Why? Apparently, to prove a point they don't need the PGA Tour. What have they proven? All we know is that the show will go on without them and that they won't be getting a cut of the $9.5 million purse.
FORMER CHAMPIONS TO RIDE WITH
Sergio Garcia. The Matador Jr. has three top fives at TPC Sawgrass, including the biggest win of his career in 2008. He will be playing with a heavy heart following the passing of his friend and idol, Seve Ballesteros. But something tells me he will play his way into contention and back into the hearts of fans with a stirring performance.
Adam Scott. Like Garcia, Scott's signature win came here in 2004 and he added a couple of top 10s in this event in the three years after his breakthrough victory before going through his well-documented slump. The Aussie now uses a long putter, but he still has the swing that once made him the third-ranked player in the world.
FORMER CHAMPION TO HIDE FROM
Henrik Stenson. OK, so maybe this should have fallen under the "obvious reminder" category as well. The Swede has been very quiet since dominating here in 2009 and he's been downright terrible in 2011. How bad has it been? He made more money for being on the winning team at the Tavistock Cup than he has in his seven official PGA Tour starts. Combined.
"Hey, Alex. Big fan. Since I'm probably going to be suspended, I'm going to have some free time on my hands. I was wondering if you wanted to set up a time to play? I don't care where it is, as long as it's a quick round. Let me know, Rory Sabbatini."
Rory, you are welcome at my home course anytime. Just know that since your career earnings are approaching $24 million, I'll probably ask that you pick up the guest fee. No, Sabbo didn't write, but that shouldn't stop you. Please feel free to e-mail me
with comments, questions or just to make fun of my picks. And of course, you can follow me on Twitter
WHY THEY PAY ME THE BIG BUCKS PICK
Jonathan Byrd. The Byrd-man has just one top 25 and no top 15s in eight trips to the PGA Tour's headquarters. So why do we like him? After seeing him dig down and birdie the final hole of regulation at Quail Hollow to force a playoff, what's not to like? Yes, he did bogey said hole minutes later to lose to former Clemson teammate Lucas Glover, but it was being able to rise to the occasion as the drama unfolded that makes him a perfect candidate to win on the grand stage of the Players Championship. Or something like that, according to the tournament's commercials that feature Craig T. Nelson
Lucas Glover. We forgot that the Glove nearly picked up his first win since the 2009 U.S. Open at this event last year when he finished third. Before that, however, Glover missed the cut in his four other times at this tournament. And speaking of hot, that beard might be a little uncomfortable with temperatures expected to be around 90 degrees all week.
BIG GUNS NOT WORTH THE RISK
Phil Mickelson. Sure he won here just four years ago, but overall, his record of seven top 25s and three top 10s in 17 appearances doesn't measure up to the four-time major winner's standards.
Padraig Harrington. Paddy recorded back-to-back runner-ups in 2003 and 2004, but he's only managed a T-49, T-52, T-63 and three missed cuts at TPC Sawgrass since. Plus, the guy is a blowup hole or a rules violation waiting to happen. That sounds like a recipe for disaster on No. 17...
FREE FANTASY BASEBALL ADVICE
Instead of offering more insight, we'd like to point out that our reverse-jinxing power has now spread to baseball. Less than a week after (rightfully) taking a shot Derek Jeter, the Yankee captain hit two home runs in one game. To put that in perspective for golf fans, the odds of that happening were about the equivalent of Ernie Els holing two four-footers in the same round. Sorry, we know this is a big week for the Big Easy having been inducted into the World Golf Hall of Fame on Monday. We should probably be a bit more positive so congrats, Ernie! Love you, buddy!
PONTE VEDRA RESIDENTS WHO ARE DUE
Vijay Singh and Jim Furyk. Singh has been in the top 15 five times in the past decade, including a runner-up in 2001. He's also quietly having a really good season, having already made nearly $1.5 million in prize money. As for Furyk, the 2010 PGA Tour Player of the Year hasn't exactly been lighting it up in 2011, but he does have five straight top-25 finishes. He's also finished in the top five in three of his last seven appearances.
Despite their moderate success, it's amazing neither of these guys have won this event, given their familiarity with the course and the fact that they both spend a lot of time using its practice facility. The one time I was there, I saw Vijay talking on a cell phone in the clubhouse while waiting out a rain delay so he could hit 1,000 more balls. Speaking of that trip, what's more amazing is that I'm batting 1.000 when it comes to taming No. 17. OK, so I've only played it once, but I knocked it on the middle with a 9-iron from 130 and two-putted to a front hole position for a par. It was without a doubt, the most clutch moment of my athletic "career." I'll be on hand for this year's event, so if any of the pros want to track me down for advice on how to play the infamous hole, I'm around...
*-- Alex Myers is a contributing editor for GolfDigest.com. Feel free to e-mail him
) since he has self-esteem issues.*