News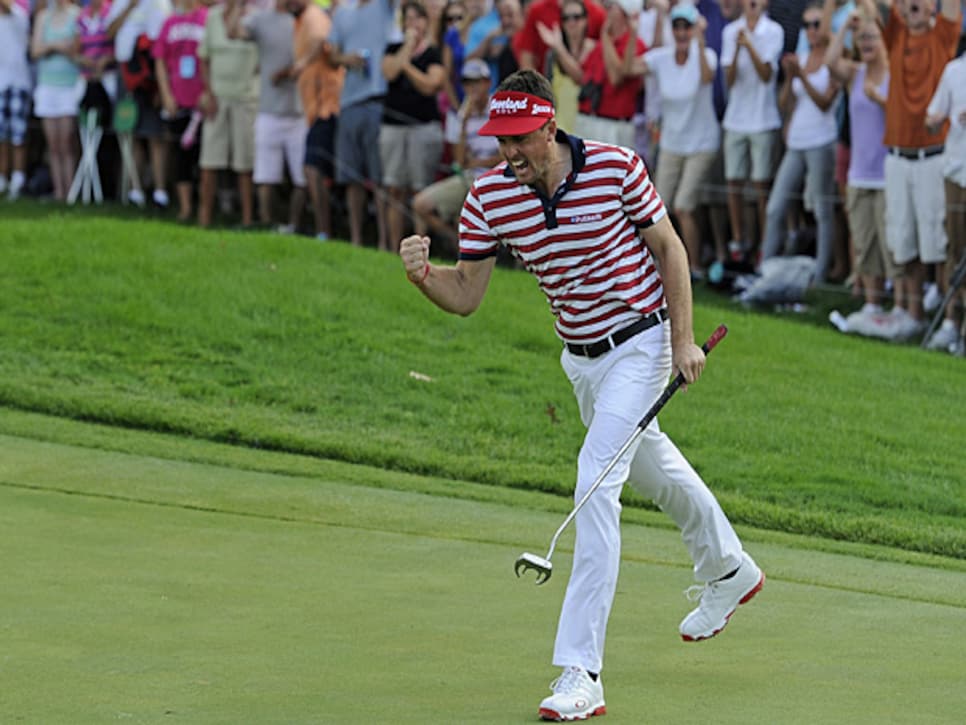 Coming off a WGC win, the defending PGA champ heads to Kiawah as one of the favorites.
Welcome to another edition of Fantasy Fix, where we're starting to question the player-sponsor pairing of Jim Furyk and 5-hour Energy. A) The guy looks like he has about as much pep in his step as Vijay Singh entering an all-day press conference, and B) these days he's usually only good for about four and a half hours on Sunday. Of course, we don't need any caffeine enhancements to get juiced up for this week's event. No, just a shot of "Glory's Last Shot" will suffice. Here are our thoughts on how it will play out.
The PGA Tour heads to Kiawah Island's Ocean Course for the season's final major, the PGA Championship. And I can't wait to see how the greatest golfers in the world fare on a course I brought to its knees* five years ago.
*If you count shooting 80 from the second set of tees on a day my caddie described as the least windy he'd ever seen in his 20 years working there as "bringing the course to its knees."
Random tournament fact: Shaun Micheel won this event -- his only career PGA Tour win -- in 2003. Apparently, he then got lost in the Wanamaker Trophy and has been missing ever since.
Keegan Bradley. Last year, Bradley won in a battle of relative unknowns when he took Jason Dufner down in a playoff at Atlanta Athletic Club. He also made history by becoming the first man to anchor a putter and win a major. Despite being just five when the Ocean Course hosted the famed 1991 Ryder Cup -- aka "The War by the Shore" -- he returns as one of the favorites, fresh off his third PGA Tour win at Firestone.
He's up, he's down, he can't hit the driver, he can't putt, his short game stinks, his mental edge is gone, etc. Add it all up and Tiger Woods still enters the year's final major as an overwhelming favorite (as low as 7-to-1 on some sites) due to his PGA Tour-leading three wins in 2012. Keep in mind that before the year started, I predicted Woods would have four wins and a major. So in a way, this is our "Glory's Last Shot" as well. That being said, his lack of confidence in his driver at the British Open doesn't bode well at a course that is nearly 7,700 yards long on the card and could play even longer with prevailing winds. Tiger, you can breathe a sigh of relief. I'm not putting you in my lineup this week.
STUD/KNOCKOUT OF THE WEEK
Dustin Johnson. Call me Ben Crenshaw, but "I've got a feeling" about this. Of course, it was DJ who made for a heartbreaking story at another Pete Dye design along a shore, at Whistling Straits in 2010, but he's got the game to make amends for that major mistake this week. Few players are as well equipped to handle the Ocean Course's length. Plus, his ties to South Carolina will make this event especially meaningful for a guy who never shows much emotion. A win would certainly eclipse everything else that's happened in a weird season that has included a win in Memphis and a back injury from lifting a jet ski. I'd make fun of him, but I managed to tweak my back the other night in my sleep. True story.
win a golf trip to Ireland. See the info box above for details.
PETE DYE FANS TO WATCH OUT FOR
What do Adam Scott,Matt Kuchar and K.J. Choi all have in common? I'll give you a hint: it's not their taste in music. No, it's the fact that all three had their biggest wins at TPC Sawgrass, perhaps Mr. Dye's best-known track. And we think they all have a chance to carry those good vibes with them to Kiawah. Choi is also coming off a T-8 (coincidentally, with Kuchar, who doesn't even register a blip when he finishes in the top 10 anymore) at Firestone. As for Scott, despite his positive outlook, he's clearly still licking his Open wounds. However, he's still playing the most consistent golf of his career, and in a year defined by incredible comebacks, who would be a more fitting winner?
And how about Carl Pettersson? The big Swede has already won handily on a Dye course this year, at Harbour Town. Plus, two runner-up finishes have him ninth in the FedEx Cup standings.
WEEKLY YAHOO! ROSTER SELECTIONS
Starters: Matt Kuchar, Dustin Johnson, Rory McIlroy, and Jason Dufner.
Bench: Keegan Bradley, Justin Rose, Bubba Watson, and Carl Pettersson.
This week's prediction comes from FOXSports.com's Robert Lusetich (@RobertLusetich) via Twitter:
"King Louie. Great wind player, hits it very long, coming off good week and Kiawah won't be a putting contest."
Thanks for the pick, Robert. I guess you're staying away from picking one of your Australian brethren after what happened down the stretch at the British Open. . .
) for a chance to appear in next week's column. Or if you just feel like making fun of my picks or discussing your favorite Pete Dye course.
Justin Rose. A T-5 at Firestone kept Rose first on the European Tour's Race to Dubai standings. A win here would make fellow Englishmen Luke Donald and Lee Westwood -- as well as a certain other Sean Foley student -- just a bit jealous.
Rory McIlroy. Another guy who had a chance to win the PGA at Whistling Straits two years ago, McIlroy has had an odd season. Following a great start to the year, the 23-year-old had been mired in a miserable slump until a T-5 at Firestone. Another finish like that and people might actually start talking about his golf game -- and not his love life -- again.
FREE FANTASY FOOTBALL ADVICE
It seems like just yesterday I was rolling around on the floor of my apartment celebrating the latest Super Bowl win by Eli "The Great" Manning and the Giants, but with the pre-season already underway, it's time to start thinking football again. Drew Brees and the Saints played in that first game and despite a rocky off-season, we're not worried about the QB's numbers this season. All the players suspended over "Bounty-gate" are defenders and last I checked, he still plays in a dome. Also, this is a team that figured out a way to bug opposing coaches. I'm pretty sure the Saints will figure out a way to get suspended coach Sean Payton's marching orders to their signal caller.
Phil Mickelson. How can he not be? The guy just ended a two-month stretch in which he fired as many sub-par rounds as I did. And yes, that would mean zero.
John Daly. On the flip side of the Furyk-5-hour Energy partnership is the one between Daly and Loudmouth. And what an investment it would turn out to be if the 46-year-old -- coming off a T-5 at the Reno-Tahoe Open -- ever won again, especially at a major. You might even see guys like Donald and Westwood donning those hideous pants for good luck.
Jason Dufner. Amazingly, in a year's time, the 35-year-old late bloomer has morphed into the man most likely to contend at any given major -- with his closest call, of course, coming at last year's PGA. After getting his first two tour victories (including one at Dye's TPC of Louisiana) in 2012, we'd expect him to close things out a little better if given another chance. It, and a possible PGA Tour Player of the Year Award, could come this week. And what a fun and long week it should be with the world's best golfers descending on Kiawah and me doing my best job at being a best man at a wedding for the first time. Hey Jimbo, maybe I'll need a shot of that 5-hour energy after all. . .
*-- Alex Myers is a contributing editor for GolfDigest.com. Feel free to email him
since he has self-esteem issues.*