News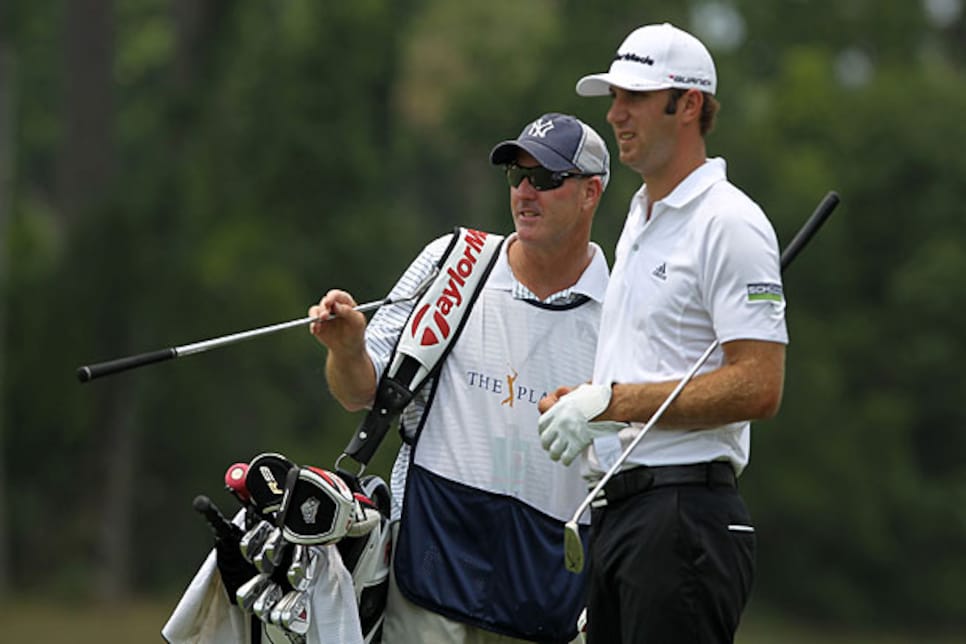 Joe LaCava looks like he's the new full-time caddie for Dustin Johnson. Can you say, "cha-ching"?
Welcome to another edition of Fantasy Fix, where we wish every player would make it as easy to predict a tournament's outcome as David Toms did last week. Not that he made the weekend easy, but the 44-year-old did say he was going to "win again soon" and that Colonial was one of his favorite events on the PGA Tour. As I learned a long time ago, 2 + 2 = 4. But wait, that sounds like I'm taking away from what turned out to be a brilliant prediction. I definitely don't want to do that, so let's just call it what it was: genius. Hopefully, this week's selections will bring as much success.
The PGA Tour continues its Texas swing at the HP Byron Nelson Championship. Like last week's Crowne Plaza Invitational, the field is a little disappointing with No. 10 Matt Kuchar leading the way. That doesn't mean it won't be an exciting tournament, though, especially since Colonial's event didn't end in a playoff. We're due.
Random tournament fact: Byron Nelson won this event in 1944 when it was known as the Texas Victory Open. He pocketed $2,000 and promptly bought a brand new flat-screen TV. Or something like that...
Jason Day. The Aussie had a quiet week at Colonial (T-31) following his T-4 at the Players, but he is becoming a weekly play no matter what the tournament. The 23-year-old picked up his first PGA Tour win here last year. Of course, no one remembers it, since an even younger player, amateur Jordan Spieth was in contention heading into the final day before finishing T-16. The teenager Spieth will be back playing this week, but we're pretty sure Day will be the one contending again.
Dustin Johnson. In the past two years, Johnson has recorded a T-4 and T-7 with all but one of his eight rounds being in the 60s. He's played very well in 2011, but surprisingly, is still looking for a win. That could definitely change here. Who is the most excited about DJ's prospects in Texas? How about Joe LaCava. The longtime caddie for Fred Couples has a new boss. Not that Freddie didn't pay well, but with Johnson turning 27 next month, he will provide plenty more years of ringing the cash register.
Scott Verplank. The veteran has five top 10s here in the past decade, including a win in 2007, a solo second in 2001 and a T-5 last year. He pulled out with a wrist injury last week, but if he can make it through all four rounds this week, don't be surprised to see him contend. A friend of the late Byron Nelson, this event means a great deal to the Verplank, so if there was ever a week for him to tough it out, it's this one.
"Hey, Alex. I know you turned down being Dustin Johnson's new caddie a few weeks back, but I figured I'd throw out the offer of being on my bag anyway. I'm younger than DJ, have more majors and have already been ranked No. 1 in the world. I also know you are a big Dirk Nowitzki fan and being from Germany, I can guarantee we will all hang out and enjoy a cold Krombacher together. Let me know, Martin Kaymer."
Thanks for the offer, Martin, but I'm afraid I'm going to have to turn you down as well. I'm more of a domestic beer guy anyway. OK, so Kaymer didn't really write me and I don't know if he's ever even met the NBA superstar. But that doesn't mean you should be shy. Please feel free to e-mail me
with comments, questions or just to make fun of my picks. And of course, you can follow me on Twitter
SOUTH AFRICAN OF THE WEEK
Rory Sabbatini. Sabbo has been up and down at this event, but his good performances (Win in 2009, T-3 in 2007) still make him a solid option. Much has been written about his possible suspension over his dustup with Sean O'Hair, but all that's certain is he'll play this week. And if this is his last start before a forced layoff, Sabbatini will be looking for a little extra cash to spend in his downtime. Movie ticket prices aren't getting any cheaper.
K.J. Choi. I won't be rooting against the classy champion of the Players, but I won't be putting him in my lineup either. Choi has missed the cut in half of his six appearances at the Nelson and he has no top 25s.
DUD OF THE WEEK (FOR OTHER REASONS)
Lee Westwood. No, he's not at the Nelson (He's playing in his self-proclaimed "fifth major," the European Tour's BMW PGA Championship), but his threat to shut down his Twitter account is worthy of a mention. Westwood is a great player, but if he can't handle a few barbs from the public, how will he ever handle the final-round pressure of a major?
GUY YOU'VE BARELY HEARD OF WHO COULD WIN
Blake Adams. After taking the 36-hole lead in this event last year, the rookie stumbled over the weekend, but still finished T-2, his highest PGA Tour finish by far in 42 career starts. Plus, he's coming off his best start of 2011, a T-16 at Colonial.
FREE FANTASY BASEBALL ADVICE
Roy Halladay leads the majors in both FIP and xFIP. No surprise there. Who's second, though? Try Matt Garza. The Cubs' righty is pitching much, much better than his 2-4 record with a 3.72 ERA indicates and his obscene 10.99 Ks/9 innings is the best in the big leagues among starting pitchers. In other words, do whatever you can to buy low on him.
LONG PUTTER CANDIDATE PICK
John Senden. He hasn't done anything spectacular here, but he comes in hitting the ball great. Unfortunately, I saw better putting in my Sunday foursome than what he showed in the final round at Colonial on his way to a T-8. Still, he should hit enough greens to be in the mix again.
Brett Wetterich. The 2006 winner here won on the Nationwide Tour earlier this year. He's only played in four PGA Tour events in 2011, but we'll make a__bold prediction__ that he picks up a top 10 this week.
TRENDING UPWARDS SELECTION
Sean O'Hair. Top 25 in four of his five appearances, including a runner-up in 2005. Back then he was working with swing coach Steve Dahlby, who he recently rejoined after splitting with Sean Foley. So far, so good, with a T-19 at the Players and a T-16 at Colonial. He has my full endorsement, which is pretty valuable these days. Did I mention I picked David Toms last week?
*-- Alex Myers is a contributing editor for GolfDigest.com. Feel free to e-mail him
) since he has self-esteem issues.*