News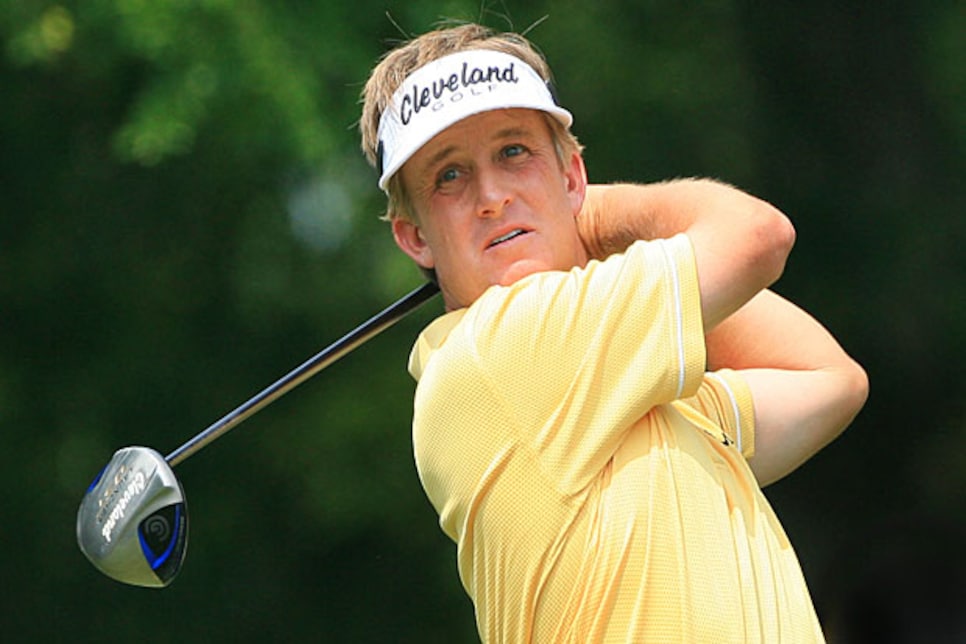 Why does David Toms even bother looking? He hits every fairway.
Welcome to another edition of Fantasy Fix, where we're heating up like the weather in the Northeast. It's gotten to the point of us being disappointed when our pick to win a tournament only finishes second. Matt Kuchar's final-round 65 at the Memorial wasn't enough to track down Steve Stricker, but hopefully his runner-up performance helped your fantasy golf team. And hopefully, we have more gems in store. Let's get to it before another weather delay can slow our momentum.
The PGA Tour heads south to Memphis for the FedEx St. Jude Classic. With the tournament's move on the calendar to the week before the U.S. Open four years ago, its field has gotten a lot stronger. The event has drawn more international players looking to tune up for the year's second major championship. Either that, or a lot of golfers just happen to be Elvis fans.
Random tournament fact: The winner of the tournament each year is given a blue and white seersucker jacket. Seeing him put it on usually makes the runner-up feel a lot better about losing.
Lee Westwood. Before he ascended to the top spot in the world ranking, Westwood won his first PGA Tour event in 12 years here in a playoff over Robert Garrigus and Robert Karlsson last year (side note: This must have been the first ever playoff involving multiple Roberts. And no, Loren Roberts doesn't count). The Englishman returns having recently lost a playoff -- and his No. 1 ranking -- to fellow countryman Luke Donald. There's a good chance he closes the gap this week.
David Toms. In the past nine years of this event, Toms has been in the top five six times, including back-to-back wins in 2003 and 2004 and runner-ups in 2005 and 2009. He also hasn't missed a cut here since Bill Clinton's first term as President. And oh yeah, he's the newest Fantasy Fix favorite, having come through after we predicted him to win at Colonial following his playoff loss to K.J. Choi at TPC Sawgrass. No reason to lose faith in this rejuvenated player now.
Ben Crane. After a stellar 2010 campaign, Crane has been relatively quiet in 2011. In this event, though, he has finished in the top 15 the past two years and he also had a T-6 in 2003. With temperatures in Tennessee expected to be in the mid-90s all week, Crane just needs to make sure he paces himself during his rounds. Oh wait, I think he's got that down.
WATCH OUT FOR THESE GUYS AS WELL
Brian Gay. BG has three top fives in the last seven years here, including a win in 2009. He's also been playing solid golf in 2011 with just one missed cut and eight top 25s in 14 starts, including top 15s at both the Players and the Nelson in the past month.
Robert Garrigus. His infamous triple bogey on the 72nd hole in this event last year dropped him into a playoff with Westwood and Karlsson, which he lost. Perhaps, more unfortunately for him, he became forever known as that guy with a bad case of swamp butt. Garrigus bounced back, though, to win the Children's Miracle Network Classic at the end of the year and nearly added another victory in the 2011 season opener at Kapalua. The long hitter will also be in a good mood after qualifying for the U.S. Open on Monday.
"Hey, Alex. Big fan. Thanks for showing confidence in me by predicting I'd win the Memorial after I let you down at the Players. Hopefully next time, I'll pull out the victory! Take care, Matt Kuchar :)"
No problem, Matt. Wow, you really are cheerful. I promise to keep you in mind for future tournaments as long as you promise to lose the smiley faces in your emails. No, Kuchar didn't actually write me, but that doesn't mean you shouldn't. Please feel free to e-mail me
with comments, questions or just to make fun of my picks. And of course, you can follow me on Twitter
. He'd also love to pick up his first top 10 in nearly a year. For the most part, Micheel has struggled in his hometown event with 10 missed cuts in 17 appearances, but he turned that around last year with a T-4 and he's coming off his best finish of the year, a T-22 at the Memorial.
Heath Slocum. The veteran has had a very consistent record here with five top 25s and three top 10s in his last six appearances, including a solo sixth last year.
Woody Austin. The Tabasco pitchman has been in the top 15 three of the last four years, including a victory in 2007. A final-round 71 last year dropped him to T-15 and ended his streak of seven straight rounds in the 60s at TPC Southwind.
The Triple Crown won't be on the line Saturday, but there will still be about 100,000 people in attendance, waiting all day for an event that will last all of two minutes. Sounds terrible and yet, I may be one of those suckers this year. Speaking of being a sucker, here's a golf-related exacta I'm eyeing: Shackleford (In honor of our blogger, "My Town" feature in the March 7 issue of Geoff Shackelford
) and Prime Cut (In honor of Congressional's primary cut of rough, which is sure to be talked about a lot in the near future). On second thought, based on my history with horses, you probably should bet any of the other entrants.
DON'T TOUCH WITH AN EXTRA-LONG FLAGSTICK
Geoff Ogilvy. Having missed some time with injuries this year, the 2006 U.S. Open champ seems happy to get in some work anywhere before heading to Congressional. The Australian hasn't played here since 2007 and we're surprised he ever came back. Ogilvy shot a first-round 78 and missed the cut at this event for the fourth time in four tries.
Chad Campbell. The Texan has never shot under par in eight rounds at TPC Southwind. Maybe it's the course or maybe Campbell just isn't a fan of the sticky Memphis heat. It surely can't be the city's delicious BBQ. But if it is, he better not say anything around Micheel. Those are fighting words.
*-- Alex Myers is a contributing editor for GolfDigest.com. Feel free to e-mail him
) since he has self-esteem issues.*