News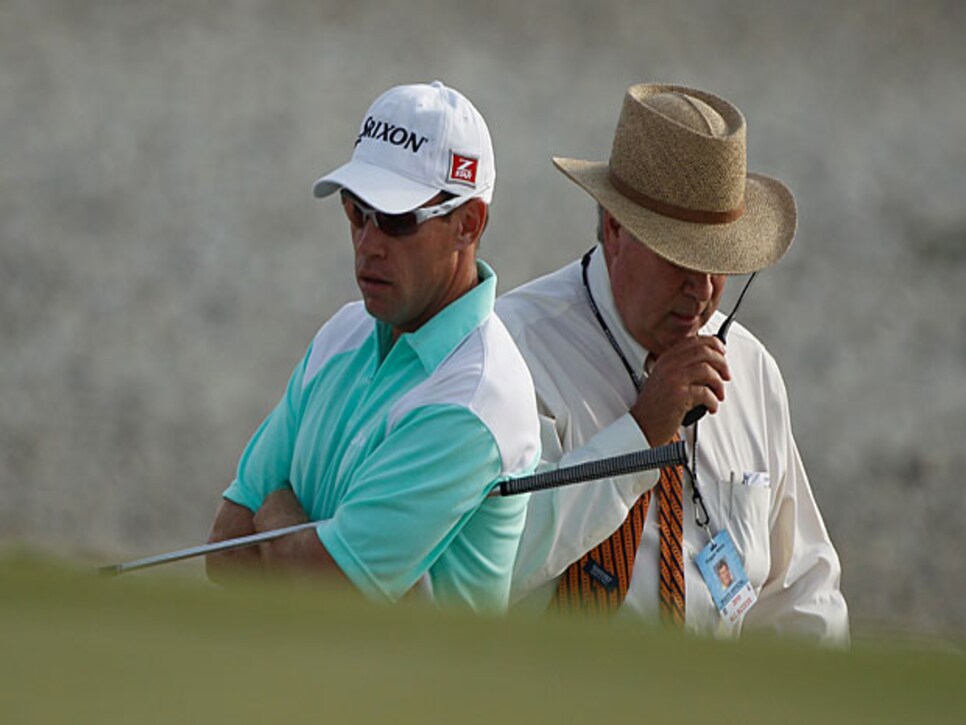 As Brian Davis learned last year, it's usually not a good sign when rules officials are involved on the last hole.
Welcome to another edition of Fantasy Fix, where we want to take lessons from whoever Matteo Manassero's instructor is. For all this Rory McIlroy talk, it's amazing that a kid four years his younger has grabbed the title of the next face of golf. Unfortunately, the Italian teen doesn't help much in the fantasy realm, unless you're in a European-Tour-only league. We'll assume (and hope) you're not and instead get back to focusing on what's happening stateside.
known as the Heritage. Sadly, this could be the end of an era unless the tour finds a new sponsor. In fact, this year's tournament doesn't even have one. Don't worry, though, Verizon didn't take the famous lighthouse on the 18th hole with them.
Random tournament fact: The winner of this tournament gets a tartan jacket. This is infinitely better than those boots Brendan Steele had to put on following his victory at the Valero Texas Open.
Jim Furyk. This is one of those situations where people might remember the loser more. Furyk won in a playoff, but only after Brian Davis essentially called a penalty on himself for nicking a reed in a hazard on his backswing (something that could only be picked up on TV in super slow-mo). The rules violation ended his chances of picking up a first PGA Tour win, but his act of sportsmanship did earn him some fans. As for Furyk, he has an odd track record here himself. In the past six years he's missed the cut twice, but when he has made it to the weekend, he's finished at least fourth the other four times, including last year's victory and two runner-ups. He could use a jump-start to what has been a disappointing season so far.
Aaron Baddeley. No matter what swing he's playing or how he's playing, Baddeley fares well at Harbour Town. Even when he disappeared from the game's list of elite players, he managed top 25s the last two years. Now, with his win earlier in the season at Riviera, he's back to the form that led him to a win here in 2006 and a runner-up in 2008.
IF THERE REALLY ARE GOLF GODS...
...Then Brian Davis is your man. As mentioned, he showed a lot last year by pointing out his possible penalty and then accepting it and another close call with class. Maybe he'll get rewarded for his good deed this time around. If there is no such thing, then he could suffer the same cruel fate as our next subject...
"Hey, Alex. Thanks for guaranteeing I'd win at some point this year. Instead, I wound up having one of the most embarrassing moments in golf history. Yeah, John Daly's 18 may top my sweet 16, but he's John Daly! That doesn't count. Anyway, I'd appreciate it if you stop hexing me. Sincerely, Kevin Na."
Sorry, Kevin, can't do that. You're too good a player and besides, you should be thinking of the positives. That was one of the best 80s of all-time and just showing up to the first tee the next day won you over a lot of fans who before only knew of you as the guy who moves around a golf course slower than certain species of turtle. OK, so Na didn't write me, but I will continue to endorse him as a solid fantasy pick, including this week. Also, please feel free to e-mail me
with comments, questions or just to make fun of my picks. And of course, you can follow me on Twitter
STRUGGLING FORMER CHAMP TO PLAY
Stewart Cink. Last week, the "Tweetfather" seemed on his way back when he held a share of the first round lead in San Antonio. He struggled to make the cut, however, and wound up T-59. Sadly, such finishes have become the norm for the 2009 British Open champ, but he does have five top 10s here in 11 appearances, including wins in 2000 and 2004.
STRUGGLING FORMER CHAMP TO STAY AWAY FROM
Davis Love III. Yes, he has won here 13 times (at least it seems that way) and yes, he is a sentimental pick with the tournament's future shaky at best. But I can't endorse a player whose results are MC, T-57, T-55, T-29, MC, MC since starting the year with a T-9 at the Sony Open. Even if he's won here 15 times.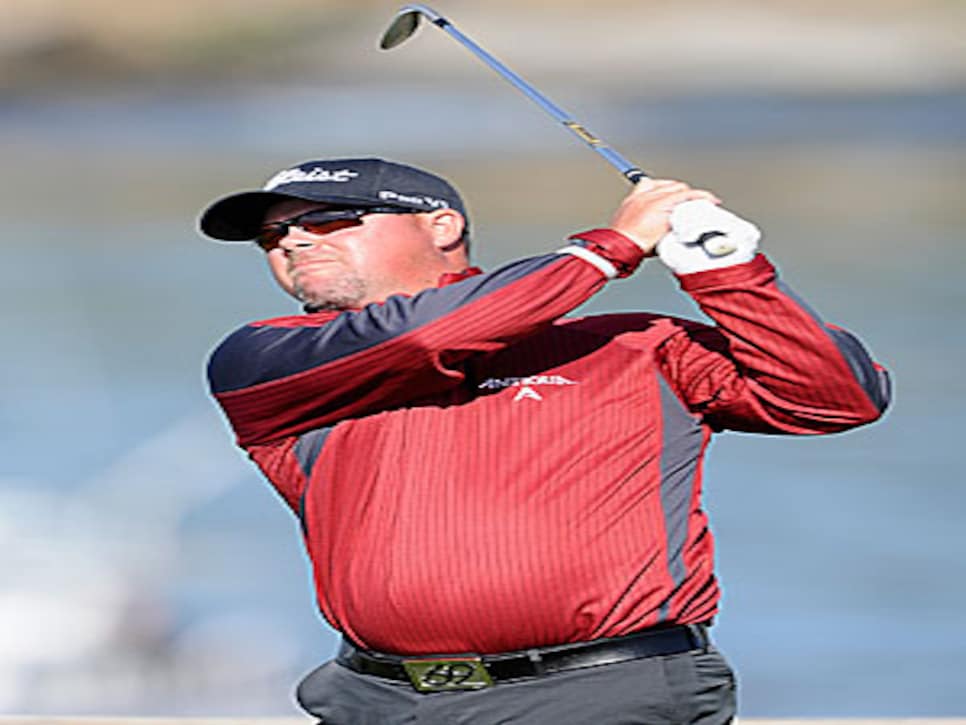 FREE FANTASY BASEBALL ADVICE
Think more xFIP and not as much ERA, when evaluating pitchers. Dan Haren isn't doing anything different this year with the Angels than when he was with the Diamondbacks last season, he's just not getting unlucky. Now, he won't keep up an ERA around 1.00 for the whole year, but the point is, don't give up on guys without at least first considering that their performance is being heavily influenced by luck or a lack thereof.
Steve Marino. Like Na, I have predicted a first PGA Tour win for Marino in 2011. I guess that means you can expect a historic blowup on some hole at some point instead. I'll risk it, though, and support the guy who finished T-13 in his only appearance here in 2009.
Australian golfers. Last week I was all about a pair from Down Under, Geoff Ogilvy and Adam Scott. I excitedly watched as both played themselves into contention and then played themselves out on the weekend. Out of spite, I won't be picking either of them this week. Wait, neither are playing? OK, well, they can rest assured that I wouldn't have picked them even if they were. So there.
TOP-FIVE-RANKED EURO TO PLAY
Luke Donald. The Englishman has finished T-3 and T-2 the last two years at here thanks to a current streak of seven straight rounds of 70 or lower at Harbour Town. And it's all going well for him of late. He's ranked third in the world, his Bulls are the Eastern Conference's No. 1 seed in the NBA playoffs and of course, hes married to the lovely Diane
. A first 2-win season on tour seems inevitable.
TOP-FIVE-RANKED EURO TO AVOID
Graeme McDowell. Although we have a feeling he'd like the tartan jacket, he isn't near the top of our list of players we expect to put it on Sunday evening. G-Mac has a T-70 and a MC in two tries here, and he's finally slowed down a little after last year's dream season.
GUY YOU'VE BARELY HEARD OF WHO COULD CONTEND
Kris Blanks. The 38-year-old finished T-5 in his first time teeing it up in this event last year. Plus, he recently tweeted a pic of a bag of Funyuns Flamin' Hot, something I didn't know existed. I haven't been this excited about a junk-food product since discovering Snyder's honey mustard & onion pretzel pieces. This could be a game-changer on my next road trip.
*-- Alex Myers is a contributing editor for GolfDigest.com. Feel free to e-mail him
) since he has self-esteem issues.*