News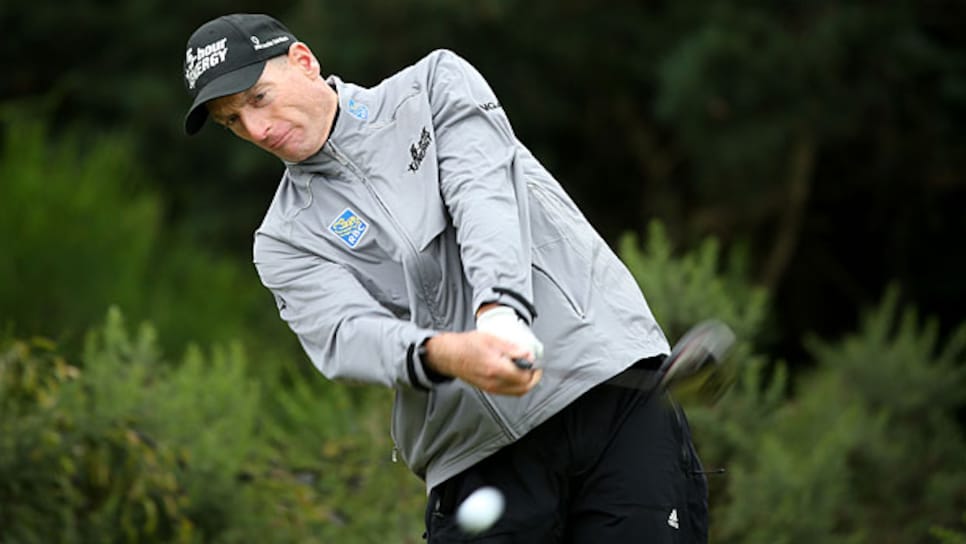 Furyk is a two-time winner of the Canadian Open, including winning at this year's site in 2006.
Welcome to another edition of Fantasy Fix, where four has suddenly become the magic number. Ernie Els picked up major No. 4 at the British Open thanks to Adam Scott's four-straight bogeys. Four also happens to be the number of days it took me to clean out the entire supply of salt & vinegar chips (sorry, "crisps") from the media center at Royal Lytham. Carrying a few more pounds -- and not the kind you spend over there -- and now armed with a tad more of a worldly view, let's "carry on" and get right into this week's event.
The PGA Tour remains outside the U.S. with its annual trip to "The Great White North" for the RBC Canadian Open. This year's tournament will be played at Hamilton G&CC for just the fourth time, with the club having hosted the 2006, 2003, 1930 and 1919 editions of the event.
Random tournament fact: One of Tiger Woods' nine career missed cuts on the PGA Tour came at this event in 1997. Of course, he hit a pretty famous shot from a fairway bunker on the final hole to clinch a win in 2000 as well. . .
Sean O'Hair. Last year, he switched from Sean Foley back to his old teacher Steve Dahlby and that was supposed to be the cure. Eh, not so much. Since winning this event, O'Hair's only managed two top 10s, with one of those coming earlier this month at the Greenbrier. Reason to be encouraged? O'Hair finished solo third the last time was staged at Hamilton.
Matt Kuchar. The reigning Players champ hung around the leader board at Royal Lytham & St. Annes, finishing T-9. In other words, it was a normal week for the guy ranked No. 2 in scoring average on the PGA Tour in 2012. Although the ridiculously-consistent Kuchar probably doesn't win as much as he should, you'd have to be a "hoser" not to have him in your lineup this week.
Hunter Mahan. The ball-striking machine's stellar 2012 goes way beyond just his two wins at the WGC-Match Play and Shell Houston Open. He's made 15 of 16 cuts and racked up 11 top 25s, including a T-19 at Royal Lytham & St. Annes. There's no reason to think a fifth top 10 won't come this week.
Jim Furyk. He's T-4 in scoring average on the PGA Tour, yet he hasn't won since the 2010 Tour Championship. After coming close at the U.S. Open, maybe he'll get back in the winner's circle in Canada's version. And guess who just happened to win this event the last time it was played at Hamilton?
WEEKLY YAHOO ROSTER PICKS
__Starters:__Matt Kuchar, Brandt Snedeker, Hunter Mahan, and Vijay Singh.
__Bench:__Jim Furyk, Bo Van Pelt, Retief Goosen, and Billy Horschel.
) for a chance to appear in next week's column. Or if you just feel like making fun of my picks or discussing your favorite summer movie.
Brandt Snedeker. The Vanderbilt product's weekend at Royal Lytham didn't go as he hoped, but overall, matching his best major finish at a tournament in which he'd never made the cut made for a successful week. Plus, with his demise being spread out across Saturday and Sunday, there were no, um, emotional post-round press conferences like when he melted down at the Masters in 2008.
Ernie Els. It'll probably be tough for the "Big Easy" to get motivated to play just days after claiming his fourth -- and most unlikely -- major championship. In fact, we wouldn't blame him for lugging around a Heineken-filled claret jug on the course this week.
Scott Stallings. Apparently, this guy won a PGA Tour event last week? Hang on, let me type his name into Google. . . Yes, he did! Stallings captured the True South Classic. Sorry, Scott. Bad timing on your part with a major going on simultaneously. Congrats on your second career win, but no offense, we still can't get over the eight missed cuts in your previous 10 tournaments.
RANDOM GUY WE LIKE THIS WEEK
Kyle Stanley. I think my right ear is still buzzing from the stinging noise his 2-iron made when he teed off at No. 4 on Royal Lytham on Saturday. Either that, or it just hasn't popped yet from being in the air so long. In any event, the man can move the golf ball and his win at Phoenix earlier this year won't be his last.
Vijay Singh. We were pleased to see the "Big Fijian" play well last week, just like we were pleased to learn Katy Perry seems to be as popular in England as she is here. Singh quietly finished T-9 at the British Open and although his win and runner-up in Canada came at different courses, he did have a T-6 at Hamilton in 2003.
Billy Horschel. The University of Florida product turned pro in 2009 and finally looks to be delivering on the promise he showed as an amateur. Horschel finished third at last week's True South and has now made five-straight cuts after a rough start to 2012. With earning a PGA Tour card still on his mind, he's treating every week like a major. (Side note: I've got my own major this week with my annual golf trip. The best part of being the defending champ? I get to wear our version of the green jacket on the plane. After a long week of eating crisps and Kit Kats, hopefully it still fits. . .)
*-- Alex Myers is a contributing editor for GolfDigest.com. Feel free to email him
since he has self-esteem issues.*